Description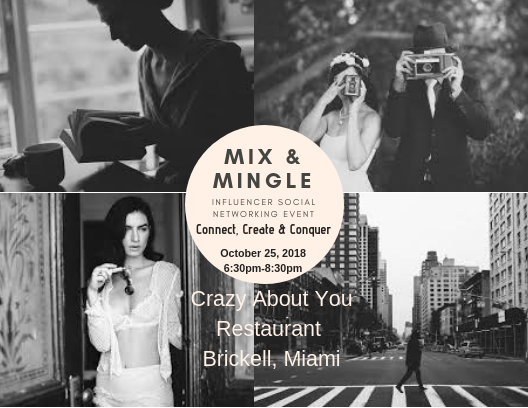 Business brands, bloggers, influencers and freelancers have so much going on, on a daily basis there really isn't time to contact or connect with 40+ ppl in one day, we found that this way we can make the impossible possible! Connect Create Conquer Miami puts the Miami social media community on the map!
Are you a business brand seeking to work with reputable influencers/bloggers, and freelancers or are you an influencer/blogger, or freelancer searching to work with business brands?
We are bringing the old form of communication back into the social media industry with face to face interaction for business brands and online creatives under one platform to connect, partner and conquer mutual objectives. This Social Media Mix & Mingle won't be just any networking event, it will be a workshop to enhance online presence, performance and organic growth, while inspiring and motivating others to work hard towards ones goals and never give up.
Fee includes:
· * Light appetizers included, Beverages 50% off
· * Guest speaker: Influencer @Emiliesobel
· * Influencer Workshop/Presentation (30 mins)- 'How To Establish Your Personal Brand & Stand Out From The Crowd'
· * Door Prizes to FIRST 25 attendees
· * Photobooth fun
· * Giveaway Prizes
· * Admission Fee
What's in the agenda?
· * Entertainment
· * Mix & Mingle
& Instagram contest
· * Drinks (50%off until 7pm) & Small Bites will be provided
· * * Small Work-Shop: Connect, Create, Conquer (How to establish your personal brand and stand out from the crowd)
*VALET PARKING CASH ONLY