About this Event
Artists have the chance to learn social media marketing skills 2-4 p.m. Tuesday, April 23, sponsored by the Department of Arkansas Heritage and Team SI.
The event will teach artists how best to use social media to market themselves and what has worked for other Arkansas artists.
Meikel Church, a mixed-media collage artist in North Little Rock, will discuss strategies he uses in social media posts, groups he has joined and how he directs potential sales to his website. Artist Diane Harper, who creates mixed-media paintings and collages, will share her personal experiences in using social media to build a following, connect with other artists and increase art sales.
Lauren Farabough, a longtime social media marketing professional with Team SI in Little Rock, will walk artists through the ins-and-outs of social media platforms. Farabough will present best practices for using social media, including how to create an event, how to write meaningful posts and when to publish posts.
Tickets must be purchased by April 20.
For more information about the event or speakers, contact Robin McClea at 501-324-9348 or at robin.mcclea@arkansas.gov.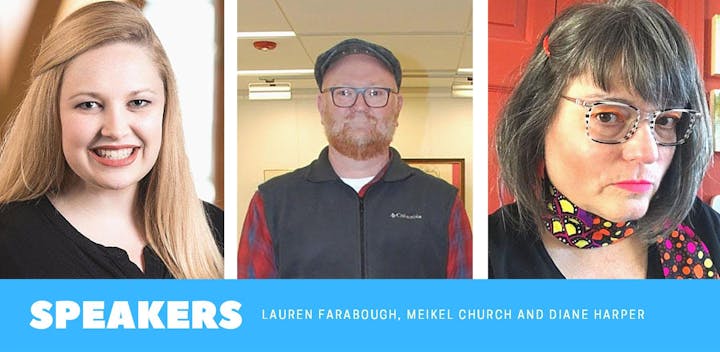 Lauren Farabough, a marketing professional with Team SI, has more than six years of experience in social media management and strategy. She has a background in content creation in the digital world. She also worked for five years in communications in the healthcare industry where she managed social media networks.
Farabough earned a master's degree in journalism from the University of Arkansas at Little Rock and an undergraduate degree in mass communications and English from Ouachita Baptist University. She teaches mass communications courses in social media and advertising at the university.
Meikel Church, artist, lives in North Little Rock where he creates collage and mixed media artwork. He has used online marketing to successfully promote himself since 2013. His marketing experience has helped him become part of 40 exhibitions that include solo, group and juried exhibitions in New York, Portland, Dallas, Atlanta, New Orleans and several cities in Arkansas. Church's work has also appeared in publications in the U.S., United Kingdom, Germany and Greece.
Church's artwork challenges concepts of perception. Church said he quickly became addicted to the absurdity of taking found images, mostly from old books and magazines, and re-thinking the pre-existing image in another context. "When I first started creating collage, I would say that I sought refuge in the images, but now it's a deeper connection to the very paper an image is printed on," Church said.
Diane Harper, artist, works with a variety of art materials to create stories in ink and collage. She has used social media platforms, like Facebook and Instagram, to sell her art, spread the word about her workshops and exhibits, get into traveling exhibits and connect with artists. A documentary team noticed Harper's social media postings and visited her from out of state.
Through her artwork, Harper lets her subconscious mind play in plain sight of monsters, critters and urban landscapes that come alive under her pen and inkblot works. Harper's narratives combine color, texture and imagery in collages that use her father's photos as focal points. Her childhood experiences in a military family is a central theme for her artwork.
Harper has taught drawing as an adjunct university instructor, as well as, a private teacher for ink and collage. She holds workshops in her studio and community and is a faculty member of the Arkansas Art Center Museum School, where she teaches design fundamentals, mixed media and other specialized workshops.
Harper is a board member of the Henderson State University Art Department's Art Advisory Board and has been a facilitator for Artist, Inc., Argenta, where she mentored artists in developing their art businesses.