Description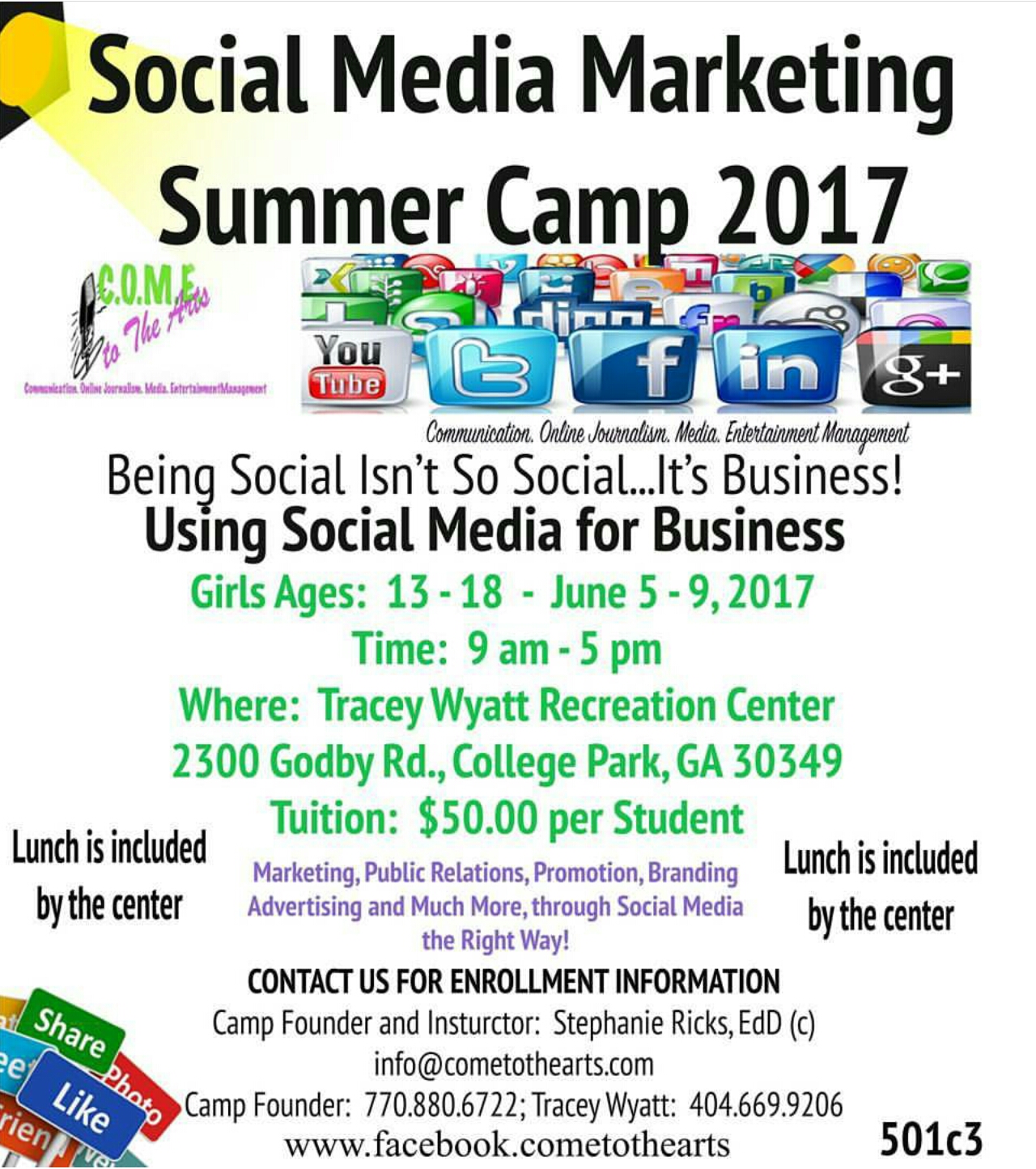 C.O.M.E. to The Arts is a Georgia non-profit 501(c)3 helping youth who have a keen interest in all
aspects in the field of Communication (Communication. Online Journalism. Media. Entertainment
Management). We provide our services by hosting summer camps and going to middle and high schools
teaching students public relations, branding, corporate communications, online journalism, marketing,
social media marketing, public awareness campaigns, press/media kits, press releases, public speaking,
media production, producing, scriptwriting, creative writing, directing, filming, editing and much more.
To appreciate the challenge of revealing visions of communication for tomorrow's leaders, it is helpful to
think about all aspects of communication, and its role in the education of students who have a keen
interest in the field. Nowadays, it is very important for the youth to get a head start on developing the
right skills that are needed to work in the communication field.
This Summer Camp is a one-week long camp for girl ages 13-18. Students who participate in this camp
will be taught a curriculum, titled "Being Social Isn't So Social…It's Business! Using Social Media for
Business." During this camp, students will learn Marketing, Public Relations, Branding, Advertising and
much more, through Social Media the right way.
APPLICATION PROCESS
Be sure to read the following information carefully. Summer Camp is limited and enrollment is based on
first come first severed bases. The application and essay must be submitted on or before May 1, 2017 to
be qualified for consideration.
To apply, please email or mail the program application (with a cover sheet) and the $10 non-refundable
application fee. We will notify each applicant, through email, regarding enrollment by May 15, 2017.
TUITION
This Summer Camp is $50 per student per week. Our foundation is a non-profit 501(c)3 and accept
donations. All donations are tax deductible.
WHEN TO SHOW UP AND WHAT TO BRING
Summer Camp is a one-week camp from from 9:00 a.m. – 5:00 p.m., with the final project due on the last
day of camp (family members will be able to attend; but, space is limited). Because this is a Social Media
Camp, students are asked to bring their mobile devices to navigate through different Social Media apps.
Lunch, water, snacks, will be provided by Tracey Wyatt
CONTACT INFORMATION
Stephanie Ricks, EdD, Founder & Camp Instructor
Mailing Address: PO Box 500193 Atlanta, GA 31150
Website: www.cometothearts.com
Email: info@cometothearts.com
Phone: 770.880.6722
CAMP LOCATION
Tracy Wyatt Recreation Center
2300 Godby Rd.
College Park, GA 30349
COMPLETING YOUR APPLICATION
Include the following: