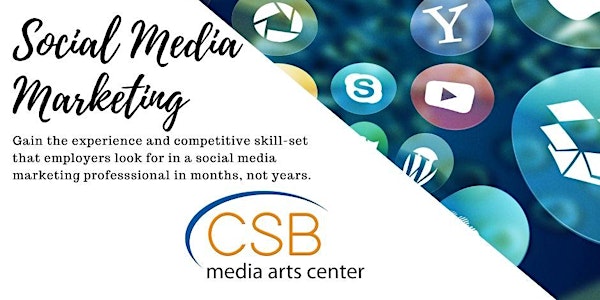 Social Media Marketing Specialist: Virtual Information Session
Become a Social Media Marketing Specialist in months > not years. Learn how and join an upcoming Virtual Information Session
About this event
Social Media Marketing Careers are Skyrocketing!
All-inclusive curriculum, live online classes.
Are you interested in learning digital marketing and how to navigate campaigns on social media? Learn Email Marketing, Analytics, Copywriting, Video Marketing, Graphic Design, Search-Engine Optimization, eCommerce, and more with CSB Media Arts Center. Fast-Track your career in Social Media Marketing at CSB Media Arts Center.
With the CSB Media Arts Center Social Media Marketing Program, you can gain the experience and competitive skill-set that employers look for in a social media marketing professsional in months, not years.
CSB Media Arts Center Social Media Marketing Program is conducted in a virtual classroom environment taught by industry professionals. Day and evening classes are available.
Join us as we host a free online information session for our Social Media Marketing Specialist Program. This is an opportunity for you to see how our classes are run through our online platform and ask any questions you might have regarding the program. Give us a call at 800-887-2346 if you have any questions or to confirm your attendance and verify your email address. You will then receive an email with an invitation to our event through Google with a link to the Google Meet.