Social Media Marketing for the Dollars and Sense: The Master Class

Saturday, August 25, 2012 from 4:00 PM to 7:30 PM (EDT)
Event Details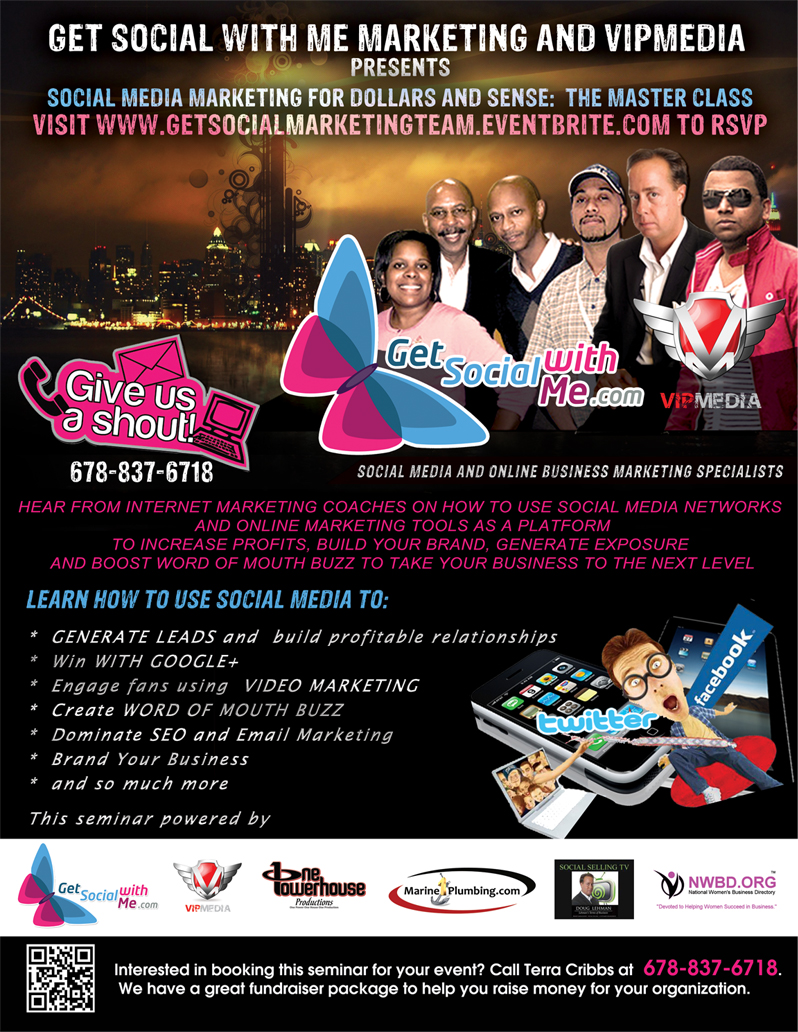 Social Media Marketing Seminar
Check-in begins at 3:30 pm. Seminar starts at 4:15 p.m. sharp
Got Questions? Call: 678-837-6718 or
Email: terra@getsocialwithme.com
Website: www.getsocialwithme.com
UPSCALE RESTAURANT AND LOUNGE
(ON THE CORNER OF I-75  NEXT TO CHICK-FILA)
FREE PARKING | $5 COCKTAIL & $3 TAPA SPECIAL ALL NIGHT 
This is what attendees are saying about
our social media seminar: 
"Learning TONS of PRICELESS info at the Get Social With Me Seminar! This is a GREAT group of folks! If you guys know them stay close, if you don't get to kmow them. WIN WIN SITUATION WHEN this group is involved!" ~ Ziahlita Peterson, Health & Fitness Consultant
http://www.facebook.com/zips90days
Went to a wonderful event this weekend run by of Get Social With Me Media Marketing and with guest speakers Steve Rivera of Marine 1 Plumbling, Doug Lehman and Todd Smith. Let's just say these individuals lit a fire under my butt by puttin
 me on blast about some things ... SO THEY are to thank for all the upcoming new things you are about to see from me! GET READY ya'll! Like it or not you will be seeing a lot of this face around! ;) Much love!" ~ Alexandrea MUA
Kudos to GetSocialWithMe for the wonderful event held Saturday at Legend Cafe. The information presented was priceless. Your team covered many aspects of social media that was relevant and easy to understand. Thank you so much!" ~ D. Conard @
www.facebook.com/parentclk
"I was very pleased with the variety of information that was presented. The seminar provided expert information on many of the topics that I needed assistance with to
Carl J. of Younique Gold Tribe
"If you have a small business or just as individual you need to attend one of www.getsocialwithme.com and Terra Cribbs seminars. They redesign my logo and facebook cover bannr.  I will devote a shout out this week to her and the social media team this week." ~ Tony Henderson, Financial Advisor
http://www.innovativehenderson.com
HEAR  from ATL social media/internet marketing specialists help
take your 
biz to the
 NEXT LEVEL:
Learn how to use: 
Facebook TO GENERATE LEADS
Everyone knows that social media can't be ignored as a part of the marketing mix but many entrepreneurs still struggle to integrate social into their lead generation process.  Terra Cribbs, Social Media Coach of Get Social with Me Marketing, will show you step by step how to build profitable relationships with people in your circle of influence to become your brand advocates, resulting in increased exposure and profits in the social market place. 
What is your brand saying about you?  
Branding is the best kept secret of any business.  What's Your Brand is a highly interactive presentation that enables you to quickly understand and accurately identify several types of branding development.  With this knowledge, you have the ability to gain credibilty and expertise by displaying best practices through actions, interpret those of others and learn how to rebrand the misconceptions of your "brand." Presented by Bobby Mackey!
Expand your network and get 
Linked-up with Linkedin!    
Linkedin is a powerful tool for B2C (business to consumer) relationships. While most professionals are on Linkedin, many will admit to not using it musch.  Learn from Carlos Herrera, Social Media Manager how to get the most out of Linkedin, build your network and integrate it into your lead generation techniques.
Hear how to
Win WITH GOOGLE+
Hear how to Win WITH GOOGLE+
We know Google+ is being touted as the next big thing to hit the social media marketing scene since Facebook and Twitter.  Todd Smith formerly with Hairstons Dinner Club knows all to well how social media is changing the landscape in the market place.  Todd is prepared to share why you can't afford NOT to become part of this expanding network to increase your "net-worth"
Learn how to
GET SOCIAL WITH YouTube!
Doug Lehman has over 18 years working in corporate america in product sales, training and marketing.  Now he has found a niche as a "Brand Ambassador" by helping entrepreneurs increase their exposure, engagement and sales through online social video marketing using YouTube to get your message heard.
Jumpstart your social networks to create
WORD MY MOUTH BUZZ!    
Not sure if social media marketing works? Hear from Steven Rico Rivera, of Marine 1 Plumbing.com Superior Atlanta Plumber, as he shares his experiences on how social media marketing has put his business directly in front potential customers, increased his revenue and how offline marketing is getting him repeat business. Learn tips on how he uses Facebook, Twitter and Youtube as pipeline tools to build profitable relationships in the social media market place as Atlanta's #1 Veteran-owned plumbing company.
Win Over New Clients and Customers with
Appreciation!
Probably one of the most overlooked areas in one's marketing portfolio's is how to build profitable relationships with customers "Offline."  Hear from Jason Torres, Todd Smith, Terra Cribbs, Steven Rivera, Carlos Herrera and Bobby Mackey as they expose the most powerful appreciation marketing system on the planet, SendOutCards.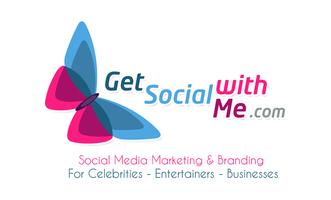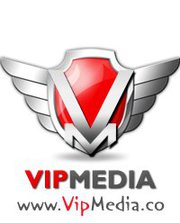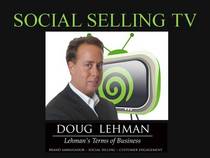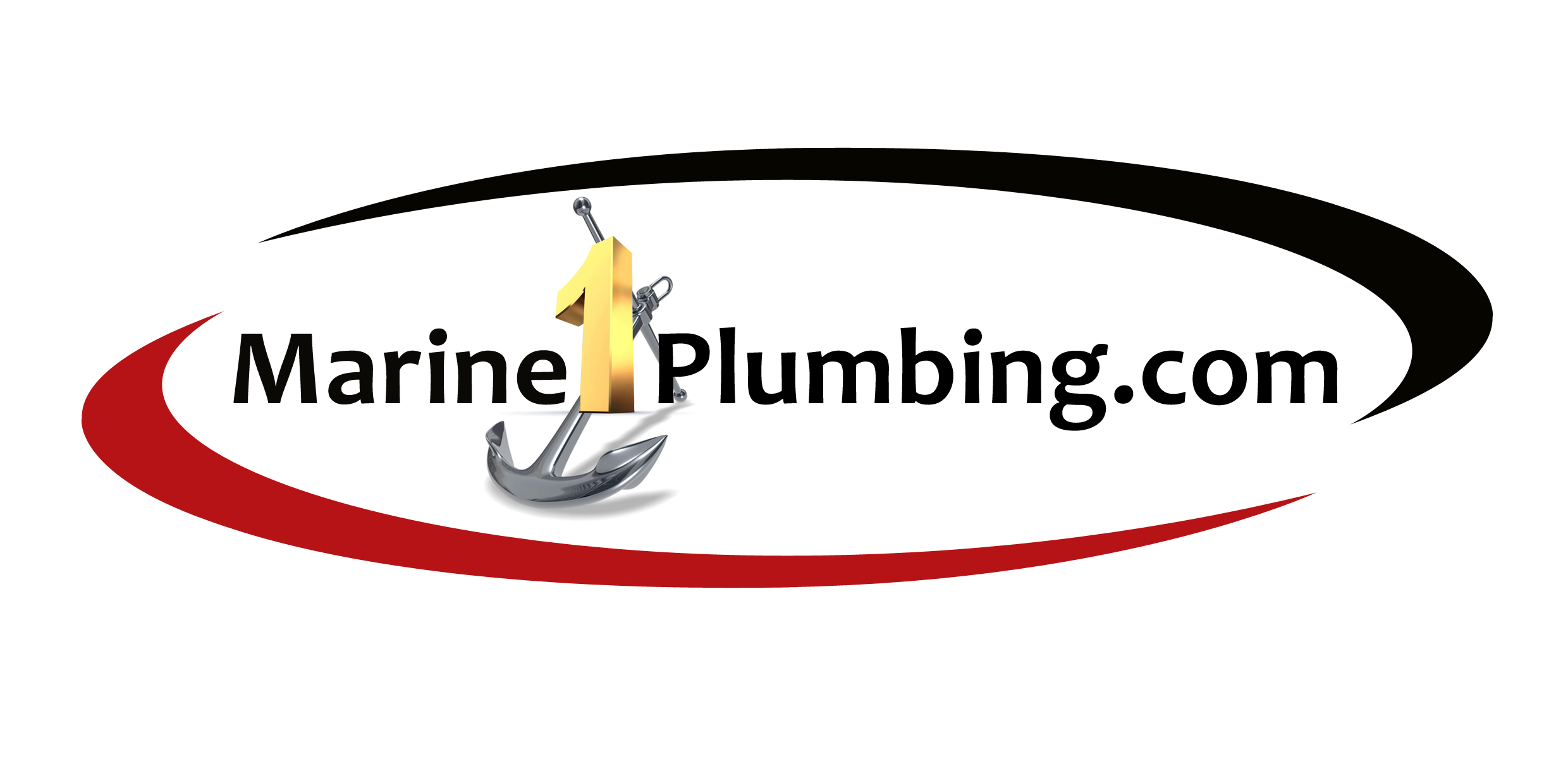 Interested in a Vending Table for this event?
Please SHARE this event with your network and tell friend to tell friend.
Attendee List
Sort by:

Date

|

First Name
When & Where

CARIZMA RESTAURANT AND LOUNGE
1950 Howell Mill Rd
Atlanta, GA 30318


Saturday, August 25, 2012 from 4:00 PM to 7:30 PM (EDT)
Add to my calendar