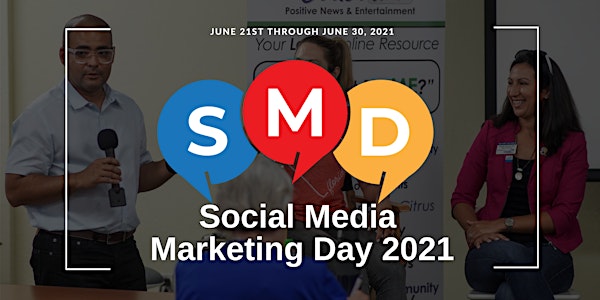 Social Media Marketing Day 2021
The most effective way to learn about social media marketing
Refund Policy
Refunds up to 1 day before event
About this event
Ask the marketing questions to the best people we can find, plus listen to other questions you never thought of asking, and for your convenience, the recorded sessions will be available for 24/7 access.
More customized than a book, safer than real-world testing, and proven to work. This is the most effective way to learn from June 21st through June 30, 2021, about…
Facebook
Livestreaming
Youtube
Marketing automation
Copywritting
Google analytics
Twitter
LinkedIn
Instagram
Video marketing
and much more
If you didn't know our first event was held at the Hernando Chamber of Commerce in 2019.
In 2020 we had every intention to hold a bigger event locally but the Coronavirus changed the plans and we decided to hold the event virtually.
We brought people from the U.K. like
Brad Burton – U.K.'s #1 business motivator speaker
Stefan Thomas – Author of business networking for dummies
and other people that otherwise had the chance to fly and speak at a local event.
Session 1 and 2 on Monday, June 21, 2021
1) Facebook
2) Livestreaming
Session 3 and 4 on Tuesday, June 22, 2021
3) YouTube
4) Marketing automation
Session 5 and 6 on Wednesday, June 23, 2021
5) Social Media Marketing Tools
6) Copywriting
Session 7 and 8 on Thursday, June 24, 2021
7) Google analytics
8) Twitter
Session 9 and 10 on Friday, June 25, 2021
9) 45 minute live Q&A a.m. session.
10) 45 minute live Q&A p.m. session.
Session 11 and 12 on Monday, June 28, 2021
11) Good marketing habits
12) LinkedIn
Session 13 and 14 on Tuesday, June 29, 2021
13) Instagram
14) Video marketing
Session 15 on Wednesday, June 30, 2021
15) 45 minute Live Q & A in the p.m. and World Social Media Day Celebration.