FREE 3 WEEK ONLINE DIGITIAL Marketing Boot Camp
About this event
What will I do?
Use digital marketing skills and techniques to create a social media campaign
Create digital media marketing content using photography, video, text, graphics and audio
Understand the basics of creating content with UX (user experience) and behaviour in mind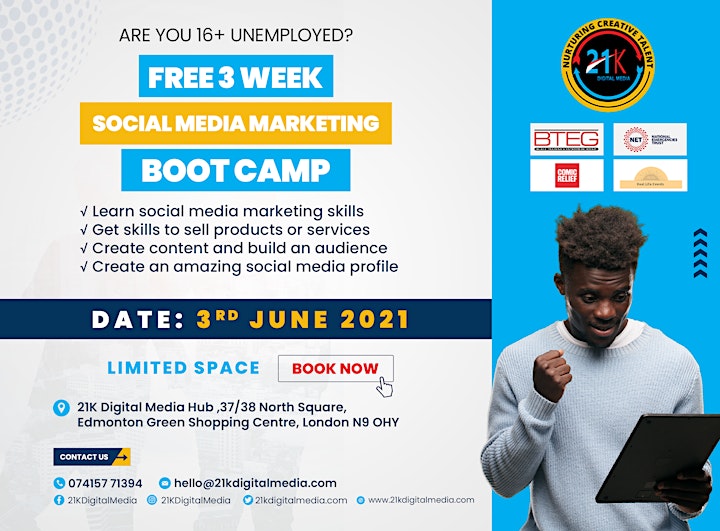 Organiser of Social Media Marketing Bootcamp

Prior to the COVID-19 pandemic, young people living were exposed to high levels unemployment. The COVID-19 and the lockdown has created an unknown future for many of these young people living in Edmonton due to the lack of high value traineeships opportunities in the Borough.

Another concern is that 30.5% of Edmonton Green residents have no qualifications and there is no high value digital traineeships to equip young people with the digital skills necessary to enter the world of work.

The Chancellor announced a set of measures to support jobs in every part of the country, including the £2 billion Kickstart Scheme, to create hundreds of thousands of new, fully subsidised jobs for young people. With £111 million directed at tripling the scale of traineeships in 2020-21 to ensure more young people have access to high quality training.

It is imperative that young people living in Edmonton benefit from the recent Government employment initiatives to improve training and employment opportunities. As the forum we are able to combine our efforts to ensure that this happens.

I look forward to your participation at the next Employment & Skills Forum Working Group Meeting.
Enfield Employment & Skills Forum

Working Group Meeting:

17 February 2021

Time: 2 PM

Draft Agenda:

• Update on the ESFA on Lifetime Skills Guarantee Digital skills bootcamps and Traineeships

• Update on the Mayor of London Workforce Integration Network (WIN)

• Update on Enfield Council employment strategy to tackle the surge of youth unemployment in Enfield.

• Update on Edmonton Green Regeneration Initiatives to improve the shopping, housing environment and to create training and

Employment opportunities in Edmonton Green

• Developing an employment training and Skills strategy to combat youth unemployment in Enfield.

• Any other updates

• Set the date of next Working Group meeting