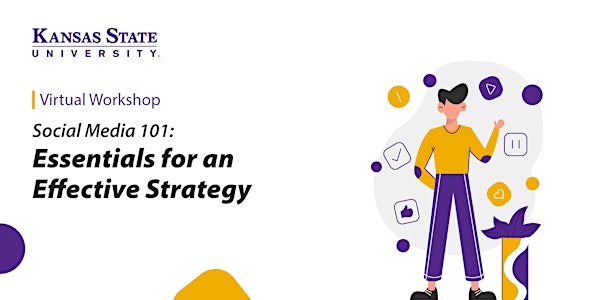 Social Media Marketing 101: Essentials for an Effective Strategy | Virtual
Location
IMPORTANT: THIS IS A VIRTUAL EVENT
Kansas State University Digital Skills Bootcamps
22201 West Innovation Drive
Olathe, KS 66061
Learn how to build a social strategy that drives sales, increases brand awareness, and builds a tight-knit community of brand advocates.
About this event
IMPORTANT: This event is virtual. Guests will receive a Zoom link two hours before the event starts.
Social media has revolutionized the digital marketing landscape. It's opened the door for two-way communication between brands and their consumers, and has evolved immensely over the years. Social strategies used to primarily focus on engagement and reach, but today, social media is used throughout the full customer journey, with many sites like Instagram adapting their interface for the selling and purchasing of products.
To rise above the competition and captivate their audiences, brands need to be doing more than sharing out content a few times each week. Increasing brand awareness, growing revenue, and building a tight-knit community of brand advocates takes time and a well-thought-out strategy.
Join us on October 27th for a live, virtual workshop and learn:
-How to set and achieve meaningful social media goals
-Which social platforms can help drive the most sales
-Expert tips for developing an effective social media strategy
This is a free, introductory-level workshop that is open to anyone interested in learning digital marketing. Register to secure your spot!
FAQs
Is this workshop free?
Yes! All you need to do to attend is RSVP.
Is the event online?
Yes, to attend you just need to have Zoom downloaded on your phone or laptop. You can download it for free here.
How long is the workshop?
This workshop will last one hour.
Do I have to turn my camera on?
No. The workshop will feature a presentation guided by our digital marketing expert.
Will there be a Q&A?
Yes. You will be able to submit all your questions via chat, and we will answer them during the final part of the workshop.
Can I get a recording afterwards?
Yes! This workshop will be recorded and we will share a link with you so you can go back and rewatch it any time.
Who are you? Why are you hosting this event?
At the Kansas State University Digital Marketing Bootcamp we offer part-time online programs that equip students with the in-demand skills, knowledge, and confidence they need to excel in their career path of choice. We are hosting this virtual event as part of our mission to educate the future workforce with the practical, technical, and theoretical skills for the jobs of tomorrow. To learn more about our programs, visit our website .