Description
Understand how to implement social media hacks! Join our Social Media Hack's Workshop for Personal Trainers. This workshop will dive into creating an impactful presence on social media to drive your business goals.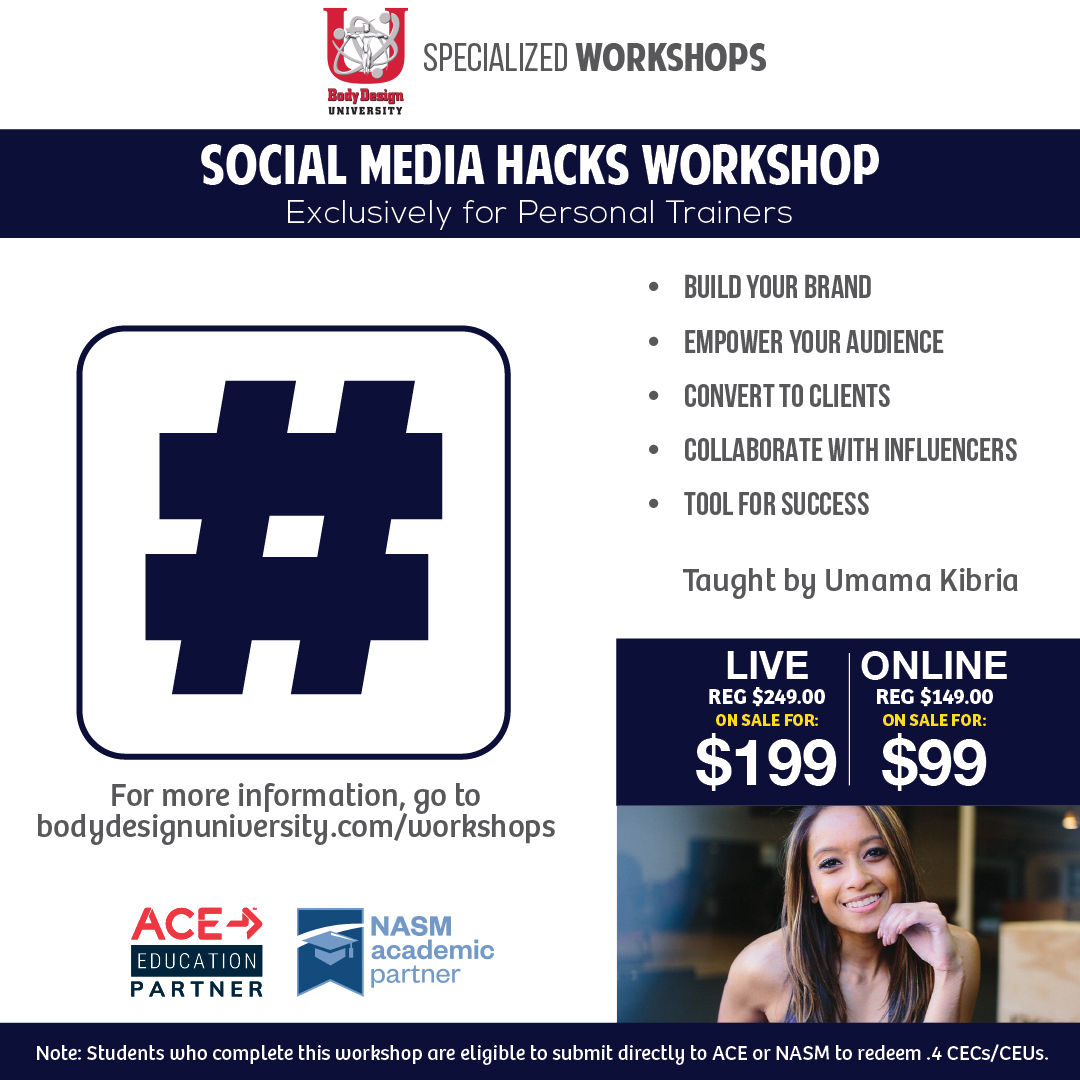 1) BUILD YOUR BRAND:
– First steps for setting up your profile
– Picking a powerful platform for your purpose
– How to distinguish yourself
– Tools/APPS
2) EMPOWER YOUR AUDIENCE
– How to increase your reach organically
– How to engage with your clients
3) HOW TO CONVERT AUDIENCE TO CLIENTS
– Hosting group training/community events
– Non/Scalable Activities for Growth & Connection
– Creating PDF guides
4) COLLABORATE WITH INFLUENCERS
– The power of partnering up
– How to identify the right influencers & partners
5) TOOLS FOR SUCCESS
– How to create flyers
– How to create & edit videos
– How to utilize Instagram stories & Snapchat
– SEO & Paid advertising
Taught by Umama Kibria
Umama Kibria, CEO of SASS Brands, specializes in social media and event marketing Her passion for health & fitness allowed her to connect with industry professionals to empower their brands through social media.
She utilizes her personal fitness platform to connect with over 115 thousand people globally. Her focus is on building community online and in person with her events company Sweat With ATL. Outside of Atlanta, she empowers women through strength with her app "SASS Guide." With the success of her own platform, she now focuses on building health/fitness brands with the goal of utilizing social media for growth.
With over 8 years of professional marketing experience, Umama is now working with health/industry professionals to empower their brands to make an impact on communities.
Limited seats! Buy Your Ticket Now!
This is an open workshop suitable for all personal trainer experience levels!


Member and Student Promotional Codes:
"BDUGRAD " Graduates from our Personal Trainer Course get 50% Off.
"BDUSTUDENT" New Personal Trainer Course students receive TWO FREE workshops.
NOTICE: OUR WORKSHOPS MAY BE SHOT ON VIDEO AND STILL PHOTOGRAPHY!
Read what other students are saying!
"Great explanations. I can't wait to use it." – Chase Leonard
"Relevant and has helped me narrow it down to my target audience." – Antonio Dorsey
"The workshop was very well organized and better than I expected!" – Arturo Gonzalez
"Got all the information I needed plus more." – Jonathan Gramby
"Learned a lot and really enjoyed it. Great experience." – Shelby Boyd
"This workshop definitely increased my knowledge to help the clients I plan to serve. I learned so many new things, AWESOME!" – Tiffany Kelly
"The workshop was excellent and more than I expected. So glad I made the drive to attend it!" – Kelly Gay
"Relevant principles that are applicable to my current state of business." – Tracey Paulfrey
"This workshop is informative and very hands-on." – Franika Stradford