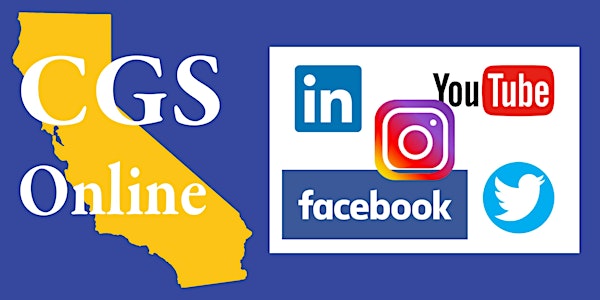 Social Media for Genealogy Video Viewing
A CGS series about how to use social media for researching, sharing and publicizing your genealogical interests
About this event
Social Media for Genealogy Series
VIEW RECORDING
Three Individual Sessions
Presented by 
Carly Morgan
These three individual sessions will cover how to use social media for researching, sharing and publicizing your genealogical interests. The sessions are as follows:
Session 1 - Saving Social Media for Family History
Posts on social media now capture much of the information we would find in correspondence, journals, and photo albums. However, social media is not designed to be easily archived which means we are at risk of losing valuable parts of our family history if we don't actively work to save the posts that are important to our stories and the stories unfolding in our families. In this presentation, we'll look at the most commonly used social media platforms and discuss the easiest ways to ensure that we're preserving anything we don't want to lose.
Session 2 - Using Social Media for Research
As social media has changed the way we communicate, we can now explore it as a tool for reaching out and finding research support for our family history work. Groups, message boards, comments, public albums…all of these are places where you might find unexpected treasures for your family tree. In this presentation, we'll talk about how to start harnessing the power of social media as you're researching along with best practices for working with efficiency and kindness in a noisy online world.
Session 3 - Using Social Media to Grow Your Genealogy Society or Business
Social media is a powerful tool for growing any group or business but the field of genealogy faces a challenge since our audience tends to be less familiar with the newer platforms. Additionally, getting started with social media may feel overwhelming (even though it's easier than ever to just jump in!). In this presentation, we'll talk about what each of the major social media platforms has to offer and how you can take advantage of the ease of communicating with social media to get free advertising, a longer reach, and a deeper connection with the genealogy community you're building.
The events were recorded in October. You will have viewing privileges through 2022.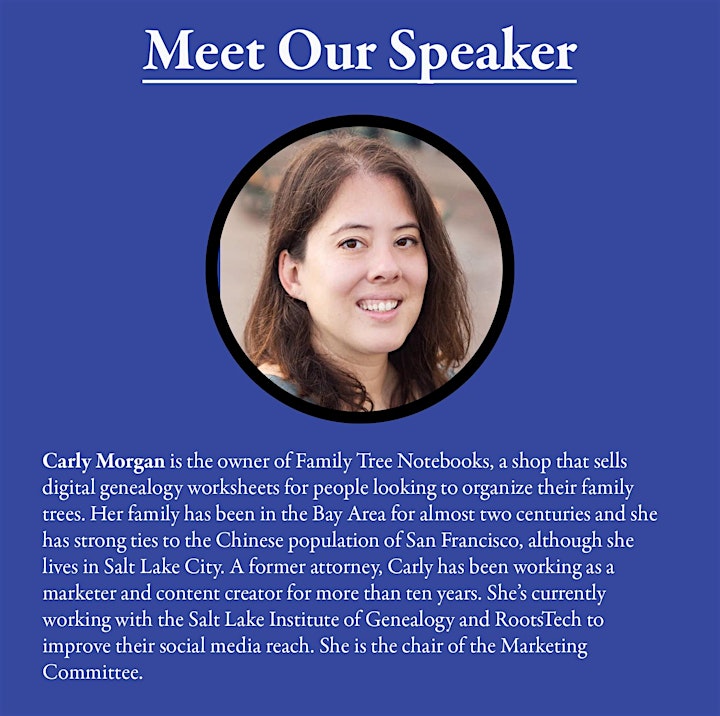 REGISTRATION INFORMATION:
CGS members enjoy reduced viewing per session cost of $10.00*.
Non-member viewing per session fee is $15.00*.
You can purchase a $45 one-year CGS Basic membership when you check out. To sign up for other membership options go to our web page: CGS Membership application
PAYMENT OPTIONS:
Credit card payments will be processed by Eventbrite.