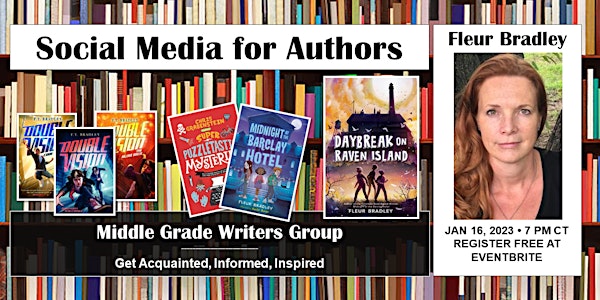 Social Media for Authors with Fleur Bradley
Fleur Bradley will talk about how authors can manage their social media more effectively.
About this event
This meeting was originally slated for October 2022. Due to a family emergency, our speaker needed to reschedule. If you signed up for the earlier meeting, please sign up again for this new date. Thank you!
SOCIAL MEDIA FOR AUTHORS with Fleur Bradley
Middle Grade Writers Group
Monday, January 16, 2023, 7:00 pm CT Online. Free
Mystery author Fleur Bradley will share what works and what doesn't in this session about managing social media as an author. Then she'll talk about some of the innovative marketing she's doing for her newest novel, DAYBREAK ON RAVEN ISLAND, including book events with clue games and escape rooms, and the making of her creepy book trailer.
Fleur Bradley is the author of MIDNIGHT AT THE BARCLAY HOTEL, which is on NPR's Best of 2020 Books List. It won the Colorado Book Award, Florida's Sunshine State Young Reader Award, and was a finalist for the Agatha Awards, the Anthony Awards, and the Reading the West Book Award. She contributed to CHRIS GRABENSTEIN PRESENTS SUPER PUZZLETASTIC MYSTERIES. As F.T. Bradley, she wrote the spy adventure trilogy, THE DOUBLE VISION.
Order DAYBREAK ON RAVEN ISLAND here: https://bookshop.org/books/daybreak-on-raven-island/9780593404638
Linktree: https://linktr.ee/MiddleGradeWritersGroup
Middle Grade Writers Group
MGWG is a free online meeting that originates in Minnesota and welcomes MG authors and writers from all over the world. We meet on the third Monday, 7-8:00 p.m. CT during the months of January-May and September-November. We vary the meeting format with presenters at some meetings, and small group discussions with moderators and topics at others.
Questions? Connie Kingrey Anderson at G mail dot com
For a list of upcoming and previous meetings, click here.