About this Event
First of all, thank you for your interest in this workshop.
Over the last three years, FYN Creative has run small group digital storytelling and social media workshops once a quarter for colleagues in the Washington, D.C. metro area, representing world-renowned associations to small business owners, startups, and government agencies. A few organizations include PBS, TSA, National Archives, Ballston BID, National Education Association, French Embassy, American Society of Clinical Oncology, the Aircraft Owners and Pilots Association (AOPA) and many more. In fact, these workshops have even started to attract professionals from the mid-Atlantic that come to D.C. just for this workshop.
We want to let you know that this is not your average "social media workshop."
It's not an online course, a series of videos, and we will not provide a "magic antidote" for those hoping for a quick hit of followers. On the contrary, you will leave with the most up-to-date and practical marketing advice and digital tools to drive real results.
Lastly, our social media and digital storytelling training is not for everyone. We want committed colleagues.
Continue reading only if you are ready to be the digital leader in your organization, make a transformation for your business (or career) and put into practice the most current and effective digital marketing tactics working at this very moment - as in, Fall 2019.
One thing to note - we only host one per quarter with no more than 10 attendees. The reason: to create an environment to give leaders like you, the tools and confidence to raise your hand and talk through the questions, misconceptions, and lack of knowledge or resources holding you or your organization back.
What will you get out of it?
We believe it is important for someone from your organization, no matter the title or scope of work, to become knowledgeable about all the digital marketing practices that currently exist. If you've read this far, you probably know this is a helpful skill to have in the digital age but most importantly what we want you to walk away with is the confidence, tools, tactics, resources, and especially talking points to hold your organization or anyone you work with, accountable to maximize your ROI.
Let's face it, nobody likes overpaying for traditional media, tactics that are outdated, or distributing content where it will never be seen. It can be frustrating, and it isn't moving the needle in your organization.
A few highlights of what you can expect to get out of spending time with us:
1. Ability to create, communicate and carry out an effective digital strategy within your organization on a limited budget.
2. Hands-on experience and understanding of storytelling (audio, animated content, video, the written word, imagery), creating content daily for your organization, and importance of utilizing video content on a variety of resources.
3. Understanding and practice setting up social media ad sets and campaigns - think Facebook Ads manager rather than just "boosting" a post. We will also discuss the evolution of Linkedin, it's organic reach, and how to set up ads on their sales navigator.
4. Resources and knowledge of emerging trends: influencer marketing, voice marketing and analytic tools to set benchmarks.
5. Language, talking points, and resources to effectively communicate the worth and benefit of an effective social media strategy to your organization.
6. Beyond the Class: Access to a private Facebook group, invitations to our free D.C. Social Media meetups (think: Donuts & Digital), and bi-monthly email social media tips.
Who is it for:
Going back to point #2 in our intro, this is for those that want to make a change either in their organization, their own marketing strategy or for their career.
As you'll learn about FYN Creative and Kevin O'Connell, it's founder and facilitator for this training, we have a wide perspective on how social media strategy and content works in a variety of industries.
We will leave you with this:
We have developed this training for those individuals and organizations that are experimenting with the digital landscape or need their employees (regardless if marketing directly falls under their responsibilities) to be well versed while not having a lot of financial resources to initially hire a consultant, freelancers, staff, or agency to manage your social media at this time.
From our time consulting, educating, and working with several organizations of small businesses, universities and world-renowned associations, you will get the most out of this if you bring your boss, co-worker, or even founder of your organization - or individual who you believe can provide the support and help move your organization's digital needle. If you take this training seriously, return to your organization and put in the work and effort, you will see results that people typically look for: more followers, greater engagement, awareness, business opportunities, and bottom line results.
Program Details:
10am to 4:30pm with 30-45 minute lunch break in Crystal City.
No more than 10 attendees.
No boring beige conference room. You'll get to experience a WeWork co-working environment. We'll give you a tour too if you'd like.
Plenty of time for specific questions and answers before, during, and after.
Examples of hands-on topics covered in this training include:
1. Marketing Disruption: Evolution and Revolution of Digital Landscape
2. What is digital storytelling?
3. Tips, tricks, updates, and nuances of major social media platforms (Youtube, Instagram, Facebook, Snapchat, & Linkedin)
4. Paid media and distribution - high level to hands-on (Facebook & LinkedIn ads manager)
5. Influencer & ambassador digital marketing
6. Emerging trends
7. Resources & Benchmarks
8. Case Study Project/Q&A/Individual Social Media Audits (as time allows)
YesAQ's
In lieu of a traditional FAQ, the answer to every question below is yes. This was inspired by Seth Godin as well as the team at Basecamp.
The answer is YES.
Can I attend if I do not work in marketing or social media?
Can I attend if I do not work or live in Washington, D.C.?
Can I bring a co-worker or my boss?
Is this for someone looking to enhance their digital skills or make a career transition?
Is this for someone who already has a degree in marketing or already working in a marketing capacity?
Will there be an opportunity for discussion?
Do you research the organizations or industries of participants in order to have specific examples?
Will you help me with Facebook ads?
Will I learn more about Live video?
Can I keep in touch with Kevin & fellow attendees after the training?
Will there be group work?
Will this be challenging?
Do I have to show up right at 10am?
Will it go until 4:30pm?
Is there parking options? Is there a metro nearby?
Are there plenty of lunch options within walking distance? *So many :)
The punchline: seats to these workshops will sell out like they did back in April.
Can't make this but still interested? Interested in tailoring a customized workshop just for your organization? Let us know by sending a quick note to Kevin and we'll keep you in the loop - kevin@kevin-oconnell.com.
More about FYN Creative and Kevin O'Connell in organization description below.
Refund Policy: If your plans change and you can no longer attend, please email kevin@kevin-oconnell.com within 7 days of the workshop. No refunds will be given after this date, however, you may choose to attend another workshop of equal or lesser value within a 90 day period.
What past attendees have to say: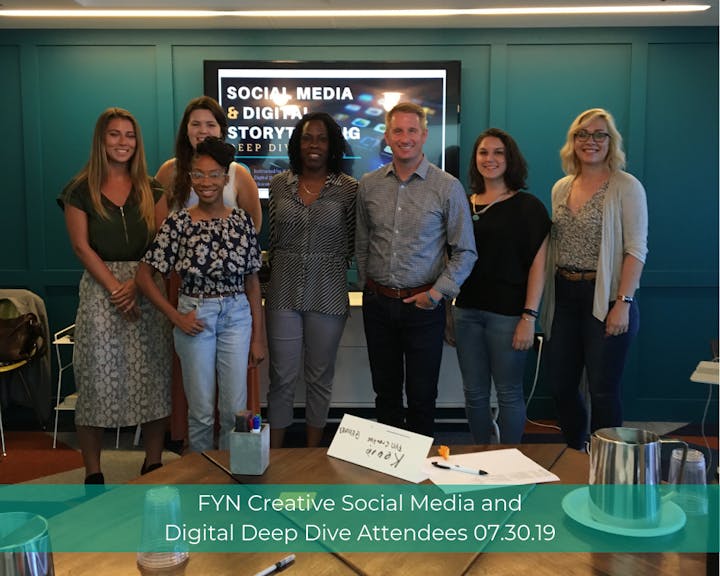 "As a career social media manager, I was skeptical about how much I would learn from Kevin's workshop, but I walked away with a wealth of new knowledge on emerging trends, social media advertising, and what makes good animated content. The small class size allowed us to actively bounce ideas off Kevin and others in the room, which I'm sure we all really appreciated. I've already shared some of my new ideas with my boss, who's just as excited as I am to put Kevin's advice into practice moving forward." -- Harmeet Kamboj, Communications and Social Media Assistant at PRRI
"FYN's workshop was very engaging and the intimate setting made it easy to participate and ask questions. Very pleased to have walked away with tangible ideas to bring back to the workplace. It was definitely a worthwhile investment!" -- Maggie D.
"Kevin is a great speaker and very knowledgeable about all things social media. Whether you're looking to revamp your current channels or start from scratch, he is there to give you input and personalized guidance. The class was well worth the time and money, I would highly recommend to all." -- Christine Golden, Spargo, Inc.
"This workshop is essential for digital marketers across the board, but especially for those who need to reignite their creativity! What a fantastic day full of learning and insight. I will definitely recommend to colleagues and small business owners I work with daily." -- Anonymous