Description
Its that time of year again where the heat returns...and so does Social Media Day Phoenix!
On Friday, June 30th we've got a BIG learning opportunity for small businesses and entrepreneurs wanting to further their knowledge with actionable, practical social media takeaways and best practices from top industry experts and business owners that are actually DOING it successfully. In addition to a nearly full day at Galvanize Phoenix, you'll also have the chance to enjoy some fun at the ballpark and exclusive access provided by the hometown team, the Arizona Diamondbacks. Don't forget to follow along and post using the hashtag #SMDayPhx leading up to and throughout the event!
PLEASE NOTE:
- If you would like to attend ONLY the day's events at Galvanize Phoenix, then just register here on Eventbrite through this link.

- If you would like to attend the Galvanize events AND events at Chase Field (which includes the Diamondbacks game and, for those who purchase VIP tickets, an on-field experience with the team and players), please register here through Eventbrite for free, then visit dbacks.com/socialmedia to purchase your ticket(s).
Part 1 at GALVANIZE (free) - AGENDA
8am - 9am: Check-in
9am - 10am: Opening Keynote
10am - 10:15am: Transition/Break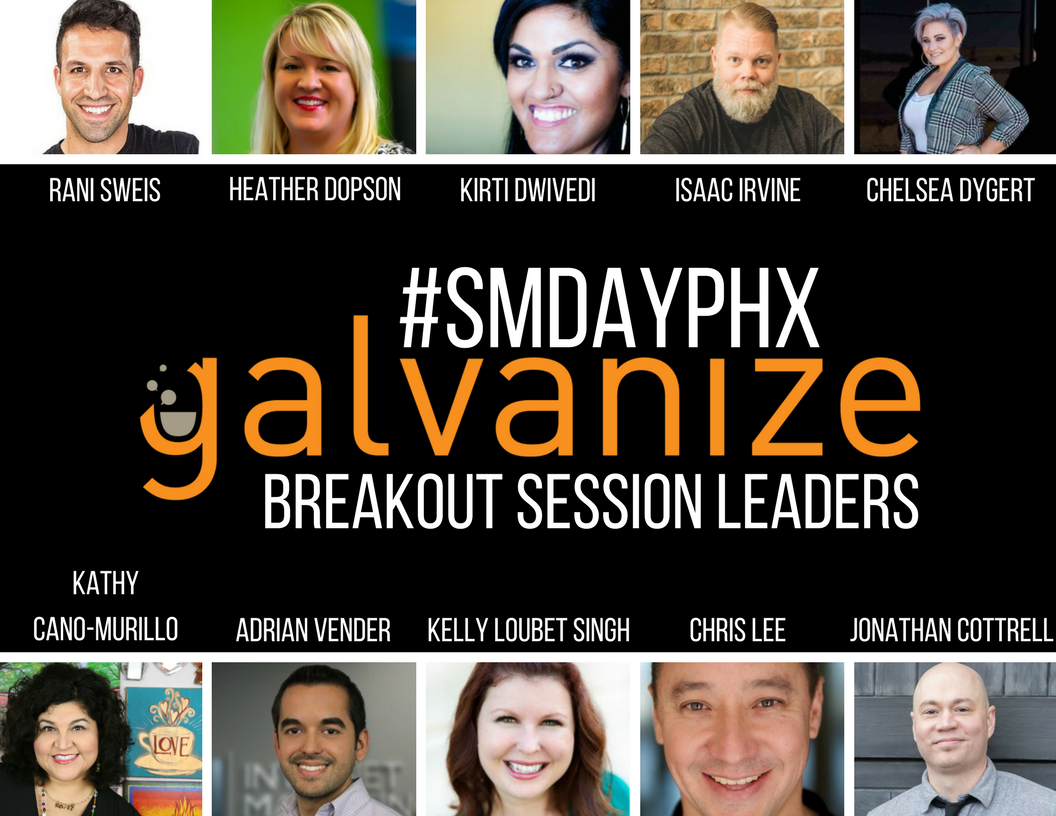 10:15am - 11am: Breakout Session 1

AMPHITHEATER - Does "Going Viral" Really Matter?, w/Heather Dopson (GoDaddy) and Isaac Irvine (GoDaddy)
PIMA -

Hands-Off Sales with a Hard Working Website

, w/Chris Lee (PurpleCRM)
PINAL - Making Your Brand Look Like the Money You Want to Charge, w/Kathy Cano-Murillo (Crafty Chica)
11am - 11:15am: Transition/Break
11:15am - 12pm: Breakout Session 2
AMPHITHEATER - Turning Your Staff Into an Effective Marketing Team, w/Chelsea Dygert (Dygert ConsultMent)
PIMA - How to Efficiently and Effectively Manage Content for Your Business, w/Kelly Loubet Singh (BRANDish Social Media Marketing)
PINAL - The Science Behind the Art of Branding, w/Rani Sweis (AtticSalt)
12pm - 1:30pm: Lunch (food trucks will be available on-site)
1:30pm - 2:15pm: Breakout Session 3
AMPHITHEATER - Why You Need to Pair Digital with Social, w/Adrian Vender (Bikini.com)
PIMA -

Social Media Etiquette for Your Brand... and You, Too,

w/Kirti Dwivedi (Diya Marketing)
PINAL - Get Familiar w/the #yesPHX Community of Startups, Tech & Entrepreneurs, w/Jonathan Cottrell (IntraEdge)
2:15pm - 2:30pm: Transition/Break
2:30pm - 3:15pm: Small Business Panel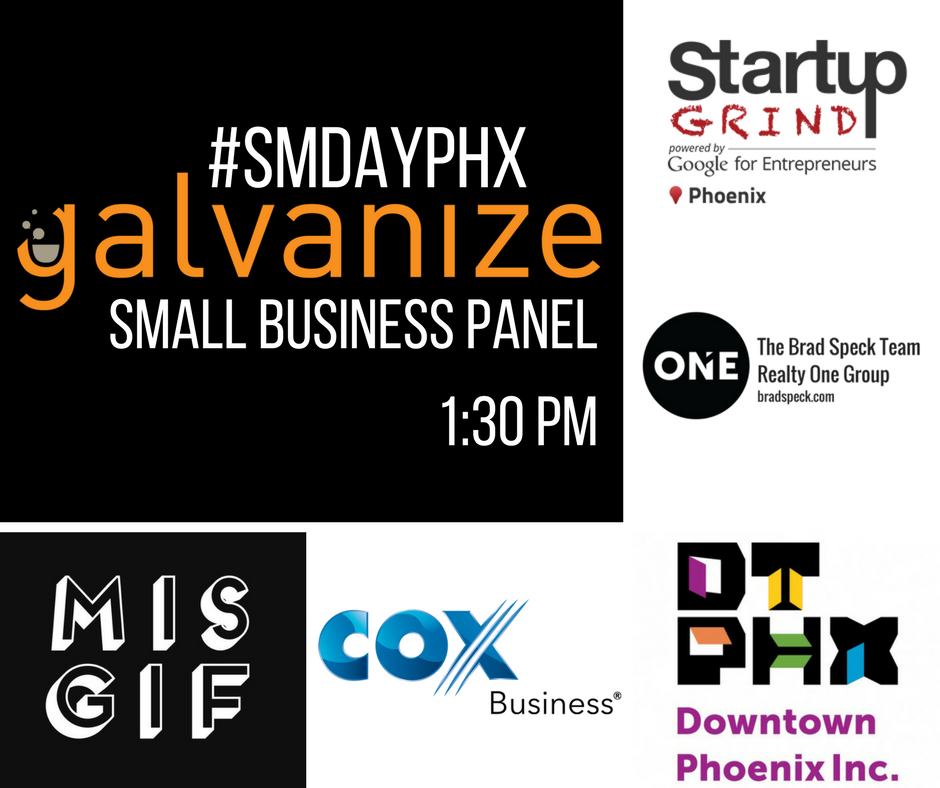 Listen to local business owners and founders alongside industry experts discuss what's worked (and what hasn't) when it comes to using social media for their businesses. Bring your questions and expect to take notes! Our panelists include:
3:15pm - 4pm: Transition to Chase Field
Part 2 at CHASE FIELD (ticket purchase required) - AGENDA
4pm - 5pm: Networking/Partners & Sponsors in Audi Club/On-Field VIP Experience (Part 1)
5pm - 6pm: Brand Panel - How Can Social Media Tactics & Strategies Employed by Phoenix's Major Sports Franchises Work for Your Small Business?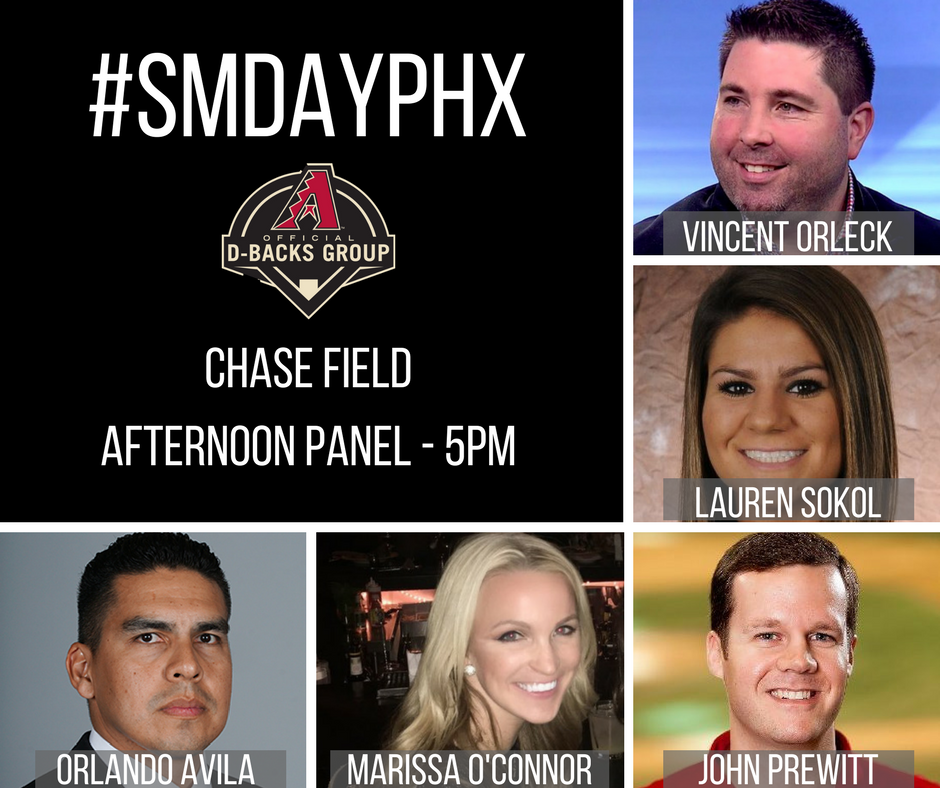 Join fellow attendees as the discussion turns to the various methods and approaches that social media teams from local major league sports organizations use to drive engagement and revenue. You might be surprised as to how these tactics can translate into marketing success for your business. Our panelists include:

6:30pm: On-Field VIP Experience (Part 2)
Bleacher ticket with acces to the pre-game events, on-field batting practice experience, on-field national anthem lineup with your Arizona Diamondbacks players, and access to the Coors Light Strike Zone.
Use offer code VIPSOCIAL on the D-Backs website here: http://m.mlb.com/dbacks/tickets/group/social-media-night
6:40pm: Diamondbacks vs. Rockies
FAQs
What is the official hashtag for the event?
How can I stay up to date on the latest news and announcements as they're released?
Follow our Facebook page and Twitter as they will have the most up-to-date info as its released, and our Snapchat and Instagram accounts will be worth following for behind-the-scenes and fun stuff, plus maybe a takeover or two by some of those involved in the day.
Do I need to attend the entire event?
Not at all, although we hope you do! The daytime events at Galvanize are free and open to all who register here on Eventbrite until space runs out. The events at Chase Field, including the game that night versus the Colorado Rockies, are by paid ticket only. So you CAN choose to attend just during the day, OR only during the evening, depending on what your schedule allows.
Will the event be live streamed?
As much as humanly possible! We also have some very special guests scheduled to go live on the Social Media Club Phoenix Facebook page during the day too so be sure to follow our page there.
What's the refund policy?
Since the only paid portion is through the Diamondbacks website, please contact their ticket sales office regarding any refunds at 602.462.6500
*For accessible seating or technical issues, please contact Parker Law at (602) 462-4108 or plaw@dbacks.com.
How can I contact the organizer with any questions?
Feel free to call or email me anytime! Vincent Orleck, 480.235.2203 or vincentorleck@gmail.com