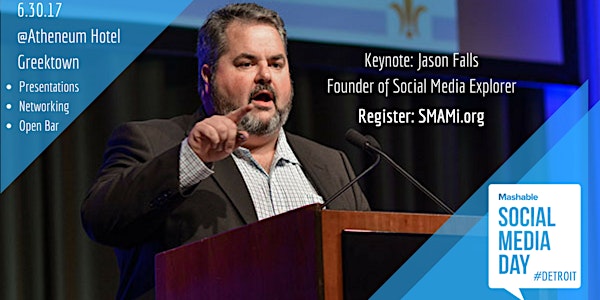 Social Media Day Detroit 2017 #SMDAYDET
When and where
Location
Atheneum Suite Hotel 1000 Brush Street Detroit, MI 48226
Refund Policy
Refunds up to 7 days before event
Description
Join the Social Media Association of Michigan on Friday, June 30 for Mashable's 8th annual Social Media Day!
Our goal is to bring together business professionals, innovators, influencers and enthusiasts for an opportunity to connect their online networks offline, in a face-to-face setting, bringing communities closer together.
You've asked and we've delivered! This year's #SMDAYDET will be a learning experience for our community of digital communications professionals.
We'll begin with a keynote by the one and only, Jason Falls, followed by a series of educational sessions. We'll conclude with an afterglow to toast the transformative technology that is #socialmedia and kickoff your Friday evening in beautiful Greektown.


AGENDA
8:30am - 9am

: BREAKFAST
9am - 10am

: Featured Speaker
Amber Beard, Social Media Recruiting Strategist at Quicken Loans
Amber Beard is a Social Media Recruiting Strategist at Quicken Loans, America's #1 online mortgage lender. Her focus is on building the company's talent brand through storytelling.

As a former board member of the Social Media Association of Michigan, she continues to contribute to our social media community as a speaker and event strategist.
---
10am - 11am

: Featured Speaker
Michelle Gilbert, VP Public Relations & Social Media, Comcast Heartland Region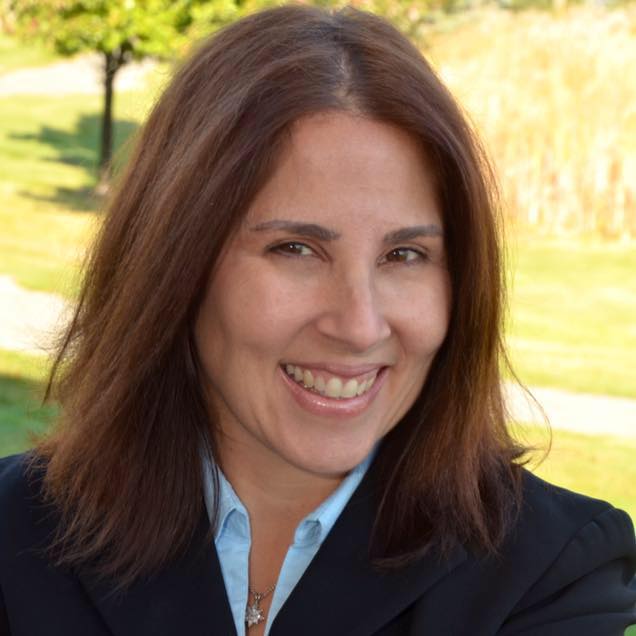 Michelle Gilbert oversees all external communications for Comcast's Heartland region, which includes Michigan, Indiana and Kentucky. A 27-year PR veteran, she believes her key to success has been building and nurturing relationships in every aspect of her profession. As she leads her team to help the company transform its image, relationships play a key role in her strategy.
Michelle is on the board of the Detroit Chapter of PRSA.
---


11am -
12pm

: KEYNOTE
Jason Falls, Founder at Social Media Explorer LLC and Conversation Research Institute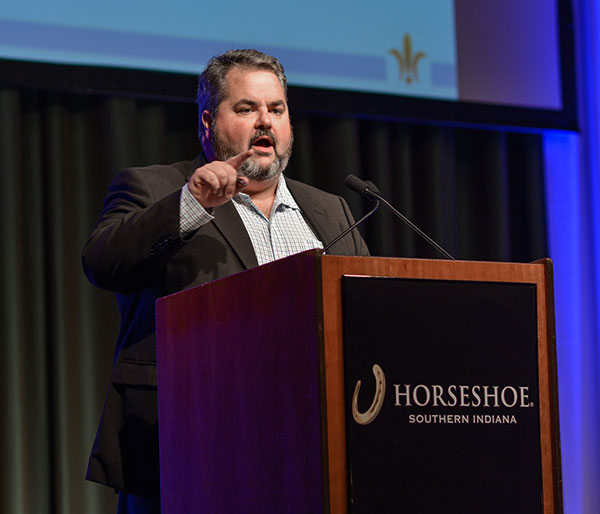 Jason Falls has enlightened audiences in seven countries and on three continents. His unique approach – providing original research through conversation data – often reveals surprising insights for audiences to use.
One TBEX North America attendee said of his conversation research talk in 2016, "My mind is blown. We have to rethink how we approach our audience now."
Noted as an early adopter and influencer in the social media marketing space, Falls's speaking resume dates back to the mid-2000s and has covered everything from basic how-to's to thought provoking talks that impact marketplace trends.
"One of the great many things about Jason Falls is he knows how to inform and entertain in a very accessible, authentic and human way. And he's not at asshole. He's a very intelligent and nice guy and a great speaker."
- Amy Cosper, Editor-in-Chief at Entrepreneur Magazine
12:00pm - 12:30pm

: Luncheon Speaker
Eric Thomas, Brand Strategist and Senior Partner at Saga Marketing
Eric Thomas is a Brand Strategist and Senior Partner at Detroit-based Saga Marketing. During his nearly decade long career he has worked with 100's of businesses and organizations to help them develop their brands and find their voice through Brand Storytelling.
While seeking broader opportunities to help businesses understand storytelling, his blog on LinkedIn has experienced tremendous success. In under a year his writing has been viewed over 1.5 million times and been republished across the globe.
12:30pm - 1pm

: Remainder of Lunch & Networking
---
1pm - 2pm

: Featured Speaker
Nikki Little, Social Media Director at Identity
Nikki Little oversees client workflow and strategy while collaborating closely with team members to ensure optimal client service and ongoing career advancement. Additionally, she drives strategic communications programs on behalf of B2B and B2C clients, such as Verizon, in Michigan and across the country

Nikki publishes The MichComms Report, a bi-weekly e-newsletter for communications professionals. She's also a member of PRSA Detroit, has organized/promoted several conferences and events and frequently presents on PR and social media topics. Her team is devoted to creating results that improve client brands and fortify long lasting relationships.
1pm - 2pm

: Featured Speaker
Nicole Hudson, Founder & Owner at Inbound Lead Solutions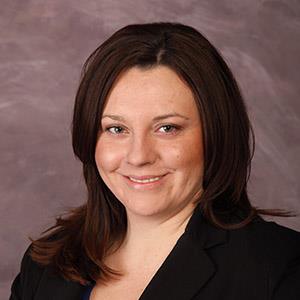 Founder and President of Inbound Lead Solutions, Nicole Hudson helps franchises, small businesses and national brands optimize their brands and digital marketing strategies using a holistic approach to lead generation, technology and content marketing. Applying integrated, analytics based digital marketing strategies, she positions companies to improve their reach, visibility and credibility quickly and cost effectively across all social media channels.
A recognized thought leader, Hudson presented at the 54th Annual IFA Convention's Digital Marketing Summit with Google, Moz, LinkedIn and Constant Contact and was twice awarded by the Franchise Update Media Group for excellence in social media strategies for franchise businesses.
Hudson is also an experienced public speaker and regular trainer in lead generation, social media marketing, content marketing, local search technology and software. Her work was featured in a recent case study from LinkedIn Marketing Solutions on Franchising Search Engine Optimization and Lead Generation, and she authored The Advanced LinkedIn PR Handbook in collaboration with Bulldog Reporter (Infocom). Additionally, she hosts a Master Class webinars with companies like LinkedIn, Citi Bank, and Dell. She devised social media strategies for two national television appearances on Be the Bossand Undercover Boss Hudson is a contributor to Franchising World Magazine and sits on the board for Community and Home Supports and Social Media Association of Michigan.
---


3pm -

6pm

: AFTERGLOW
OPEN BAR - ENTERTAINMENT - NETWORKING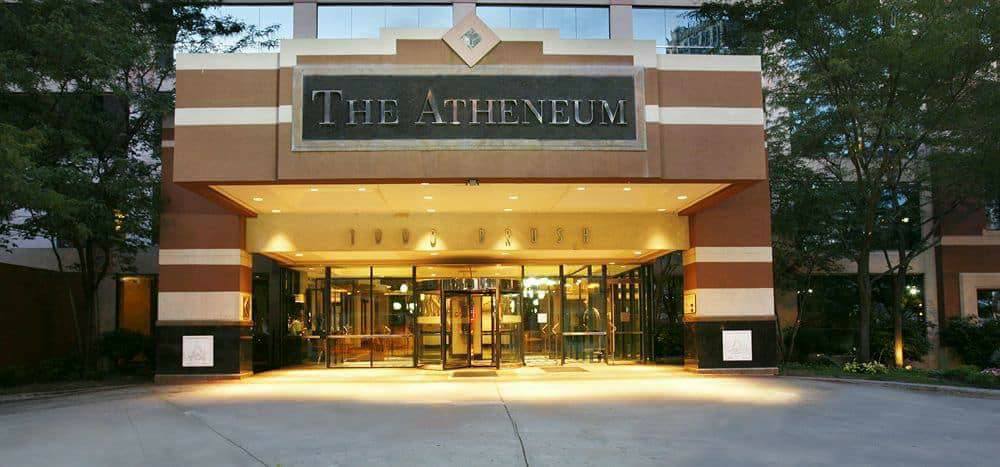 Mention that you are with the Social Media Association of Michigan's Social Media Day Detroit to receive the special rate of $184/night.
Guests will be expected to leave a valid credit card or a cash deposit equivalent to the full amount of their stay. It will be the Group's responsibility to inform its members of this requirement.
NOTE: All attendees must identify themselves as a member of the Group to receive the Group rate and to have their reservation credit to the Group block. Any reservation made outside of the Group block will not be considered for purposes of complimentary allocations, attrition, meeting room rental, or any other provision of this agreement contingent on room pick up.
SPONSORSHIP OPPORTUNITIES:
Interested in reaching digital marketing professionals and decision makers at #SMDAYDET? Email SPONSOR@SMAMi.ORG to request our sponsorship package.
VOLUNTEER:
Would you like to lend a hand behind the scenes at #SMDAYDET? Contact us to join our team. Volunteers will receive reduced/complimentary admission.
Presented By: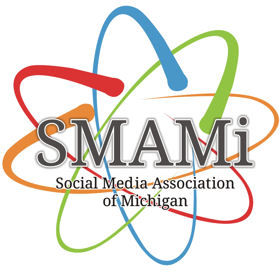 Social Media Association of Michigan