Description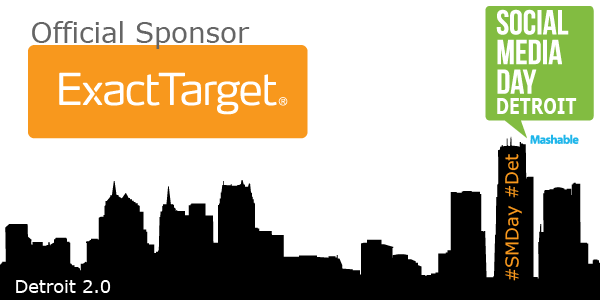 $159 Social Media Day Room Rates! Book your room here.
Hey, Detroit!
Charge those phones, cameras, laptops and tablets --it's time for the third annual Social Media Day Detroit!
Official Sponsor
To help us throw an even bigger and better celebration this year, we scored some great sponsors. Social Media Day Detroit 2012 is officially brought to you by the marketing rock stars at ExactTarget(@ExactTarget).
Other sponsors include Fathead, Quicken Loans, Bizdom, Quizzle, Alp Music, Yelp!, Campus Commandos and Party Armor, making Social Media Day not only a fun event but also a great place for networking.
Don't be shy, head on over to their twitter and facebook pages get to know them a little better!
Hosts
Livio Radio (@livioradio) and MotorCity Casino Hotel (@motorcitycasino) will once again be your hosts for the event! (Hashtags #SMDay #Det)

"We're thrilled to celebrate Mashable's third annual Social Media Day! We launched the event in 2010 as a way to recognize the digital revolution happening right before our eyes. We invite you to join fellow social media enthusiasts by hosting or attending a Social Media Day Meetup in your area"
Not sure what to wear? It doesn't matter if you're rockin' a t-shirt, jersey or fist pumpin' in a Jersey Shore getup, just be ready to smile pretty for the cameras.
Other stufff you need to know:
Theme - "Detroit 2.0"
We're celebrating the rebirth of our beloved Detroit: startups (and startup incubators) flourishing, businesses popping up (and moving) downtown and the entrepreneurial spirit making this happen. All of this naturally ties back to social media as a means to do business, build networks and communities, giving us a great excuse to celebrate at #SMDay #Det 2012!

Tickets, Age Limit

We're shooting for 1,000 people this time around (we know, it's gonna rock). Please limit your orders to 4-tickets/email addresses. Everyone must be 21+ to attend (no exceptions).

Start-Up Detroit


Like we said, there's lots of sweet start-ups popping up all over the city creating jobs and cool factor for Detroit. We're going to have an area just for these start-ups so you can get to know these folks before they get famous. Some might even be hiring.

Day of (more details to be added shortly)


The event begins at 11 a.m. and goes until 3 p.m. We might have an after party, we'll keep you posted on those details.



Bring Your Gadgets.


T

here's free Wi-Fi and given all the great photo/posting/blogging opportunities, the security frisking will be well worth it :-) Plus a constant stream on trending topics is a nice way to brag to all your friends that you were at the party of the summer.




Sponsorship


Interested in being part of this event and reaching 1,000 social media enthusiasts?

There are a few different options out there for you to help us take this party to the next level. We'll have everything from sponsored seating areas on the main floor of Sound

Board to

a start up 'hall'

so you can show off your cool gadgets/ideas to the tech crowd and venture capital attendees. Drop us a line at

smdaydet@gmail.com

and we'll get back with you ASAP.
YOUR HOSTS

MotorCity Casino Hotel
Designed with input from renowned automotive designer Chip Foose, MotorCity Casino Hotel is Detroit's most innovative entertainment venue featuring the crown jewel of the city's skyline. With world-class luxury hotel accommodations, spa facilities, fine dining, live performance venues, high-energy gaming and the city's most exclusive ultra-lounge, you'll find your kind of entertainment at the new MotorCity Casino Hotel. Our 67,000 square foot state-of-the-art meeting and conference facilities will take your meetings and social events to a whole new level.
MotorCity Casino Hotel is Detroit's only locally-owned and operated casino.
Committed to Detroit
As an involved community partner, MotorCity Casino Hotel is dedicated to the city of Detroit. As an actively engaged civic partner, the casino's associates, management, and ownership contribute to the Metro Detroit community in countless ways.
www.facebook.com/motorcitycasinohotel
www.twitter.com/motorcitycasino

Livio Radio
Headquartered right in Ferndale, Livio Radio has already developed a list of successful Internet radio products through ongoing relationships with Pandora, Grooveshark and NPR. The company remains committed to providing sleek and sophisticated radios and accessories for users who want quality without gimmicks, hassles, and unnecessary bells and whistles.
YOUR SPONSORS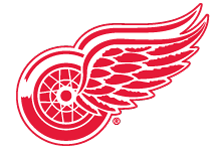 Detroit Tigers