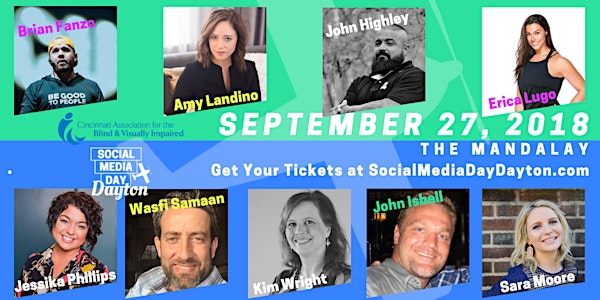 Social Media Day Dayton 2018
When and where
Location
The Mandalay 2700 E River Rd Moraine, OH 45439
Description
Mark your calendar for the 2nd Annual Social Media Day Dayton; The event to attend for business professionals, marketers and influencers!

WHAT TO EXPECT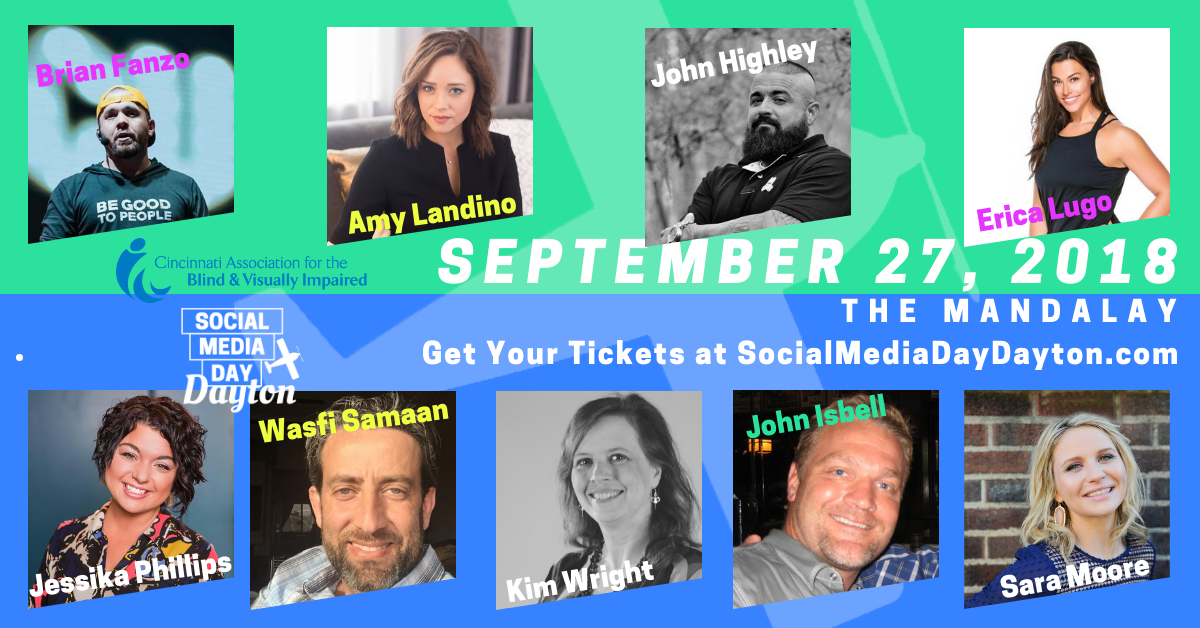 This is REMARKABLE - Check out the Lineup!
8 - 8:50 Registration & Networking Breakfast Sponsored by Bill's Donut Shop
9:00-9:10 Welcome by Host Sara D Moore
9:10 - 10:00 John Highley- Inspirational Opening Keynote! The Secret Gold Mine In Your Business "How I Turned a Small Auto Repair Company into a 7 Figure Educational Empire" from Centerville Ohio with 56K Instagram Followers
10:10 - 10:40 Jessika Phillips - The Human Experience - Relationship Marketing Evangelist from Lima, Ohio
10:50- 11:20 Wasfi Samaan & Kim Wright: Facebook Live & Facebook Ad Power Panel Q&A How the owner of JD Legends sells out his events with live video.
11:30 - 12:20 John Isbell Elevate Your Online Leadership - Your path is unique to your leadership. Discover newly who you are as a leader.
12:30 - 1:20 LUNCH / PERFORMANCE / CHARITY RAFFLE (Open Bar/Dessert) Cincinnati Association for the Blind and Visually Impaired
1:30 - 2:20 Erica Fit Love Increase Lifetime Customer Value using Instagram & Facebook - 440k IG Followers from Centerville Ohio
2:30 - 3:20 Brian Fanzo Press the Damn Button - Brian has worked with major brands like Red Bull and delivers one heck of a keynote!
3:30 - 4:20 Amy Landino KEYNOTE Celebrity Vlogger with over 200K youtube subscribers
4:20 Closing Remarks - Afterparty & Free Lyft Ride sponsored by J.D. Legends
HOW TO CONNECT & LEARN MORE
Join me at Social Media Day Dayton on September 27, 2018 at the Mandalay Banquet Center in Dayton, Ohio.
YOU WILL BE ELEVATED.
Follow Social Media Day Dayton on Facebook, or learn more about the event on our website.

WHAT PEOPLE HAD TO SAY ABOUT #SMDDayton 2017:

"What a tremendous social media conference held by none other than the talented Sara Moore of SEA Media! #SMDdayton was one of the best conferences we've been too in a long time. Tons of relevant information, great atmosphere and even better...lots of positive vibes and new friends! We will definitely be putting this event on our calendar next year!" -Jennifer Gilman
"Thank you Sara Moore for the incredible time at Social Media Day Dayton 2017! yesterday! New friends & old, I cannot wait to apply the information that was shared from the speakers and conversations held during this fabulous event, thank you! #smddayton" - Shay Tibbs

"I don't think I could ever thank you and your team enough for the event you guys put on. It was absolute perfection and I loved every single second from the early morning up until we sang our hearts out and it was all of a sudden Friday lol. You are wonderful and I can't wait to see you again some day!" - Margo Kelly

"Do you know what else is awesome? I talked to another young woman who got so much out of yesterday. We both agreed that yesterday was the most heart centered and PRESENT training we've been to. Thank YOU for creating that magic!" -Amanda Miller

"Great Day learning about Social Media! So excited to use the tools I learned to boost my career and our companies! Thank you @seamediaus and @queenofsocialmedia! And special thanks to my friend and social media maven @ericafitlove for great advice on content and consistency!" - Abi Jordan

"Sara Moore put on an amazing event!!! She is such a beautiful person inside and out!! I'm so glad I was able to attend." -Cecilia Morris