Social Media Boot Camp for Hawaii Recruiting, Staffing and Human Resources
Description
Social Media Boot Camp for Hawaii Recruiting, Staffing and Human Resources

REGISTER NOW!
THURSDAY, JULY 13, 2017 | 9:30A - 3:30P | DAVE & BUSTERS PAINA HALE
Don't miss the 7th Annual Social Media Boot Camp for Hawaii's recruiting, staffing and human resources professionals on Thursday, July 13, 2017 at Dave & Buster's Paina Hale from 9:30 a.m. to 3:30 p.m.
Join us for a highly participative, interactive workshop and exciting opportunity to learn from local recruiting, staffing, and human resources leaders. Uncover leading solutions and strategies in the HR Industry!
Topics Included:
Leveraging Social Media in a 2.6 percent unemployment market

The Power of LinkedIn - Employer Branding for Candidate Attraction

The Transformation of communication styles

Recruitment and Retention with Millennials

How employees can help your company share its story

Round table discussions and more...
PROGRAM
9:30 am Registration & Coffee
9:50 am Welcome & Introduction
10:00 am SESSION 1

10:30am SESSION 2 - PART I
11:00 am 15 minute break, networking
11:15 am SESSION 2 - PART 2
11:45 pm Acknowledgements & Sponsor Recognition
12:00 pm Luncheon Buffet with Q&A conversations on the #SMCHI twitter stream
12:45 pm SESSION 3
1:15 pm SESSION 4
1:45 pm 15 minute break, networking
2:00 pm SESSION 5
2:30 pm Roundtable Discussion Groups Facilitated by our speakers, panelists and moderators
3:00 pm People's Choice Awards / Prizes
Speakers: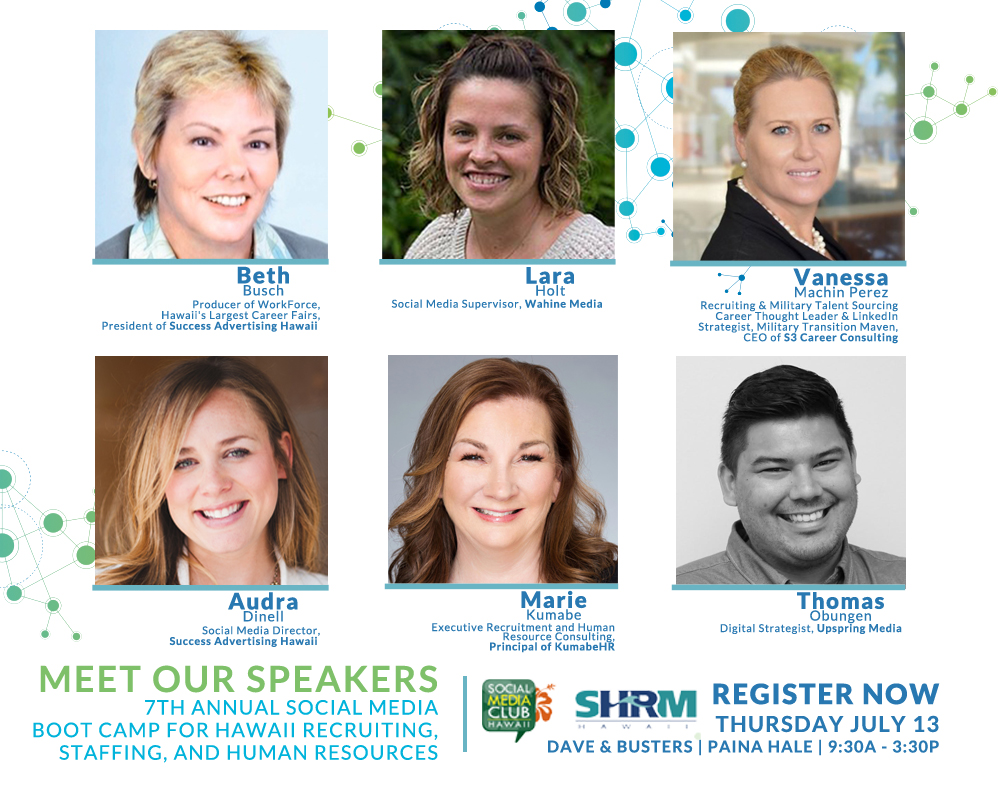 Beth Busch ​
Producer of WorkForce,​ Hawaii's Largest Career Fairs, President of Success Advertising Hawaii

Success Advertising Hawaii offers in-depth recruitment solutions for local employers and is Executive Director of WorkForce and Job Quest, Hawaii's oldest and largest job fairs. With 25 years of experience in the recruitment field, Beth has had a front row seat to the dramatic affect the digital age has had on the way companies recruit and job seekers look for work.​
"With new digital recruitment products coming on the market almost daily -- and record low unemployment -- it's more important than ever that clients tune their digital efforts for maximum ROI." ​
Lara Holt

Social Media Supervisor, Wahine Media
Lara has been pivotal in developing increased market share and revenue success for the company. She works with executives to make sure their social media needs are met. Her responsibilities include daily monitoring of multiple social media accounts, content strategy, quality control, and personnel management. She is the Communications Chair of the Social Media Club of Hawaii and promotes social media events which share the best practices of the industry.
Vanessa Machin Perez

Recruiting & Military Talent Sourcing Career Thought Leader & LinkedIn Strategist, Military Transition Maven, CEO of S3 Career Consulting
Vanessa Machin Perez, is a branding innovator and global thought leader in the digital marketplace. The unconventional career strategist is passionate about connecting great talent with amazing opportunities globally— using technology and the power of LinkedIn. Vanessa is an author, a designer, a business owner, and a marathon completer. The Australian Army Veteran is also a USMC Spouse and a committed advocate for veteran causes.
Marie Kumabe
Executive Recruitment and Human Resource Consulting, Principal of KumabeHR

KumabeHR incorporates cutting edge technology and an enviable network to the search for top talent. She has spent the last 10 years actively engaged with Hawaii companies, partnering with them to insure that their organizations have access to the best HR trends as well as leadership candidates. She has over 20 years in business, with 15 years specifically in staffing and recruitment. Marie is a recognized leader in the field of staffing and human resources in the state as is demonstrated by her appointment as the current Faculty Director for the Masters of Human Resources Management program at the Shidler College of Business at the University of Hawaii.The 15 year unique relationship Kumabe has with the University delivers an amazing network representing the top emerging talent available in the state. She launched a successful national staffing franchise and sold her interests to start her own company and serve the community on her terms. She has also served as Director of Human Resources for American Hawaii Cruises and has held senior management positions with Continental and Northwest Airlines. Marie received her undergraduate degree from UCLA in International Relations with an emphasis in Business, and holds a master's degree in Human Resource Management. She is active in organizations like the Junior League of Honolulu, Nuuanu YMCA Board, the UH TIM Alumni Organization and Aloha United Way.
Thomas Obungen
Digital Strategist, Upsring Media
Born a natural tinkerer, Thomas has shaped his inquisitive mind into a tool for pushing boundaries. With clients to his own editorial endeavors, the question he always aims to answer is "what if." In his short career, he can claim a number of accomplishments including leading his college agency to its first district win for NSAC, creating the Instagram deployment strategy for Yelp communities, and managing the marketing efforts for a multi-million dollar Apple reseller.

As associate editor of Frolic Hawaii, he maintains the social media strategy for the growing digital-only food publication as well as content creation and development for the site. He is currently the co-host of Fat Kid Friday, a video series spotlighting exuberant dishes across Oahu. Crazy, ginormous or over-the-top luxe, these are the broke-the-mouth finds we push across the table and tell our friends to try.

Whether he's embarking on a two-day foodie bender in Tokyo or exploring the food halls of Los Angeles, his passion is sharing his many delicious finds through the lens of a guy with a serious appetite. Always on the hunt for the perfect bite, you can follow his so-called research on Instagram at @thomasohhh.
---
This event is presented by Social Media Club Hawaii and co-sponsored by the Society for Human Resources Management (SHRM) Hawaii Chapter.