Social Media Action Camp

Thursday, February 16, 2012 from 8:30 AM to 5:00 PM (EST)
Event Details

---
Social Media Action Camp (#SMAC) is a one day conference designed to provide a digital communications learning environment for small business owners, media enthusiast and entrepreneurs. The camp features a mix of learning sessions that are created with a priority on actionable information. In addition to the topic and summary, each session has a clearly stated set of learning outcomes to keep the sessions on track and meet the expectations of the attendees.
smac2012.com
---
Keynote by: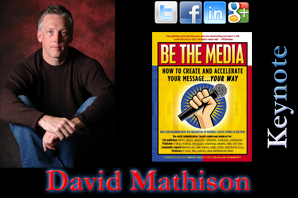 David Mathison is founder and Managing Director of the Digital Media practice at Chadick Ellig, a premiere executive search consultancy named by Business Week as "one of the world's most influential headhunters."
Mathison's book, BE THE MEDIA, was featured in the NY Times after he pre-sold over 5,000 copies in 11 days via his web site, Twitter, and Facebook.
He has given keynote presentations everywhere from Columbia University to the United Nations (3 times in 2010), from Amsterdam to Zagreb. He is host of an award-winning radio show whose guests have included author Seth Godin, Wired co-founder Kevin Kelly, singer Jill Sobule, craigslist's Craig Newmark, and Wikipedia's Jimmy Wales.

From 1999-2001 he was founder and CEO of the Kinecta Corporation where he raised $30 million in under 2 years. Kinecta was acquired and is now part of Oracle (NASDAQ: ORCL). From 1994-1999 Mathison was Vice President with Thomson Reuters, the world's largest news agency, where he pioneered online content syndication.

Mathison is the founder and Executive Producer of Home Aid, an annual campaign and event to benefit America's homeless. He serves on the Board of Directors for Home Aid America and Speakers Without Borders, an international non-profit created to support professional speakers who are committed to inspiring the human spirit in under-served communities though the power of the spoken word.

Mathison served on the Board of Conveners for the Marin Community Media Center (San Rafael, CA), the Board of Directors for WebHood (Cambridge, MA), the Media Freedom Foundation (Sonoma, CA), and the Mountain Play Association (Mill Valley, CA). He is a Deacon at Westminster Presbyterian church (Tiburon, CA). Mathison earned his Masters degree from Columbia University in 1995.
Sponsored by:


Agenda for #SMWsmac
8:30am -
·         Opening Remarks & Breakfast!
9:00am -
·         Jeff Goldberg - Selling in the Digital Age
·         Amy Vernon - Our Secret Arsenal: StumbleUpon, Reddit and Digg
9:50am -
·         Nathan Latka - 3 Step Fan Page Business Blueprint
·         Ellen DePasquale - Build Relationships and Improve Your Email Marketing Open Rates
10:35am -
·         Lisa Burns - "A Day Made of Glass" YouTube - The Corning Brand
·         Craig Yaris - Social Media for Proper Execution
11:20am -
·         Dupleep Wijayawardhana - The Three Es of Empire Avenue: Engage, Expand, Evaluate
·         David Gussin - Igniting Business using multiple tools, on the web and off the web
12:00 noon -
·         Michelle Ross, Anthony Napolitano, Ben Farkas - Social Influence & Business of Social Media
·         Bill Corbett - Creating Social Media Plan and Strategy for Your Brand and Business
1:00pm -  
·         David Mathison - Keynote 
·         Roger Smith Hotel - Lunch  
1:50pm -  
·         Elliot Nix - Activating Mobile Effectively 
·         Mardy Sitzer - Lead Generation with Twitter 
2:40pm - 
·         Basil C. Puglisi - Collaboration: Creating Success in Social Media, Business and Events 
·         Maria Prieto - How to Turn Networking into Social Media Success 
3:30pm -  
·         Jeff Ogden & David Meerman Scott - MAD Marketing TV  
4:15pm - Closing remarks, survey, questions, etc
Attendee List
Sort by:

Date

|

First Name

|

Last Name
When & Where

Roger Smith Hotel
501 Lexington Ave
New York, NY 10017


Thursday, February 16, 2012 from 8:30 AM to 5:00 PM (EST)
Add to my calendar
Organizer
Digital Brand Marketing Education & Interactives (DBMEi) provides Digital Media Communications and Culture support for the development of businesses, organizations and individuals. The understanding of such tools and culture is the key to economic development that creates opportunity and reduces misunderstandings, inefficiency or conflict.
DBMEi uses two processes to accomplish this goal, Publications and Interactives. The publications follow a "Read, Write & Share" philosophy, while the Interactives use a "Experience, Execute & Interact" philosophy covering subject matter in Social Media, Search Engines, Mobile Technology, Conferences, Networking and Brand Marketing. The Interactives are social experiences that help foster networking and learning. The Interactives are based on communication and can be digital or conducted in real life.
Contributors and Volunteers participate in an experiential learning process that involves content creation, networking and facilitation to develop their knowledge, skills and abilities. DBMEi's efforts provide activities and information for society to become empowered and proficient for all individuals and their organizations.
As a nonprofit DBMEi provides professional development support to its members and unbiased content for society to foster better use of digital communication technology and strategies. In doing so, DBMEi fosters a climate for successful business development, fundraising outreach and personal communications that create a safer and more productive workforce.