Looks like this event has already ended.
Check out upcoming events by this organizer, or organize your very own event.
Social Marketing ROI Workshop

Monday, November 19, 2012 from 9:00 AM to 5:00 PM (Singapore Standard Time Singapore Time)
Event Details
In order to get your social media strategy right you have to understand the key components of social media, how they work together and how you can measure their success in driving value for the company. With the world of social media quickly and constantly changing, you have to be one step ahead, and in order to get there you have to understand how to create the right social media strategy in order to receive the best return on your social media investment. This 1-day workshop will help your company achieve the return on social media investment you are looking for.
Why is ROI of Social Media important?
Social media marketing is the next big media channel for marketers to take advantage of. It requires a whole new approach to building a comprehensive marketing strategy. Metrics and ROI must go hand in hand with building an effective social media strategy.
This workshop will discuss key elements of building a social media strategy and then provide a series of critical measures that can be used by the marketer to make sure the strategy execution is delivering as planned.
How You Will Benefit
You will be able to:
The basics of social media marketing strategy development
How to optimize your Facebook marketing
How social media fits in with the consumer purchase decision process
How to build and measure an effective influencer program
When
Monday, November 19th 2012
9am - 5pm

Where
Intercontinental Hotel, Singapore - (details to follow)
About the Presenter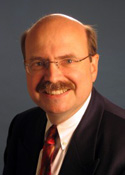 Wouldn't it be great to remove the guesswork from putting your strategic plans together? 
Marketing is about aligning the big things with the small things.  If we get the big things right we can be certain the small things are 
Guy's methods work around the world across many industries, company sizes, market positions and business questions.
His methods are based on sound strategic, tactical and financial concepts.  In addition, he has written three books, including Marketing Calculator: Measuring and managing your return on marketing investment and most recently, ROI of Social Media:  How to improve the return on your social marketing investments.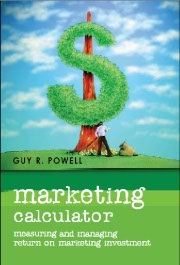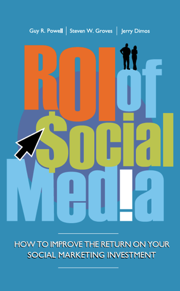 What We Will Cover
1. Setting the Stage for the Social Marketing ROI
Introducing Social Marketing ROI & it's importance to your overall social marketing success
2. Aligning Social Media with Your Brand Image and Strategy for Maximum Profit
Benchmarking advertising on social networks vis-a-vis other conventional media
Assessing how social media participants self-select to what is important to them
Developing your products and brands to promote them to a wider audience using SMM
Capturing the audiences' attention using social media - tips and techniques
Case Study: Uncovering how Sessions College uses social media to support different brand attributes
Case Study:  Analyzing how Huggies generated significant revenue through an integrated traditional and social marketing campaign (Facebook) in Hong Kong
Break Out Exercise: Brand attributes and preferences - How do consumers value brands & build relevance
3. Differentiating Influencers, Individuals, and Consumers and Analyzing how their Behavioral Patterns Affect your Social Marketing
Understanding and applying the Message Value Framework
Integrating social media channels for B2B and Consumer Brands
Addressing the 6-Step process to designing and executing a social marketing campaign
Mini-Case Study: Ambassador Program - Walmart ElevenMoms
Break Out Exercise: Developing an Ambassador Program - Identify and classify the influencers, individuals, and consumers and develop an influencer strategy
4. Facebook Anaylsis
Understanding the three key components to Facebook social marketing
Case Study: Discovering how Dove used Facebook messages to engage in conversation with their customers
Using Facebook Message Analysis
Case Study: Malaysia- CIMB bank
5. Measuring Your Social Media Marketing (SMM) Effectiveness and ROI
Developing a social media engagement measurement framework
Introducing social marketing ROI
Understanding what is return on marketing investment (ROMI)
Learning the ROMI Continuum and how it can help your organization
Analyzing the 8-Step Process of social marketing ROI
6. Workshop closing
Register now to start building your competitive advantage through Marketing ROI
When & Where

Singapore Intercontinental
80 Middle Rd
Singapore, 188966
Singapore

Monday, November 19, 2012 from 9:00 AM to 5:00 PM (Singapore Standard Time Singapore Time)
Add to my calendar
Organizer
InsightAsia is an Independent market research agency offering high quality marketing research, analysis and consulting services across Asia. InsightAsia is not just about presenting the numbers. Our goal is to bring real meaning to the data and provide a richer understanding of the Asian context, consumer lives and on-going trends. We listen to hundreds of Asian consumers, across countries, cultures and categories every day. They express their needs, motivations and aspirations to us. We bring this insight to our clients, to assist them in creating strategic & profitable solutions for the Asian marketplace. In 1997, we opened our first office in Jakarta with just four people. Today, we are one of the largest independent providers of quality marketing research and consultancy services across Asia. We employ over one hundred research professionals, supported by our own dedicated field and data entry teams, in seven key Asian markets. From our regional head office in Singapore and our own full service offices in Singapore, Thailand, Malaysia, Indonesia and China, Vietnam and the Philippines we work to provide our clients with a single standardized, yet intimately localised, research platform for the entire region.