Social Justice in Policymaking: Mobilizing Our Disciplines
Description
This Luskin-wide symposium will enhance our mission of positive change in the world through community-focused action, intentional advocacy and equitable policy, planning, and service delivery.
Event Schedule
(Food catered from India's Oven and we've tried to accomodate vegetarian, vegan, and gluten-free diets)
4:00 - 5:15 PM Student Research Presentations
5:15 - 5:30 PM Break
5:30 - 7:00 PM Panel Discussion
7:00 - 8:00 PM Reception (Coffee, dessert and refreshments will be provided).


Student Research Presentations | Advancing Equity & Justice Through Research
Students in all three departments have dedicated their time at Luskin to researching potential solutions to ongoing social issues. Several student groups across all departments will present on issues relevant to the theme of the event.
The Panel | Empowering Immigrant Communities in Los Angeles
From the steps of the Supreme Court to the street corners of Los Angeles, immigrant communities are facing unprecedented challenges. At the same time, activated and engaged local groups - as well as state and national organizations - have taken leadership roles in organizing and advocating for policy and action that best meet community needs. This panel will engage local policymakers, activists and advocates who are on the cutting edge of immigration issues in Los Angeles.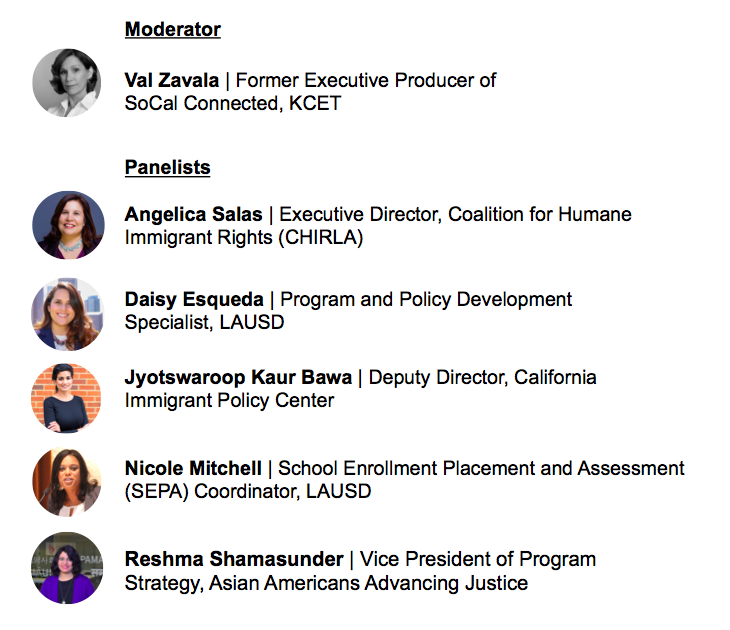 Organizer of Social Justice in Policymaking: Mobilizing Our Disciplines