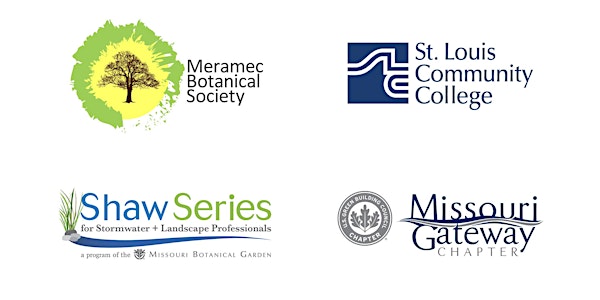 Social Justice in Horticulture presented by Shaw Series + STLCC Meramec Botanical Society
By Shaw Series + STLCC Meramec Botanical Society
Date and time
Thursday, March 5, 2020 · 1 - 6pm CST
Location
Saint Louis Community College - Meramec 11333 Big Bend Road St. Louis, MO 63122
Description
Registration is no longer open via eventbrite. Email rob.kennedy@mobot.org with any questions or inquiries.
_________________________________________________________________________
Welcome industry partners, students, alumni, educators and other guests! We have an amazing line up of speakers to raise awareness about social justice issues surrounding equity, diversity and inclusion in the green industry.
We do have a full afternoon planned. We realize that everyone may not be able to be at the entirety of the event, but please do register if you would like to attend any portion of the days activities.
Agenda & Speaker Lineup
12:00pm-
Registration Opens
1:10pm -
Dr. Cindy Epperson
Professor of Sociology, St. Louis Community College - Meramec
"Definitions of Social Justice"

Keynote Speaker
1:30pm -
Kofi Boone, ASLA
Professor and University Faculty Scholar, Department of Landscape Architecture
North Carolina State University
"The Just and the Green: Confronting Green Inequities"


2:30pm -
Break
3:15pm -
Melissa Brickey
Executive Director, DAP
"GOOD FOR BUSINESS, GOOD FOR PEOPLE:
The Case for Diversity & Inclusion"
3:35pm -
Rachel D'Souza-Siebert, MPPA
Founder and Principal, Gladiator Consulting
"Building Company Practices that Build Communities"

3:55pm -
Tosha Phonix
Food Justice Organizer, Missouri Coalition for the Environment
"Understanding Environmental Racism"
4:15pm -
Guest Speaker
Green Teen Alliance
"Why Youth Engagement Matters"
4:35pm -
Break
5:00pm -
Audience Q&A
6:00 -
Event Concludes
CEUs will be offered! APPROVED FOR 3 PDH'S BY LACES AND 3 LU'S BY AIA.
Please register by Tuesday, March 3rd. This event is FREE, but registration is required so we have enough food and drink available.
NON-PROFIT SPOTLIGHT: ****Green Teen Alliance****
In the spirit of actively tackling social injustices head-on, we are inviting you to participate in a donation collection to support Green Teen Alliance. This is not mandatory, but we hope you will consider making a gift. What is Green Teen Alliance you ask?
Green Teen Alliance is a coalition of area organizations. Their collective goal is to grow the future of the green workforce by engaging youth from historically marginalized communities in environmental work. They provide paid job opportunities for 75+ youth every summer, ranging from working in community gardens, to organic farming, to restoring natural habitats, to doing environmental research. The programs are more than just summer jobs. The coalition is committed to creating employment pathways for St. Louis youth to explore careers in environmental conservation, sustainable agriculture, and related research. Developing the next generation of conservation-lovin' environmental researchin' farmers and foresters will take time and intentional, multi-year programming.
TRAVELING ALONG THE PATH TO RACIAL EQUITY
Environmental justice, food justice, and racial justice are linked. The coalition hires teen crews that are racially diverse, to elevate the voices of historically marginalized people, build real community between racial groups in St. Louis, and to train our next generation of staff. The coalition is not afraid to start hard conversations about why few people of color work in our organizations, and the history of racism that continues to create land-based trauma in people of color today. Agricultural and environmental jobs are some of the whitest in America, from farmers and ranchers to foresters to environmental scientists. The coalition wants to give those stats a run for their money, but to do that, they have to talk openly about racism and injustice within our fields.
Since Green Teen Alliance is a coalition of area partners, it is not set up as a non-profit directly. Therefore, your donation will be given to Forest Park Forever with instructions to support Green Teen Alliance projects.
There are 2 ways to donate:
1. Bring CASH only on the day of the event.
2. Donate online at forestparkforever.org/donate and in the comment box indicate "For Green Teen Alliance on behalf of Social Justice in Horticulture Conference 2020".
For more information regarding our non-profit partner, Green Teen Alliance, please visit their website:
http://stlgreenteens.org/about
HOST SPOTLIGHT: ****STLCC Meramec's 11-acre Garden Classroom****
Did you know that STLCC Meramec's Horticulture Program is the largest in the Missouri? Not to mention the only one in our St. Louis region? And the department has big plans in store for its 11-acre outdoor classroom. That's right. Eleven acres of the 78-acre campus is managed by program staff and student volunteers as part of the hands-on experience of a career and technical education. A master plan for the Garden Classroom has been developed to elevate the student experience, align the students' working environment with current industry needs, and to ensure the garden is accessible to the entire community.
Join us for a behind-the-scenes tour of this amazing outdoor classroom and learn about the program's master plan, including rain gardens, native plant gardens and more! Then ask how you can help to prepare the next generation of talented individuals for the green industry.
Two 45-min pre-show tours are scheduled at 11:00AM and 12:00PM. Please select which tour time you would prefer when you RSVP. Space is limited!
(In the event of inclement weather, a presentation will be viewed.)
***Please note that lunch will NOT be provided. However, if you arrive to campus early you may purchase lunch in the cafeteria (located in the Student Center). Snacks and drinks will be available during scheduled breaks.***
About the organizer
Shaw Series
The Shaw Series hosts informal events that bring people together to share their experience and insight around 21st century issues such as community landscape planning and storm water mangement. Themes vary from municipal planning to public perceptions of native landscapes, developing successful landscape specifications, maintenace plans and more. All events require advanced registration. The Shaw Series is coordinated by the Missouri Botanical Garden's EarthWays Center and Shaw Nature Reserve staff. 
STLCC Meramec Botanical Society
"To capture the imagination and fuel the spirit of the campus and local community in all matters of the botanical world."
Our mission statement sums it up: a group of individuals impassioned by plants and the natural world around us. Most of us have attended or are attending St Louis Community College in the horticulture program, but we are by no means limited to the campus. We believe anyone in the local community should benefit from our explorations into the horticultural realm and our volunteer endeavors both on and off campus.