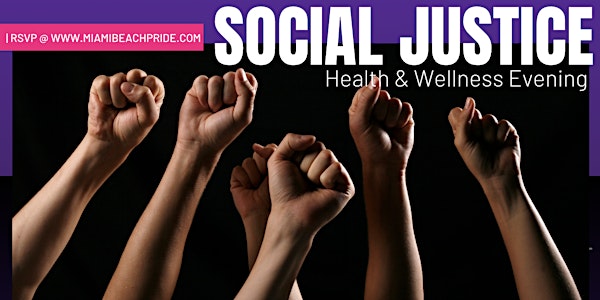 Social Justice Health & Wellness Conference
Engage in meaningful discussions on social justice issues facing the LGBTQ+ community
When and where
Location
Soho Beach House 4385 Collins Avenue Miami Beach, FL 33140
About this event
Miami Beach Pride believes in promoting community-engaged discussion to learn from various stakeholders and change-makers in the South Florida LGBTQ+ community. The five panels presented to the general public for free, will engage and serve a wide range of constituents of all ages and include Racial Inequality & Equity, Non-Binary & Gender Issues, Wellness & Mental Health, and more! Featuring noted speakers and tabling engagement with members of the public from Pridelines, Survivors Pathway, the Yes Institute, and Our Rainbow Nest.
The event starts at 6:00 pm on the 8th floor of Soho Miami Beach House. Here you can engage with staff from South Florida LGBTQ+ non-profit service agencies, experience an exquisite roof terrace with sweeping views of the Atlantic Ocean, while enjoying an affordable range of bar bites and crafted beverages*.
Please note that the rooftop terrace will be open from 6:00 pm – 10:30 pm. The five panels will run on two time-tracks 6:30 pm – 8:00 pm and 8:00 pm – 9:30 pm. Stay after the panel sessions to network and enjoy an evening under the stars
SCHEDULE
Registration: 6:00 pm - 6:30 pm
Track 1
6:30 pm: The Future is Queer - Youth and the Queer Spectrum sponsored by Pridelines. More details to follow including synopsis and speakers
6:30 pm: The Stigma of Mental Health and How We See the World sponsored by Survivors Pathway. More details to follow including synopsis and speakers
6:30 pm: Racial Inequality & Equity within the LGBTQ+ Community – A discussion with the Faces of Pride and featuring guest speaker RaShauna Hamilton, Senior Director Community Relations & Youth Programs at Miami Dolphins/Football Unites. Moderated by Tori Famuyiwa
Track 2
8:00 pm: Gender: the Transgender Experience sponsored by YES Institute. Moderated by Lily Velez Polit - Board Member Miami Beach Pride and Umat Dursan - Executive Director of Education at YES Institute. More panelist details to follow.
8:00 pm: Fireside Chat: The Modern LGBTQ+ Family – How to Start, Where to Go sponsored Our Rainbow Nest and featuring Robert Larche - Adoption Florida ; Victor Gimenez & Edwin Scharlau III, LGBTQ parents and Ivette Cordero, an LGBTQ parent. Moderated by Alison Burgos.
* It is a requirement that all attendees under the age of 21 years of age RSVP in advance. Due to liquor license requirements at Soho Beach House, Miami Beach Pride will issue all attendees under the age of 21 years with a wristband on arrival at the registration desk on September 15, 2021.
Parking: Plan to ride-share to the event.
RSVP in ADVANCE up to Tuesday, September 14, 2021, 11:59 EST or sign up at the door on the day!!