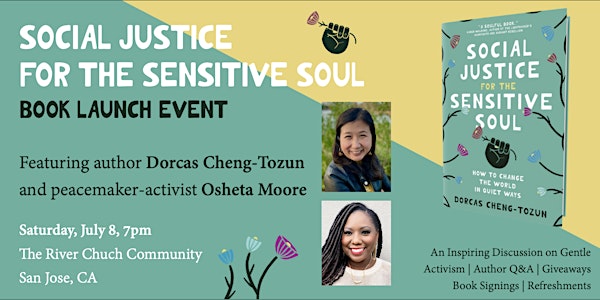 SOCIAL JUSTICE FOR THE SENSITIVE SOUL Book Launch Event
An engaging discussion on gentle, sustainable approaches to social activism between nonprofit and contemplative activism leaders
Date and time
Saturday, July 8 · 7 - 8:30pm PDT
Location
The River Church Community 670 Lincoln Avenue, Suite 200 (far end of the CEFCU building) San Jose, CA 95126
Agenda
7:00 PM - 7:40 PM
Conversation between Dorcas Cheng-Tozun and Osheta Moore
---
Dorcas Cheng-Tozun and Osheta Moore will discuss how sensitive and empathic people can engage in social justice work in authentic, sustainable ways.
7:40 PM - 8:00 PM
Audience Q&A
---
Audience members are invited to share their thoughts and questions about how sensitive souls can thrive in the work of social justice.
8:00 PM - 8:30 PM
Reception & Book Signing
---
Enjoy refreshments, mingle with like-minded friends, buy the book and have it signed.
About this event
1 hour 30 minutes

Mobile eTicket
Come celebrate the release of the new book SOCIAL JUSTICE FOR THE SENSITIVE SOUL: HOW TO CHANGE THE WORLD IN QUIET WAYS! Join author Dorcas Cheng-Tozun and peacemaker-activist Osheta Moore as they candidly explore what it looks like for sensitive souls (the highly sensitive, empathic, and introverted) to engage in social justice efforts that are meaningful, authentic, and sustainable. They'll discuss the challenges of social activism and activist culture, how sensitive activists can find a role that fits them, and real-life examples of individuals and organizations that have found a more gentle--but no less impactful--approach to changing the world.
There will be a time for Q&A from the audience, and a reception afterwards with refreshments, book purchases/signing, and connecting with like-minded friends.
All ages, including children, are welcome. Please note that The River is located at the far end of the CEFCU building, toward the back of the parking lot.
ABOUT THE SPEAKERS
Dorcas Cheng-Tozun is an award-winning writer, an editor, and a nonprofit and social enterprise professional. She has worked in community development, youth leadership, affordable housing, and global energy access, and has lived in mainland China, Hong Kong, and Kenya. Dorcas currently serves as the editorial director of PAX, a nonprofit dedicated to inspiring faith communities to seek peace and justice. Her first two books are Start, Love, Repeat: How to Stay in Love with Your Entrepreneur in a Crazy Start-up World and Let There d.light: How One Social Enterprise Brought Solar Products to 100 Million People. She resides in the San Francisco Bay Area with her husband and two young sons. Learn more at chengtozun.com or follower her on social media @chengtozun.
Osheta Moore is a peacemaker, pastor, spiritual director, speaker, and writer. She serves as the spiritual director of PAX, a nonprofit dedicated to inspiring faith communities to seek peace and justice. She is the author of Shalom Sistas: Living Wholeheartedly in a Brokenhearted World and Dear White Peacemakers: Dismantling Racism with Grit and Grace. Osheta also pastors Roots Moravian Church in Saint Paul, MN, where she resides with her husband T.C. (who is also her ministry partner) and three teenage and young adult children (Tyson, T.J., and Trinity). Learn more at osheta.com or follow her on social media @oshetamoore.