Social Innovation with Innovative Cybernic Systems: Challenges to Shape the Future "Society 5.0"

Tuesday, April 11, 2017 from 6:30 PM to 8:00 PM (EDT)
Event Details
The Center on Japanese Economy and Business, Columbia Business School and 
The Mitsui U.S.A. Foundation present:
The 18th Annual Mitsui USA Symposium
Social Innovation with Innovative Cybernic Systems:
Challenges to Shape the Future "Society 5.0" 
Tuesday, April 11, 2017
6:30p.m. - 8:00p.m. (reception to follow)
Room 142, Uris Hall, Columbia Business School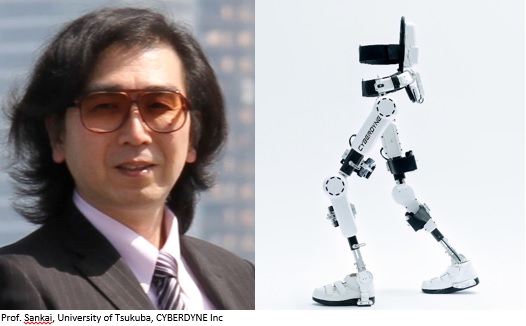 Yoshiyuki Sankai, Ph.D.
CEO and President, Cyberdyne Inc
Professor and Director, Center for Cybernics Research (CCR), University of Tsukuba
Program Manager, ImPACT, promoted by the Cabinet Office, Government of Japan

Moderated by:
Hugh Patrick
Director, Center on Japanese Economy and Business,
Columbia Business School
Biographies:
Dr. Yoshiyuki Sankai acquired a Ph.D. in Engineering from the University of Tsukuba, Japan, in 1987. He is a Professor and the Director at the Center for Cybernics Research, University of Tsukuba, the President and CEO of CYBERDYNE Inc., and a Program Manager of the Impulsing Paradigm Change through Disruptive Technologies (ImPACT) Program, initiated by the Council for Science, Technology and Innovation (CSTI) of the Cabinet Office of Japan. 
He is a fellow of the Robotics Society of Japan (RSJ) (2012), the Society of Instrument and Control Engineers (SICE) (2014), and also a council member of the Global Future Council on Human Enhancement of the World Economic Forum (2016-2018). He also served as a Chairman (2005) and an Executive Board member (2004-2005) of Advanced Robotics, as well as an Executive Board member (2000-2017), congress head (2003), and President (2003) of the Japan Society of Embolus Detection and Treatment. 
He has pioneered innovative cyborg-type robot technology in a new academic field, "Cybernics: the fusion and combination of humans, machines and information systems." 


Hugh Patrick is founder and director of the Center on Japanese Economy and Business, codirector of Columbia's APEC Study Center, and R. D. Calkins Professor of International Business Emeritus at Columbia Business School. He has been a member of the Council on Foreign Relations since 1974. He completed his BA at Yale University in 1951, earned MA degrees in Japanese studies (1955) and economics (1957), and a PhD in economics at the University of Michigan (1960).  


This event is free and open to the public. Advance registration is required.
General Contact: Emiko Mizumura, em2265@columbia.edu
Media Contact: Ryoko Ogino, ro2213@columbia.edu 

Please be advised that this event will be photographed, so your image may appear on our website later. If this is an issue, please let us know. Thank you.
When & Where

Room 142, Uris Hall, Columbia Business School
3022 Broadway
New York, NY 10027


Tuesday, April 11, 2017 from 6:30 PM to 8:00 PM (EDT)
Add to my calendar
Organizer
Center on Japanese Economy and Business, Columbia Business School

Established at Columbia Business School in 1986 under the direction of Professor Hugh Patrick, the Center on Japanese Economy and Business (CJEB) promotes knowledge and understanding of Japanese business and economics in an international context. The Center is a research organization widely recognized for its international programs, which provide prominent speakers from the public and private sectors a forum for collaboration and reflection on Japan, the United States, and the global economy.

www.gsb.columbia.edu/cjeb
Social Innovation with Innovative Cybernic Systems: Challenges to Shape the Future "Society 5.0"