Event Information
Refund Policy
Contact the organizer to request a refund.
Eventbrite's fee is nonrefundable.
Shaping a compassionate future through the lens of community, wellness, innovation, and impact.
About this Event
Learn to build a deeper relationship with yourself and others so that you can create valuable projects for your world while using business to sustain and maximize your impact.
Who should attend?
This event serves purpose-driven creators and impactful organizations adapting to the changing times. We make it easier for you to build meaningful relationships with attendees from across sectors. Join us to align with the partners and emerging trends that serve your community's evolving needs.
If you're looking to shape the emerging future with intention, to grow your projects as you grow a stronger sense of self for you and your team, this event is for you. Training is accessible for all organization sizes and industries.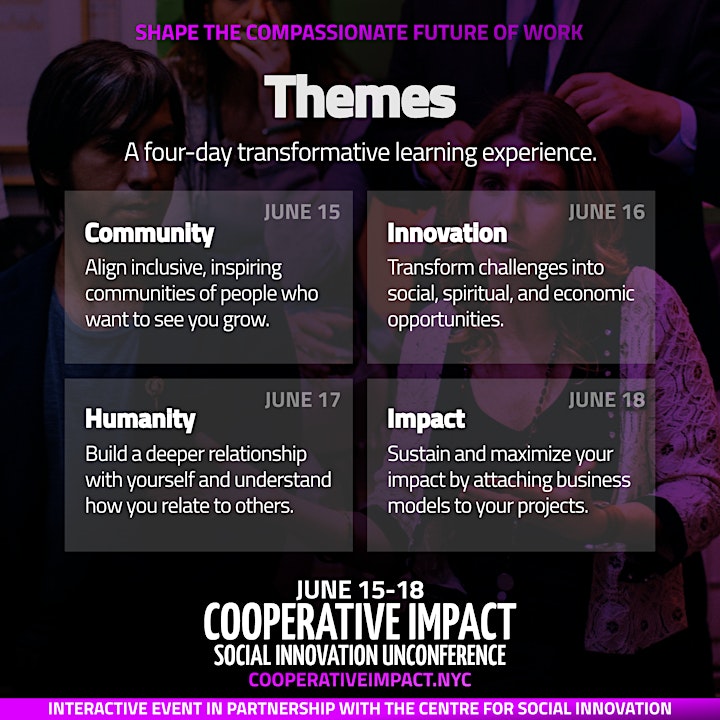 THEMES & SCHEDULE
This 4-day virtual event is carefully planned to bring you through a thoughtful, nurturing, and single-track experience that starts where you are right now.
Monday, June 15th (Theme: Community): Align inclusive, inspiring communities of people who want to see you grow.
Keynote: Allyship (Quddus Phillippe)
Panel: Building Inclusive Communities (Shireen Idroos, Executive Director of Centre for Social Innovation; Dr. Helena D. Lewis, DSW, LCSW, LCADC; Marcos Salazar, CEO of Be Social Change)
Movement: Get off the computer and into your body: a mindful walking experience (Lindsey Pearson)
Workshop: Healthy Decision Making in Community (David Sauvage, The Empath)
Workshop: An Experience of Community with The Feast (Rea Chou, The Feast)
Closing Ritual: Fulfillment and Abundance in Community (Magalie René)
Tuesday, June 16th (Theme: Innovation): Transform challenges into social, spiritual, and economic opportunities.
Keynote: Bridge Building to Dismantle Structural Racism (Jenna Nicholas, CEO of Impact of Experience)
Panel: Leveraging Uncertainty to Cultivate Innovation Panel (Jessica Lipman, The Mindful Nest; Sebastien Park, Senior Business Designer at IDEO)
Movement: Problem Solving Through Embodied Creativity (Amanda McCormick)
Workshop: The Ritual Lab: Tools for Intentional, Meaningful, Transformational Work (Ezra Bookman)
Workshop: Creating Self-Organized Gatherings (Tony Bacigalupo)
Closing Ritual: Jamie Lazan
Wednesday, June 17th (Theme: Humanity): Build a deeper relationship with yourself and understand how you relate to others.
Keynote: Launching a Wellness Startup During Covid-19 (Shira Lazar & Jordana Reim, Peace Inside Live)
Panel: Spiritual Emergence (Katrina Michelle, PhD, LCSW; Michael Garbe, DSW, LCSW; Edy Nathan, MA, LCSWR, CST)
Movement: Immune Boosting Flow & Energetic Practice from Shaolin Lineage (Karina Turtzo, Sovereign by Nature)
Workshop: Knowing What You Want Means Sometimes Starting with a 'No' (Katrina Michelle, PhD, LCSW; Michael Shawe, LCSW)
Workshop: Vulnerability is a Superpower (Aviva Mohilner, HELD)
Closing Ritual: I See You (Yuko Kudo)
Thursday, June 18th (Theme: Impact): Sustain and maximize your impact by attaching business models to your projects.
Keynote: The Human Needs Economy (Heather Hartnett, CEO of Human Ventures)
Panel: Shamanic Insights for the Modern World (Julian DeVoe and Brandon Jacobs)
Panel: Adapting to the Unknown Future of Work (Taylor McLemore, Program Director at Techstars; Jane Ball, WOMB Service Design Lab)
Workshop: Applied Empathy in Organizational Culture (Michael Ventura, CEO & Founder of Sub Rosa)
Workshop: Vulnerability and Your Bottom-Line (Amber J. Lawson)
Closing Ritual: Ezra Bookman of Ritualist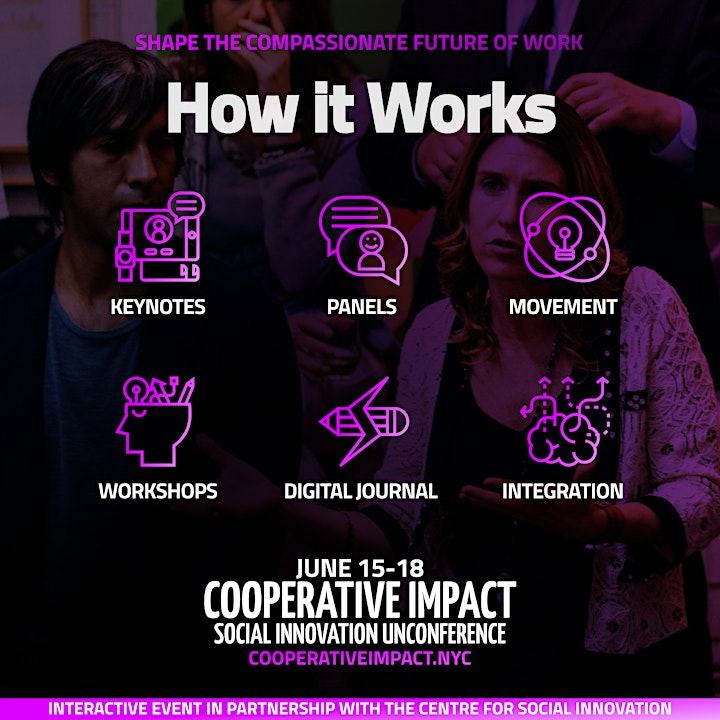 Keynotes: Each day of the event will begin with an expert speaker giving a short talk followed by interactive Q&A.
Panels: After the keynote, we'll move into a panel with 2-5 experts participating in a dialogue then open the floor for moderated Q&A.
Movement: After the panel, access yoga, play, improv, meditation, and movement activities to keep you feeling alright.
Workshops: After movement, dive into hands-on workshops in breakout rooms to integrate what you're learning into your life and work.
Digital Journal: Dig deeper into your notes and share reflections in our online platform with prompts and ongoing interaction.
Integration: After the event, we provide four weeks of ongoing support and resources to help you integrate the learnings into life and work.
Schedule
Schedule is currently tentative and subject to change based on new additions being added daily. Top-tier ticket holders may request support around specific topics.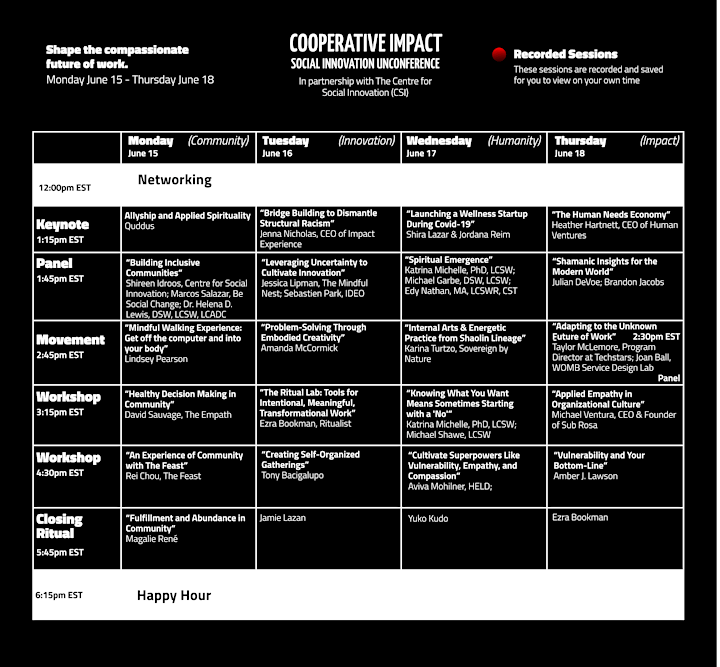 Our first event took place in Princeton in 2015.
Here's a two minute video from the 2015 event.
Here we are, five years later. This event was initially scheduled to take place in-person. We adapted our approach to bring you an exceptionally designed interactive event from the comfort of your own home. We look forward to sharing the space with you!
Date and Time
Refund Policy
Contact the organizer to request a refund.
Eventbrite's fee is nonrefundable.