Event Information
Location
Kagin Commons, Macalester College
1600 Grand Ave
St Paul, MN 55105
Description

Innovation requires vulnerability.
Vulnerability does not mean weakness. It is potentially our greatest strength because it is what opens and sustains pathways to evolution and innovation. On December 4th, we invite you to dare with us in discovering how vulnerability can be a resource for social innovation in Minnesota.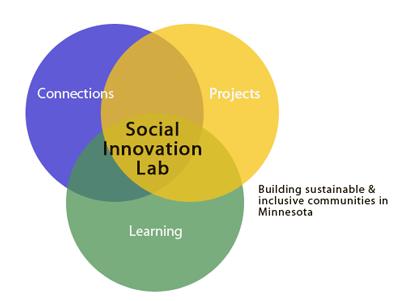 The Social Innovation Lab is a place for community change makers to get new thinking, tools and connections to advance their work. The focus of the December 4th lab will be on vulnerability as a resource for innovation.
How did we get here? Why vulnerability?
This is the third Social Innovation Lab. At the last lab more than 200 participants contributed ideas, resources and relationships to 38 social innovation projects. We learned about how to introduce innovative possibilities into social innovation efforts by inviting people on the periphery of our networks or outside our networks into the core. We "closed triangles" by linking people in the room who didn't yet know each other, but who might benefit from knowing one another. At the end of the morning, as we harvested what we had learned from the session, participants spoke to the importance of getting off your front porch. This metaphor reflects intentionally seeking out and connecting with people who are outside your familiar networks and who are not like you, because those are the ones who can provide fresh new perspectives and ways of seeing. All of the actions we explored in the last lab require a willingness to be vulnerable.
One of our sources we'll draw on for this lab will be Brené Brown's work on courage, compassion connection and vulnerability.
What will happen at the event?
Registration will begin at 8:00 am and we'll gather at 8:30 am. and meet until noon. During the gathering, you'll hear stories of vulnerability as a resource for social innovation, meet in small groups to reflect on the role of vulnerability in your work, and have many chances to connect with other change makers. The morning will be highly interactive.
For the first two labs, there were pre-set social innovation projects that we worked with during the events. The December lab will be different in that we won't have pre-set projects. We invite everyone coming to bring the work you are doing to find connections and insights that can further your project and the broader community of social innovation in MN.
Your hosts for the morning will include Sam Grant, Wendy Morris,Miré Regulus, Anne Gomez, Michael Bischoff, Lecia Grossman, Dylan Skybrook, De'Arreon Robinson, Paris Carruthers and Danielle Mkali.
Who is this for?
The lab is for community change makers building sustainable and just communities in Minnesota. All perspectives are needed--from businesses, neighborhoods, the arts, families, spiritual communities, nonprofits, tech, entrepreneurs, policy, and more. We are seeking a combination of long-time social innovators and those who are curious and new to the idea.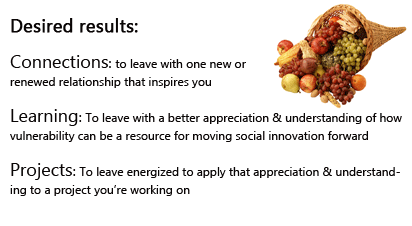 Join the online discussion
In preparation for this lab, we are searching for stories of people and groups leading from a place of vulnerability to build sustainable and inclusive communities. We invite you to add your stories to this online discussion.

Location and Parking
Registration will begin at 8:00 am and the gathering will be from 8:30 am to noon. We'll meet at Kagin Commons at Macalester College. You will be able to park free in any of the Macalester parking lots that morning. Here is a map of the parking lot. You can park in any of these campus lots, even if they are marked Macalester student/staff only. You don't need a pass for your car. After the lab ends, we also invite you to stay for lunch in the Macalester cafeteria ($9.18 buffet).
How much does it cost?
Pay what it is worth to you; pay what you can. Suggested contributions: $25 non-profit, $35 for-profit. Your contribution supports social innovation in Minnesota. No one will be turned away for lack of funds. Tickets can be refunded up until Nov. 15. A limited number of volunteer scholarships are available. Contact Miré Regulus at darsma.regulus@gmail.com to inquire about volunteer opportunities.

The Social Innovation Lab is an InCommons event. InCommons is a community-based initiative that connects Minnesotans – face-to-face and online – so they can find and share credible tools, knowledge and resources to solve problems.
Co-Sponsors: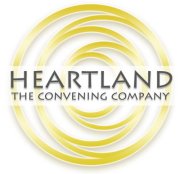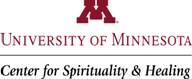 Minnesota Technology of Participation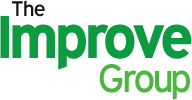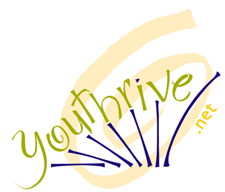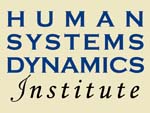 Date and time
Location
Kagin Commons, Macalester College
1600 Grand Ave
St Paul, MN 55105