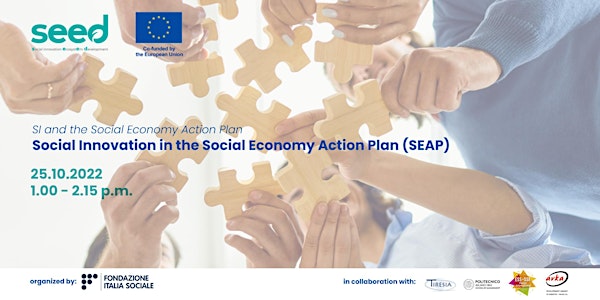 Social Innovation in the Social Economy Action Plan (SEAP)
The webinar is organized by Fondazione Italia Sociale in collaboration with Tiresia - Polimi, SSE International Forum, AN.KA.
About this event
Social innovation is increasingly pivotal for addressing the challenges ahead in a rapidly changing world. The European Action Plan for the Social Economy (SEAP), representing a milestone in providing a policy framework for Social Economy (SE) in European Union, strongly underlines the importance of boosting social innovation. It is not by chance that the establishment of a new European Competence Centre for Social Innovation is one of the key actions of the plan to support the social economy. Unlike in the past, social innovation is now conceived as a complex and circular process, including a variety of actors of which social economy is the main driver. This is a novelty destined to profoundly affect the relationship of the public administration with social economy organizations in the field of social innovation.