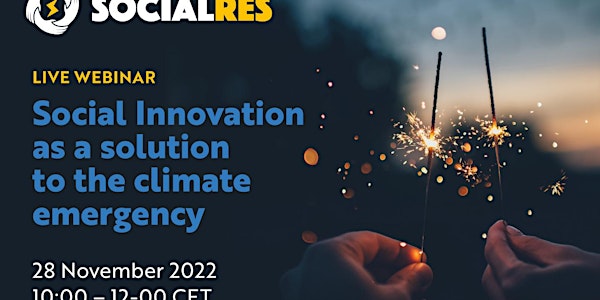 Social Innovation as a solution to the climate emergency
SocialRES is ending and our partners are available for a chat on the most important topic for us: the green energy transition
About this event
Join us to talk about energy communities, barriers and opportunities for citizens, new business models to finance res, and much more.
When: 28 November 2022 10:00 – 12-00 CET
Speakers:
Silvia Caneva - WIP Renewables energy – Introduction to SocialRES
Iban Lizzaralde - ESTIA – What barriers hinder citizens towards the energy transition?
Ivan Petrov – Trinity College Dublin - What is the behavior of citizens when approaching the green transition?
Karl Harder –Abundance Investments -  How crowdfunding platforms can support citizens?
Volker Kromrey - Lake Constance Foundation - How energy cooperatives can support citizens?
 Kathrin Anger - Adelphi - How politics is supporting the green energy transition?