Description
Will social be the killer app for VR? What makes social experiences work in VR? How to add social elements in your 360 video, app or game? Join us to hear from leaders @ AltSpace VR, Fused VR, and Intel's project Alloy. The awesome speakers below will share their perspectives and insights over a great meal.
Suzanne Leibrick is a Full Stack Virtual and Merged Reality Artist, designer and developer at Intel. She is cofounder of ARVR Academy (arvracademy.io) , a nonprofit dedicated to providing education and open source teaching materials to communities that are underrepresented in the tech industry, specifically focusing on the Augmented and Virtual Reality industries. Prior to joining Intel, Suzanne was also a course developer at Udacity, teaching 360 Storytelling and Immersive media as part of the Virtual Reality Nanodegree. Mentor to Boost VR companies, and highly active in the Indie VR community, as well as a member of the IGDA VR SIG. Before immersing herself in the VR industry, Suzanne also worked in mobile health and fitness gaming as creative lead.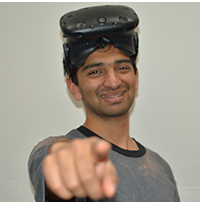 Vasanth AKA Fuseman started the FusedVR Youtube channel in April 2016 in an effort to increase the number of people excited about creating VR content, specifically with the HTC Vive and Unity. Since then, he has worked at Udacity to develop the VR Nanodegree and recently also got Unity Certified. Prior to this, he did research at Stanford's Virtual Human Interaction Lab, which is where his passion for VR began. Random Fact: He is an Avid Clash Royale Player!
Katie Kelly, Altspace VR
Katie Kelly is the Product Marketing Manager at AltspaceVR. She comes from a background in advertising and worked on campaigns for Hershey, Crest, P&G and various not-for-profits. She's deeply interested in VR for good and making sure women are represented in this emerging technology. She's lived in Oregon, Hawaii, NYC and now resides in the Bay Area. She discovered virtual reality at the Future of Storytelling Conference and can't get enough of it. She's primarily interested in how VR can be used to connect people from different backgrounds. She's run the first yoga class in VR and held multiple discussions in VR with people from around the world.
Media Partner: