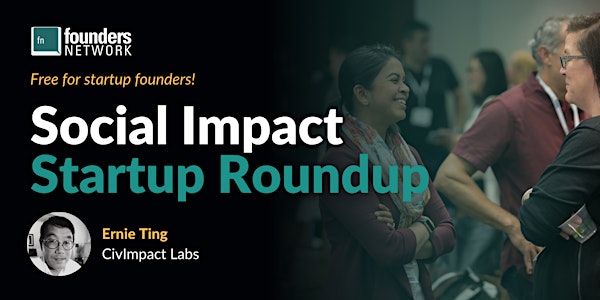 Social Impact Startup Roundup with Ernie Ting
We're convening a group of social impact founders to create a network with similar interests who are facing similar challenges.
About this event
Are you a founder who has created a startup to tackle an important, but extraordinarily difficult social problem? Is your goal as much to have a substantial social impact as to generate profits or create wealth? If so, you may face different challenges than more conventional startup founders, and have fewer models to emulate.
On August 25, 2022, we're convening a group of social impact founders to create a network of FN members with similar interests who are facing similar challenges. The group will serve as a support network for dual-purpose founders on this less-traveled path.
The new group will provide a forum for sharing insights and helpful experiences, making introductions, offering information resources, brainstorming, and mentoring. It will also serve as a space for listening, encouraging and affirming each other on our journeys.
This initial event is open to FN members and social impact founders in the broader startup ecosystem. We'll introduce ourselves and the challenges we're addressing, and discuss the opportunities to help each other and perhaps work together to leverage the value of Founders Network for social impact founders.
Agenda:
A briefing from Ting on common challenges in the social impact sector
Around the horn: introductions and business challenges
Next steps
About the Speaker:
Ernie Ting is the CEO of CivImpact Labs, launching news, communication and social applications that better inform the public, reduce political polarization, and positively impact our society and democracy. He is a pioneer of innovative approaches that promote healthy social interaction and help business, civic and media organizations influence and engage their audiences and communities in a responsible way. Ting is a social scientist with extensive prior experience in the government and nonprofit sectors as well as business, and as an economics and management consultant.
Complimentary Ticket:
Are you a full-time tech founder? Be our guest! During COVID, we're making our events available to tech founders everywhere. Enjoy a complimentary ticket to come learn from fellow tech founders, partners and investors. Already used your complimentary guest pass? Request an invite to see if you qualify for membership.
About Founders Network:
Founded in 2011, Founders Network offers lifelong peer mentorship to over 600 tech startup founders globally. Our platform, programs and high-touch service facilitate authentic experience sharing, warm introductions and long-term professional relationships. Additional benefits include over $500k in startup discounts and promotion to 2,000 newsletter readers. Members are located in San Francisco, New York City, Los Angeles, Vancouver, Toronto, London and other tech hubs. Each month our Membership Committee admits a new cohort of full-time tech founders who are nominated by an existing member. Learn more about us here
Confidentiality Policy
All information shared within Founders Network is strictly confidential. We are built on a foundation of trust, and the community takes confidentiality seriously. Investors, members, and staff all share experiences and opinions off the record. In this roundtable forum, we continue to model our fnValues of Reciprocity, Humility, Authenticity and Inclusivity. Read more about our Privacy Policy here.