Social Impact Speaker Series: Accelerating Impact-Oriented Entrepreneurs
Description
Join us for a special edition of Goizueta Business School's Social Impact Speaker Series as we team up with Aspen Network of Development Entrepreneurs (ANDE) for Accelerating Impact-Oriented Entrepreneurs with Professor Peter W. Roberts.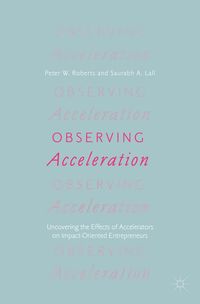 The session is inspired by Professor Peter W. Roberts new book Observing Acceleration, co-authored by former ANDE researcher Saurabh A. Lall. The book summarizes five years of learning from data collected as part of the Global Accelerator Learning Initiative (GALI) which partners directly with entrepreneur support programs around the world to track and validate program impacts while producing critical sector-wide research. The book serves as a valuable resource for scholars, policymakers, and practitioners interested in the effectiveness of accelerator programs as tools that unleash the full economic potential of entrepreneurship by exploring the following questions:
Is acceleration working?

How are these support organizations closing knowledge, network, and capital gaps?

Are we accelerating entrepreneurs in emerging markets?

Where's the equity for women entrepreneurs?
This event is free and open to all including Emory students, faculty, staff and alums, ANDE Network Members, and the broader Atlanta community. A networking reception will be held from 6-6:45 PM followed by our speaker / panel program from 6:45 to 8:15 PM.
Parking is FREE at the Fishburne Parking garage beginning at 6 PM. For directions to the garage and the Goizueta Business School please click here