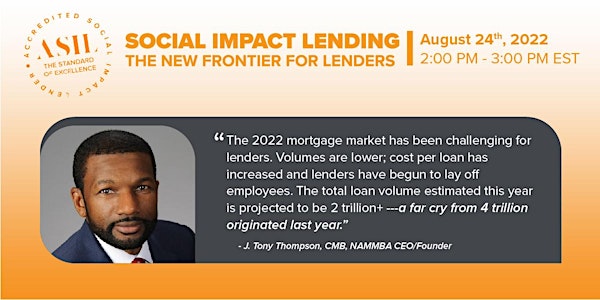 Social Impact Lending: Next Frontier
Attendees will learn four best practices on how their organizations can execute a purchase origination strategy while leveraging diversity
About this event
The 2022 mortgage market has been challenging for lenders. Volumes are lower; cost per loan has increased and lenders have begun to lay off employees. The total loan volume estimated this year is projected to be 2 trillion+ ---a far cry from 4 trillion originated last year.
Recently, there has been a lot of discussion regarding the future of lenders as it relates to being held accountable for originating in underserved markets. Additionally, there is an industry call to action and acknowledgment from the regulators and industry stakeholders, communities of color need more focus on closing the homeownership gap. What does this mean for lenders and how can they execute a profitable business in this dynamic landscape.
In Social Impact Lending: The New Frontier for Lenders, attendees will learn four best practices on how their organizations can execute a purchase origination strategy while leveraging diversity as a best practice to grow market share and profitability. Learn from a true case study how one company approached the multicultural market and realized the benefits of increasing homeownership in communities of color while growing profitability. This session will provide attendees with a blueprint to grow purchase originations in 2022 and beyond.
Join MBA Education and NAMMBA's Founder/CEO, Tony Thompson, CMB for a discussion on how lenders can "Do Good" by "Doing Good".
Objectives
• Identify best practices to attract multicultural talent
• Growing profitability
• Identifying high growth/high potential markets
• Best practices to serving the multicultural marketplace
• Understand what regulators want
Target Audience
• Executive Managers
• Marketing Executives
• HR & Chief Diversity Officers
• Compliance Leaders
• Anyone interested in improving their production performance
Speaker(s)
• Tony Thompson, CMB Founder/CEO, NAMMBA