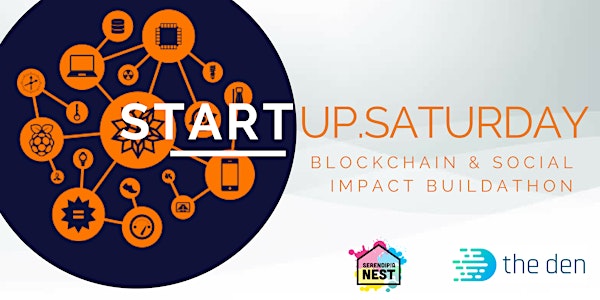 Social Impact & Education Blockchain Hackathon
When and where
Location
Serendipia Nest 717 Union Street San Francisco, CA 94113
Refund Policy
Refunds up to 7 days before event
Description



Do you want to start a new blockchain venture but aren't sure where to start?
Are you searching for a co-founder but don't know where to look?
Are you going to various networking events, but can't find like-minded people?
| Join Serendipia Nest & The DEN and begin building your blockchain startup for social impact!
Startup Saturday – 12-Hour Blockchain Challenge is an event dedicated to helping you to find your technical co-founder, connect with a business co-founder, and create a blockchain prototype. In this event, you bring a previously non-prototyped idea and work with a team of business people and developers to create magic. Along the way, you will get a chance to learn many things about what a startup is, all in one day!
We will provide lunch, all you need is to bring an idea or development skills, that has no prior prototype, so you can validate it. We will form various teams with about three to five members per team. Or we can use the Jigsaw technique to prototype an idea or many ideas.
| Audience
Blockchain enthusiasts, developers, business owners looking for real-world working blockchain solutions, futurists, hackers, fellow cypherpunks as well as all other people interested in developing a social impact with digital transactions through blockchain technology.


| Key Takeaways:
Do you have a blockchain idea for social impact? Come and join us for a 12-hour challenge to build a blockchain prototype!
1. Come up with an idea.
2. Form a team.
3. Validate.
4. Create a prototype.
5. Pitch!
| Agenda:
7:00 AM – 8:00 AM – Registration, Breakfast, & Coffee
8:15 AM - 8:30 AM - Intro from organizers, #serendipia #theden
8:30 AM - 9:00 AM - Lecture: Crypto Economics & Tokenomics
8:30 AM - 9:15 AM - Workshop: Build ERC-20 & 721 From Scratch
9:15 AM - 9:45 AM - Participants Introduction & Brainstorming
9:45 AM – 10:00 AM – Team Forming
10:00 AM – 10:45 AM – Come up with an idea & a plan for execution
10:45 AM - 11:30 AM - Ideate & Build Wireframe
11:30 AM – 12:30 PM – Lunch (provided) + Talk: Social Impact Measurement
12:30 PM – 5:00 PM – Build, with mentors
5:00 PM – 6:00 PM – Create a high level business and financial plan
6:00 PM – 6:45 PM – Pitch your product + P2P feedback
6:40 PM - 8:30 PM - Post-Day Happy Hour - Because you deserve it, of course
| What Should I Bring?
A laptop, an open mind, questions, and a willingness to learn.
Please arrive early! Event begins promptly at the start time.


Learn more about our community at theden.io!
You can always reach us directly at (408) 657-0861 or email us at hi@theden.io!