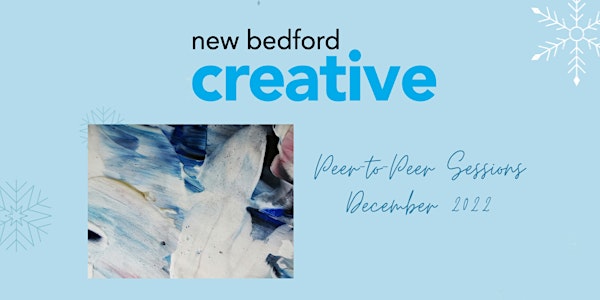 Social Impact and Storytelling with artist Kathi Chase
During this session, each participant will receive an ornament to decorate and take home.
When and where
Location
Kilburn Mill at Clarks Cove 127 West Rodney French Boulevard New Bedford, MA 02744
About this event
In these sessions, artist Kathi Chase will discuss the importance of offering sober event options in the area for those struggling or impacted by addiction. During this session, each participant will receive an ornament to decorate and take home.
Arts can make a positive impact in the mental health industry, specifically used as a therapeutic tool in addiction recovery. Artists can help contribute to mental health services by offering events, workshops and/or creative spaces that allow people to use art for self-care and healing. Due to the nature of the topic, this will be held in-person on December 6th (6pm) at K&A Creations at Kilburn Mill (Room S2-72 2nd floor) and will not be recorded.
Peer-to-Peer Sessions is a free and accessible (mostly) online series geared to enrich, educate and connect creatives through a series of workshops and training sessions. New Bedford is the home of artists, creatives, change makers, designers, entrepreneurs and community enthusiasts and the Peer-to-Peer Sessions embraces the pulse that makes New Bedford so unique while expanding our knowledge and connections.
Funding is provided by MassDevelopment/TDI and the Barr Foundation. Peer-to-Peer Sessions is one component of a larger "TDI Creative Cities" initiative to support arts-based economic development.
More about Kathi Chase:
Kathi Chase is a local artist and the owner of K&A Creations, a sober art & crafts studio offering walk-in ceramic painting, scheduled paint events & private parties. She is a self-taught artist with an associates degree in Clinical Laboratory Science. After spending 25 years working in the medical field & surviving the pandemic, she chose to shift her focus on her art as a primary career. Growing up in New Bedford and working in the medical field she has seen first hand the ripple effect that addiction has. With the popularity of the Sip & Paint or BYOB type paint events, she has decided to provide a sober option for those looking for a creative environment without the alcohol.
Find out more about Kathi Chase: https://www.kandacreations20.com