Location
Fremont Abbey Arts Center
4272 Fremont Avenue North
Seattle, WA 98103
Want to spark connection with others and have deep conversations proven to help you experience more fulfilling human connections? Join us!
About this event
👋🏽 Join us for an in-person social experience all around the topic of comfort zones, where you'll discuss why stepping outside of yours can be uncomfortable, and what you can do to give yourself the courageous push.
🎟 Snag your seat early 👉🏽 Snag a seat before they sell out! Discounted tix available for Connection Feast Founding Members 👈🏾
-----------✨ Curated & produced by Connection Feast✨-----------
🤠 You've probably heard the old proverb, "Nothing ventured, nothing gained."
It essentially means that you have to take risks in order to achieve something meaningful in your life. And this adage still holds true today.
⛰️When you're doing things outside of your comfort zone, whether it's moving to a new city where you know nobody, starting a new relationship or businesses, or showing up as your true self with friends or lovers, do you feel like you're growing in some capacity for venturing into the unknown? Are you purposely getting uncomfortable so you can grow?
👋While everyone has a different comfort zone threshold, we all still crave growth in certain areas of our lives. But just because you want it doesn't make it easy to accomplish...Especially alone!
So consider:
Where are you "playing it safe" in your life and/or scared to grow in?
What are the repercussions of staying in these comfort zones? What are the benefits?
How do you respond to situations that are uncomfortable? How do you want to experience them?
What small steps would support you in moving beyond your comfort zone? What support do you need along the way?
🤔 So, what does comfort zone really mean for you, and how do you how do you step out of your comfort zone so you can manifest the life and experiences you're craving? Let's discuss!
⬇️ If you're interested in connecting deeper with both yourself and with other people in Seattle, and have an open mind to look at yourself and how your mindset around your own comfort zones have impacted your life…Then this in-person Seattle City Feast is for you!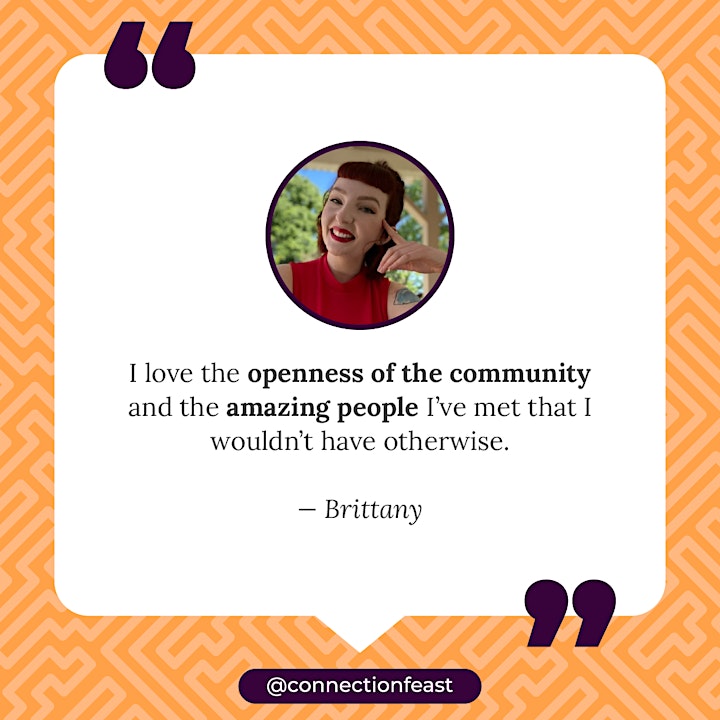 🎫 DETAILS
Date: Tuesday, June 21, 2022
Where: Fremont Abbey (Seattle): Lower level - 4272 Fremont Ave N, Seattle, WA 98103
Time: 7:00 - 9:30pm PT - 6:45pm doors open (Be on time – doors close at 7:10pm)
Drinks & Snacks: Snacks included in your ticket & non-alcoholic drinks available for purchase
Cost (Non members): $40
Cost (For Members): $25-$35 👉🏽 Membership info here: https://bit.ly/3njG3os
Pay it Forward Ticket: We want everyone to join a Feast regardless of financial status. To request a reduced/comped seat to this Feast, please fill out this form: https://bit.ly/2Xbth2i
Ages: 21+
👋 HOW IT WORKS:
Register and snag your seat so you don't miss out
Arrive at least 10 mins early (we start on time at 7:00pm & doors open at 6:45pm)
Check in, check out the space, and mingle for a bit
Grab snacks & a drink
Gather around group tables, and warm up your conversation palette as your connection hosts lead you in a group discussion centered around the theme
Connect with other Feasters in small groups through prompted & guided connectivities
At the end of the event you'll have the opportunity to submit to the Connection Feast "Sugar Bowl." The Sugar Bowl is a way to keep in touch with your fellow Feasters, create connections, and find ways to help each other out.
✨Curated & produced by Connection Feast. Please note that your email will be shared with Connection Feast, the event curator, for follow-up purposes only, and will not be sold. You may also be added to the Abbey Arts email list which has an easy single click opt-out option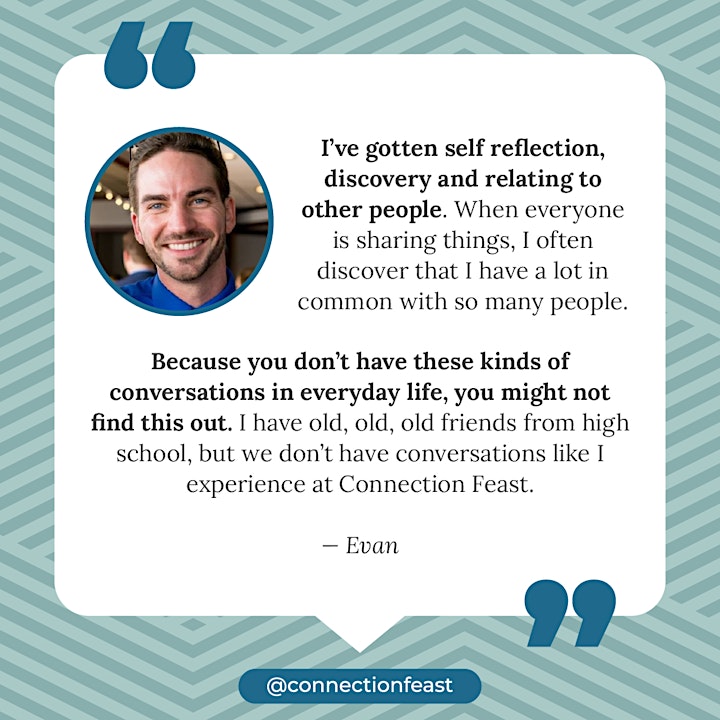 COVID PROTOCOL
Please note the COVID-19 Policy, which is applicable to all CNX in-person experiences.
About Connection Feast:
Connection Feast is a community of people motivated to create more fulfilling human connections.
Join us for in-person and virtual experiences (like this Feast!), which include intentional and guided conversation, games, and activities all around a thought-provoking theme.
The goal of the Connection Feast isn't just to have you attend a one-time event. A Feast helps people like you explore big questions through intentional conversations and social experiences, so you'll build deeper relationships with yourself, each other, and the world.
Community Agreements: Connection Feast should be a comfortable and safe experience for everyone, and as a Feaster you have a responsibility to help us achieve this. All Feasters who reserve a seat are required to abide by our Terms of Service and Community Agreements. If a Feaster engages in unacceptable behavior, the Connection Feast host and/or facilitators may take any action they deem appropriate.
Please follow @ConnectionFeast on Instagram for Feast event updates and to stay connected.
--------------------------------------------------------------
ABBEY ARTS EVENT INFO:
Check tickets for show time
Fremont Abbey is ADA accessible on either level.
We have a mix of normal chairs, some tall chairs, and standing room in back.
Seating is not reserved unless noted.
Please refrain from talking or texting during the show.
No video from the seating area please.
Please limit photos during the show so as to not distract other attendees from the experience.
We are an all ages venue. Kids 10 & under are free at Abbey Arts concerts & arts events unless noted.
Entering the venue indicates agreement to adhere to the Abbey Respect Policy. All are welcome.
ABBEY ARTS, SEATTLE | NONPROFIT 501C3, NON-RELIGIOUS, EST. 2005
Presenting welcoming music, arts & cultural experiences for people of all ages & incomes.
Venue rental info & more: http://www.fremontabbey.org/rent
Concert & events calendar: http://www.abbeypresents.org
Arts Connect provides free tickets for nonprofit workers, low income families, and veterans. www.fremontabbey.org/artsconnect/
Volunteer opportunities are available for most shows (include free entry) www.fremontabbey.org/volunteer
Home Venue: Fremont Abbey, 4272 Fremont Ave North, Seattle, WA 98103 / 206-414-8325
Note: All ticket sales are final unless noted. Lineup and performers are subject to change, no refunds for change of support acts.