Want to meet inspiring people and have deep conversations proven to help you experience more meaningful connections? Join us!
About this event
About this event:
👋🏽Join us for an in-person social experience all around the topic of how you can use your curiosity to connect with anyone, anywhere.
🤩 If you're interested in diving deep and exploring big questions through guided conversations proven to help you create a deeper connection with yourself and new people, this in-person Seattle City Feast is for you.
🎟 Snag your seat early 👉🏽 Snag a seat before they sell out! Discounted tix available for Connection Feast Founding Members 👈🏾
Curated & produced by Connection Feast, and sponsored by Abbey Arts. ✨ Live studio experience show after this Feast! ✨
--------------------------------------------------------------
🤔 Curiosity may have "killed the cat," but it's never killed a conversation.
In fact, did you know that showing genuine curiosity about another person is the key ingredient for connecting with anyone, anywhere? When you're mindfully curious, it helps you connect deeper with others, even strangers.
In addition, many studies suggest that curious people bring many positive qualities to their social interactions, making people more keen to feel drawn to you and enjoy your company.
🔥 But being a genuinely curious person isn't just about knowing a lot of interesting information or asking a lot of questions. It's a skill, and it can be learned and improved, and just requires a little self reflection and practice.
⬇️ If you're interested in connecting deeper with both yourself and with other people, and have an open mind to look at yourself and how you can embody curiosity to connect deeper with people, this in-person Seattle City Feast is for you!
✨ Special live concert after this Feast! ✨ In collaboration with Abbey Arts and Sessions in Place, Feasters who attend this Feast can snag special-priced tickets to the live studio experience show with three musicians following the Feast.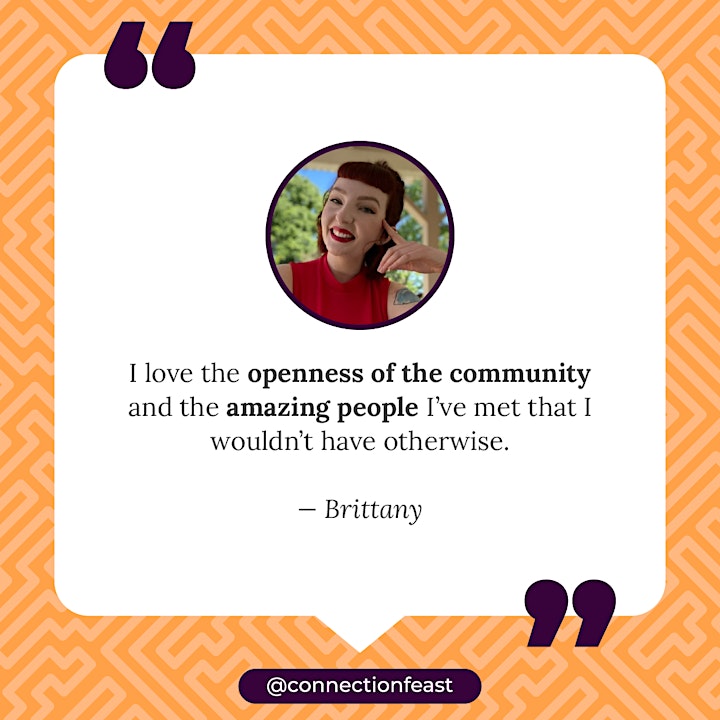 Social Gathering | Curiosity: How to connect with anyone, anywhere?
🎫 DETAILS
Date: Saturday, January 29, 2022
Where: Fremont Abbey (Seattle): Lower level - 4272 Fremont Ave N, Seattle, WA 98103
Time: 5:00 - 7:00pm PT - 4:45pm doors open (Be on time – doors close at 5:10pm)
Drinks & Snacks: Snacks included in ticket price & alcoholic drinks available for purchase
Cost (Non members): $50
Cost (For Members): $25-$45 👉🏽 Membership info here: https://bit.ly/3njG3os
Pre-purchased Sessions in Place Show after Feast: $20
Pay it Forward Ticket: We want everyone to join a Feast regardless of financial status. To request a reduced seat to this Feast, please fill out this form: https://bit.ly/2Xbth2i
Ages: 21+
👋 HOW IT WORKS:
Register and snag your seat so you don't miss out
Arrive at least 10 mins early (we start on time at 5:00pm & doors open at 4:45pm)
Check in, check out the space, and mingle for a bit
Grab snacks & a drink
Gather around group tables, and warm up your conversation palette as your connection hosts lead you in a group discussion centered around the theme
Connect with other Feasters in small groups through prompted & guided connectivities
After the Feast: Mingle and continue connecting upstairs at the Sessions in Place concert starting at 7:30 (discounted ticket offered to Feasters).
At the end of the event you'll have the opportunity to submit to the Connection Feast "Sugar Bowl." The Sugar Bowl is a way to keep in touch with your fellow Feasters, create connections, and find ways to help each other out.
✨Curated & produced by Connection Feast, and sponsored by Abbey Arts. Please note that your email will be shared with Connection Feast, the event curator, for follow-up purposes only, and will not be sold. You may also be added to the Abbey Arts email list which has an easy single click opt-out option
--------------------------------------------------------------
--------------------------------------------------------------
COVID PROTOCOL
Please note the Covid Requirements noted below. In addition, please also note the COVID-19 Policy, which is applicable to all CNX in-person experiences.
About Connection Feast:
Connection Feast is a community of people motivated to create more fulfilling human connections.
Join us for in-person and virtual experiences (like this Feast!), which include intentional and guided conversation, games, and activities all around a thought-provoking theme.
The goal of the Connection Feast isn't just to have you attend a one-time event. A Feast helps people like you explore big questions through intentional conversations and social experiences, so you'll build deeper relationships with yourself, each other, and the world.
Community Agreements: Connection Feast should be a comfortable and safe experience for everyone, and as a Feaster you have a responsibility to help us achieve this. All Feasters who reserve a seat are required to abide by our Terms of Service and Community Agreements. If a Feaster engages in unacceptable behavior, the Connection Feast host and/or facilitators may take any action they deem appropriate.
Please follow @ConnectionFeast on Instagram or Facebook for Feast event updates and to stay connected.
--------------------------------------------------------------
ABBEY ARTS EVENT INFO:
Check tickets for show time
Fremont Abbey is ADA accessible on either level.
We have a mix of normal chairs, some tall chairs, and standing room in back.
Seating is not reserved unless noted.
Please refrain from talking or texting during the show.
No video from the seating area please.
Please limit photos during the show so as to not distract other attendees from the experience.
We are an all ages venue. Kids 10 & under are free at Abbey Arts concerts & arts events unless noted.
Entering the venue indicates agreement to adhere to the Abbey Respect Policy. All are welcome.
ABBEY ARTS, SEATTLE | NONPROFIT 501C3, NON-RELIGIOUS, EST. 2005
Presenting welcoming music, arts & cultural experiences for people of all ages & incomes.
Home Venue: Fremont Abbey, 4272 Fremont Ave North, Seattle, WA 98103 / 206-414-8325
Note: All ticket sales are final unless noted. Lineup and performers are subject to change, no refunds for change of support acts.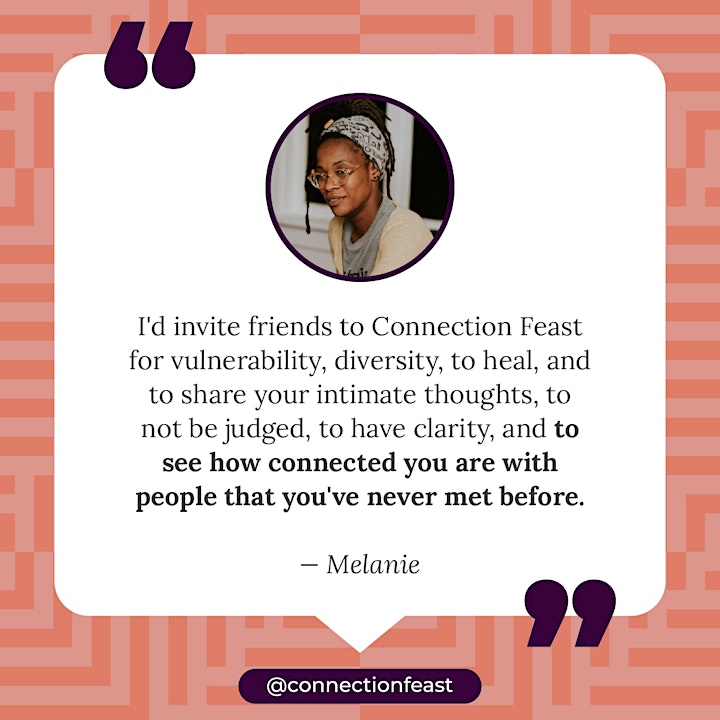 Organizer of Social Gathering | Curiosity: How to connect with anyone, anywhere?
COVID Public Health Safety Info:
As of December, 2021
Welcome back Abbey Arts family!
As we reopen the doors to our venues, rest assured that we will be welcoming our patrons back in to an environment that prioritizes health and wellness. We are working with local officials to ensure current health and safety protocols are in place at Abbey Arts events, while being mindful that flexibility will be required as those guidelines will likely continue to evolve. Obviously with COVID-19 not being completely eradicated, we'll have to change some things around here as we go. Please consult the state's guidelines for the most up-to-date information.
IMPORTANT INFO
There is a statewide mask mandate for requiring masks for ALL patrons indoors REGARDLESS of vaccine status. More information from the State of Washington can be found here.
Starting 7/30/21 We are now requiring a government issued photo ID* and PROOF OF VACCINATION or a NEGATIVE COVID-19 PCR test result within 72 hours prior to the event to be allowed to enter the building. Find a testing center here. Please note that test results may take 24-48 hours. Please plan accordingly.
Full vaccination is defined as having received a final vaccination dose at least two weeks prior to the event date.
The name on your vaccination card or COVID test MUST match your state ID
Acceptable forms of proof of vaccination include: an official CDC COVID-19 Vaccination Record Card or a picture of your vaccination card; a digital or printed WA State Certificate of COVID-19 Vaccination; a WA State Immunization Information System printout; or a verified medical record printout from a medical provider.
*In addition to providing proof of vaccination or a negative PCR test, guests 18 or older must present a government-issued photo ID, such as a driver's license or passport. Guests younger than 18 may present a government-issued photo ID or a school photo ID as an alternative. Guests younger than 18 who do not have either a government-issued ID or school photo ID can only attend performances in the company of an adult who provides the required ID and vaccine documentation for themselves and can also provide documentation for the minor's test results or vaccination verification.

All employees are fully vaccinated and are required to wear masks indoors.
We are operating at mid capacity to allow more space and smaller crowds.
We have increased hand sanitizing stations around the venues. We encourage you to regularly sanitize and fully wash hands when you use the restroom.
NEED TO GET TESTED?
Find a location near you at:
https://www.doh.wa.gov/Emergencies/COVID19/TestingforCOVID19
****
NOT FEELING WELL?
Please do not enter the venue if you have a fever, are feeling sick, or displaying any symptoms of COVID-19, flu, cold or other transmissible diseases. Better yet, stay home, rest up, take care of yourselves and reduce the chance of getting others sick. If you've purchased a ticket to an upcoming show but come down with symptoms, please open your Eventbrite account and you can request a refund for a health related reason through Eventbrite system. We'd be happy to oblige, no questions asked. No refunds given after the event. Thanks!
HOW ABOUT MASKS?
Masks are currently required while indoors regardless of vaccine status. You may remove your mask while actively consuming a beverage, but we ask that you reapply your mask and continue to wear it throughout the performance.
****
By entering the Venue, you and the members of your group voluntarily assume the risks of contracting COVID-19 and agree to release, waive, discharge and covenant not to sue any Artist performing or Abbey employee or company (including their owners, officers, employees, volunteers, agents and the City of Seattle), and hold these entities and persons harmless from liability regarding any and all claims relating to COVID-19 and indirectly or directly arising out of or relating to the Venue or event.
****
Thanks for your ongoing cooperation and support and for helping us keep live music LIVE!
Individual events may have additional safety measures in place, see Ticketing pages for details.
No refunds if ticket buyer is unable to show proof of vaccine or negative test verification.
-----------------------
ABBEY ARTS, SEATTLE:
NONPROFIT 501C3, NON-RELIGIOUS, EST. 2005
Fremont Abbey | Ballard Homestead | South Park Hall | St Mark's Capitol Hill | The Auditorium @ UHeights |  & more
Independent nonprofit, non-religious, all ages/incomes. 
Low Fee Tickets! No hidden high fees like Ticktmstr. :-)
  (Note: Comedy shows may have different ticketing fees)
[ Click here to subscribe to our optional text messages. ]
[The views and opinions expressed at events are those of the artists and performers and do not necessarily reflect Abbey Arts. About Page | Respect Policy.]
Refunds may be available per event settings.
No refunds due to support act changes.
Tickets for rental events may be via their website.