Description
Join Social Enterprise Alliance (SEA) Chicago Chapter and Net Impact Chicago for a pitch event to highlight social enterprises on June 30, 2016, from 6:00 to 8:00 PM at Coalition Impact.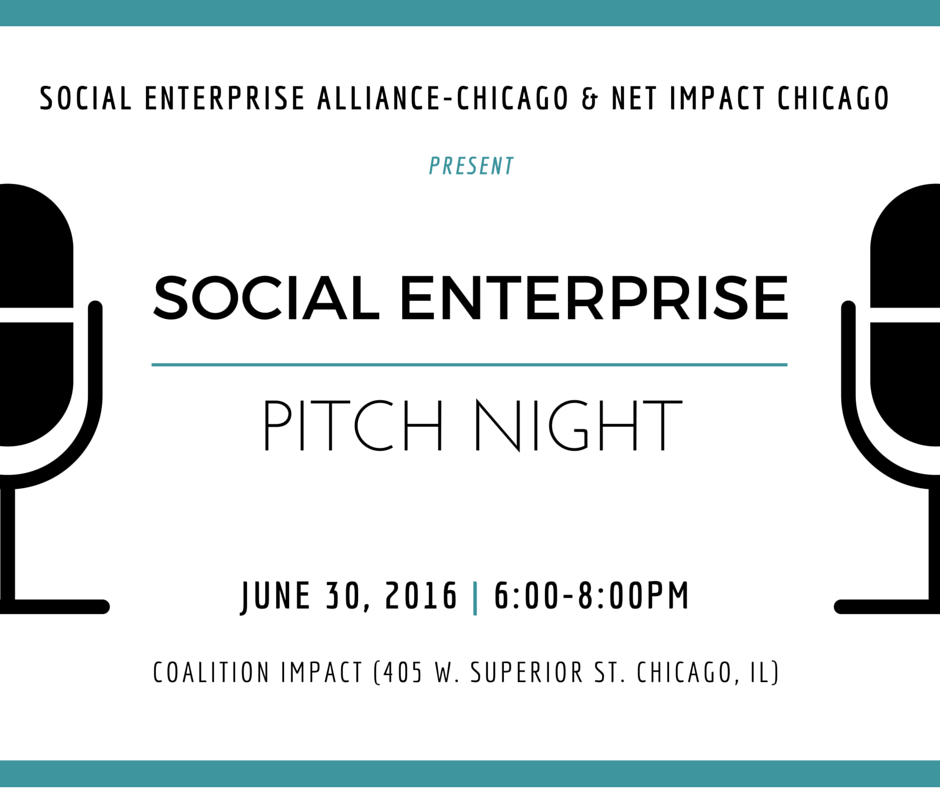 A social enterprise is a for-profit, nonprofit, or hybrid business model that has a direct and equal priority on mission and profit while implementing market-based strategies. Social entrepreneurs at all stages are invited to pitch their business ideas. Participants will present to Chicago's social impact community and a panel of business experts. Our judges panel includes Calvin Holmes President of Chicago Community Loan Fund, Jessica Rivas an Adjunct Professor in Sustainable Supply Chains at DePaul University, and Belinda Li Founder/CEO & Chief Consultant at CiTTA Partnership. The audience and panel will vote for the entrepreneur with the best pitch. The entrepreneurs the audience and panel select will be awarded a $1,000 cash prize and consulting advice in marketing, legal, and fundraising from SEA-Chicago board members.
The application deadline was Monday, May 23, 2016. We are no longer accepting applicants.
The 5 social enterprises that will present are:
Docademia
is a video on demand service that offers the best in social documentary packaged for educators.
Edovo
is an education technology social enterprise that brings tablet education into correctional facilities nationally.
MemoryWell
is a network of journalists that captures and writes short and digestible life stories for people with dementia/Alzheimer's who can't tell their own stories in order to improve their professional care in places like nursing homes.
The MetroAlliance
assembles funds to buy under-utilized and undervalued housing, commercial and retail assets in distinct neighborhoods that are underappreciated by the market due to racial and socioeconomic factors.
Lihtec
is a marketplace platform that facilitates the development of affordable housing by connecting developers with socially minded investors.