About this Event
We're culminating our #PeoplePoweredLaw fundraising campaign with our second annual Social Enterprise Seminar! Buy your ticket today and join a group of aspiring and current social enterprise lawyers as we dive into the fundamentals of advising social enterprises. Your ticket purchase also contributes to our fundraising campaign to increase access to social enterprise lawyers for everyone!
Although this event is geared towards lawyers, members of the general public are also welcome to attend. Sessions marked with an asterisk (*) below mark content that would be appropriate for general audience members.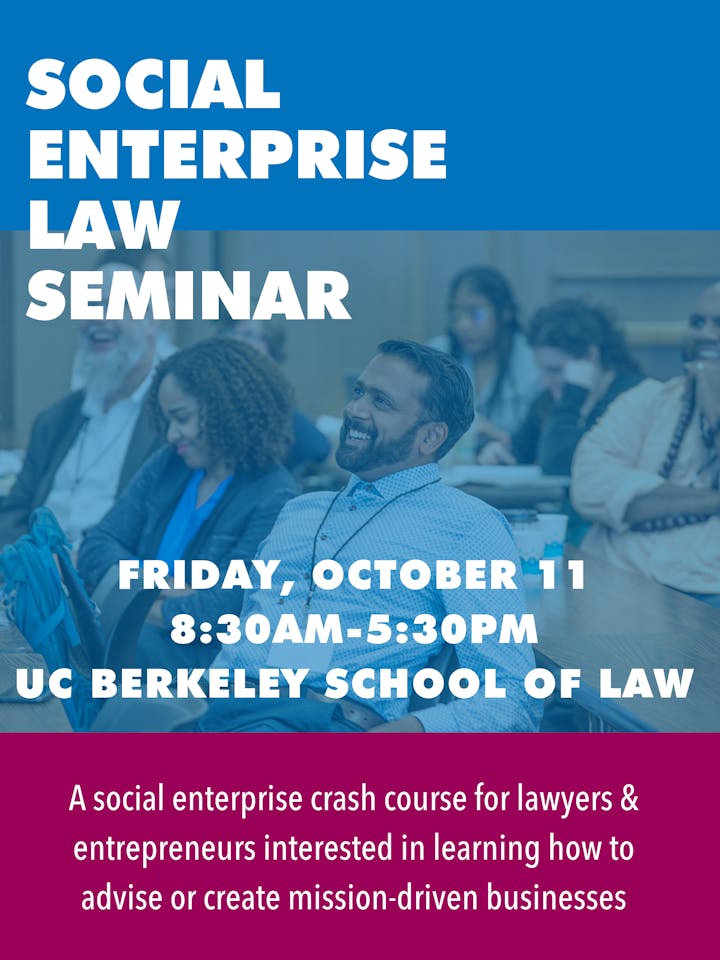 Learn how to tackle legal issues facing nonprofits, worker cooperatives, and other social enterprises, and meet other practitioners in this growing field, where lawyers and their clients are building local resilience and making a difference in their communities.
This activity is approved for 10 MCLE credit hours by the State Bar of California, including one eliminating bias or ethics credit.
Agenda:
Introduction
Legal Structures for the New Economy (CLE) | Janelle Orsi, Executive Director, Sustainable Economies Law Center
Cooperatives
Track 1: Cooperatives 101* (CLE) (Speakers to be announced)
Track 2: Cooperative Conversions* (CLE) | Sushil Jacob, Tuttle Law Group
Nonprofits & Hybrids
Track 1: Nonprofit Law 101: How to Form a Nonprofit Corporation* (CLE) | Cameron Holland, Founder, Cameron Holland Law
Track 2: Affiliations Between Nonprofits and For-Profits: Possibilities and Problems (CLE) | Gene Takagi, Principal, NEO Law Group
Lunch Break
Lunch Discussion of Social Enterprise Models & Trends
Getting the Green
Track 1: Raising Capital for Start-ups* (CLE) | Jenny Kassan, Attorney & Co-Founder, CrowdFund Mainstreet
Track 2: Updates in Crowdfunding & Impact Investing* (CLE) | Jesse Finfrock, Morrison & Foerster and Shirley McLaughlin, Adler & Colvin
People Powered Law
Track 1: Cooperative Case Study: Arizmendi Associations (CLE)| Tim Huet, In-House Counsel, Arizmendi Associations
Track 2: To be announced
Specialty CLEs
Track 1: Elimination of Bias (CLE)
Track 2: Legal Ethics (CLE)
*Indicates sessions that would also be appropriate for non-attorneys.
Please note that the exact schedule is subject to change. Lunch will be provided.
Ticketing Information: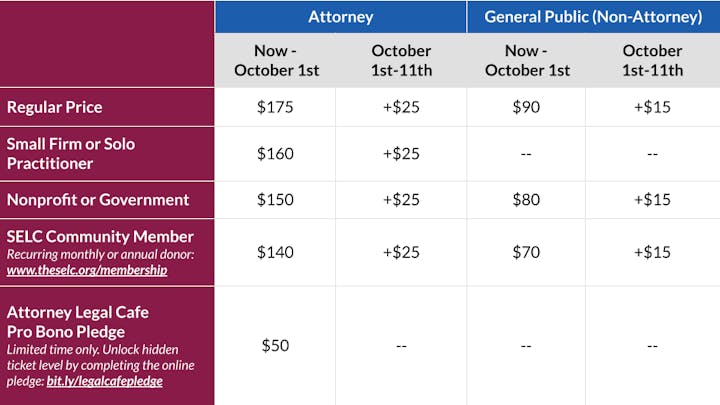 Special Pricing Categories:
SELC COMMUNITY MEMBER: Become a community member and get up to $35.00 off your ticket! Community Membership is an invitation to formally join and grow the community of local economy advocates. Sign up here.
LEGAL CAFE PRO BONO PLEDGE: Attorneys who commit to providing pro bono legal advice at a minimum of 3 Legal Cafe clinics only pay $50.00 for a ticket! To sign up and unlock the $50.00 hidden ticket code, simply complete and pledge your pro bono hours on this form: bit.ly/legalcafepledge.
LAW STUDENTS: We welcome law students to join us. Student pricing is $40 per ticket. You may also volunteer and attend the seminar for free; to volunteer, send an email to charlotte@theselc.org.
Sponsoring inquiries or other questions? Email Charlotte Tsui at charlotte@theselc.org.
We are grateful for the support of the following partners and sponsors: