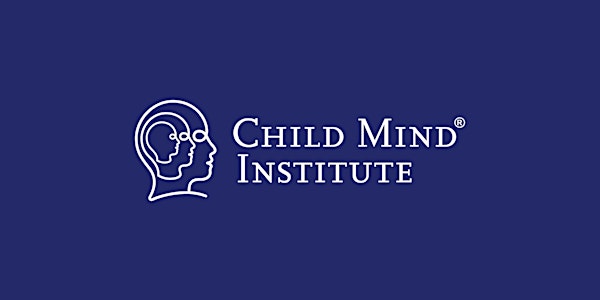 Social-Emotional Learning Training for Mental Health Providers - 07/21/2020
A digital training for mental health providers in the Child Mind Institute's social-emotional interactive workshop series for students.
Date and time
Tuesday, July 21, 2020 · 10:30am - 1:30pm PDT
Refund Policy
Contact the organizer to request a refund.
About this event
The Child Mind Institute is providing a digital training for school and community-based mental health providers in the delivery of interactive social-emotional workshops for students. These resilience-building workshops teach coping skills to classrooms of students between the ages of 8-16, with adaptations for students as young as 5. Lessons stand alone, allowing classrooms to receive between 1-6 sessions. After completing the resilience-building workshop series, students learn important social-emotional skills and how to apply them in their lives.
We are thrilled to provide you with the following options so you may customize this training to best meet your school community's needs.
Webinar Viewing: This ticket allows you to view the webinar at no cost. Note that you will not be provided the manual or related resources with this ticket. Viewing the webinar will allow you to learn critical and helpful SEL skills for students that you can implement in your school community or practice. This training level is available for $0.
Webinar + Manual: This ticket will allow you to download our Child Mind Institute 6-module SEL manual, complete with session guides and takeaways for students and teachers. This will allow you to fully implement each lesson with Child Mind Institute materials. This training level is available for $50.
Webinar + Manual + Group Consultation: This ticket will provide you with the manual and resources, as well as 3 group consultation calls to receive support as you implement the workshops in your school community. In order to ensure optimal support in implementation, consultation calls will generally be scheduled once schools resume in-person meetings, although Child Mind staff are available should schools wish to implement this SEL curriculum via online forums. Group consultation calls ensure that trainees have mastered the delivery of these SEL workshops and allow increased opportunities for support and expert guidance. You will receive a certificate of training completion at this level indicating practitioner status. This training program is available for $100.
Train-the-Trainer Program: Through the training program, you will receive the manual and resources, participate in 3 group consultation calls, have student data analyzed by Child Mind Institute staff to ensure mastery of workshop delivery, and participate in a final closeout consultation session with a Child Mind Institute clinician. After completing all parts of this program, you will be able to train other mental health providers and educators in your immediate community to deliver this workshop series and provide follow-up feedback to the Child Mind Institute as you do so. You will receive a certificate of training completion at this level indicating trainer status. This training program is available for $250.
Limited tickets are available at each training level and are available on a first come, first served basis.
About the organizer
The Child Mind Institute is an independent, national nonprofit dedicated to transforming the lives of children and families struggling with mental health and learning disorders. Our teams work every day to deliver the highest standards of care, advance the science of the developing brain, and empower parents, professionals and policymakers to support children when and where they need it most. Together with our supporters, we're helping children reach their full potential in school and in life. We share all of our resources freely and do not accept any funding from the pharmaceutical industry. Learn more at childmind.org.