Soccer Nights 2014- Participant Registration
Sales Have Ended
Registrations are closed
Hi There, We're sorry to say that registration for Soccer Nights is currently closed as we have reached our capacity. Waitlist: You are welcomed to sign up to be put on the waitlist. We will warn you that we often have very few spots open up. With questions: Please email: soccernights@bostonvineyard.org
Sales Have Ended
Registrations are closed
Hi There, We're sorry to say that registration for Soccer Nights is currently closed as we have reached our capacity. Waitlist: You are welcomed to sign up to be put on the waitlist. We will warn you that we often have very few spots open up. With questions: Please email: soccernights@bostonvineyard.org
Description
About Soccer Nights
Soccer Nights is a free summer evening soccer clinic for children ages 6-12 that seeks to promote athletic skill, leadership development and citywide unity in the greater Cambridge area. Soccer Nights is for all skill levels and abilities. The only requirements for participants are a good attitude and a desire to learn how to play soccer!
Register your child today for North Cambridge Session 1 or 2. At each session, your child will receive high quality soccer instruction in a safe and fun environment, be part of team, and meet new friends!
North Cambridge Dates
Russell Field Park | 333 Rindge Ave., Cambridge, MA 02140
June 23-27, 2014, 6:00pm-8:30 p.m.
Other sites
To learn more or to register for other sites, please visit: www.soccernights.org
How to Register
Registration is open to children entering grades 1-7 in the fall of 2014.
Register by clicking on the link above. One week prior to Soccer Nights, expect to receive an e-mail with final updates, including information on drop off and pick up.
Selecting Tickets
*North Cambridge* Resident ONLY (Live in 02140) - Select this ticket if you have an 02140 zipcode.

Other Residents - Select this ticket if you have a non-02140 zipcode.

Register & Make a Donation - Select this ticket if you would like to register and make a donation to help keep Soccer Nights a free program.
**Please note there are limited spots for non-North Cambridge residents. If there are no spots left, you may register to be put on the waitlist. We do encourage you to look at other sites to see if there is room.
One Week Only This Year
Please note, in North Cambridge we will only be running one session, June 23-27. We're aware that this might come as somewhat sad news to you, maybe especially to the kids. The prospect of disappointing anyone, especially the Soccer Nights community, is one that saddens us. We love Soccer Nights more than you know, so much so that we've always run 2 weeks of it. However, we've also felt a little stretched thin by the endeavor. Additionally, this summer, we're also in the midst of some staffing transitions that made us want to have a bit more breathing room, before we gear up for programs again in the fall. We don't know if this will be the plan for every summer, or if it'll just be 1 year of scaling back. We're hoping it will give us some much needed time and space to be open to other opportunities and plan for the fall. We apologize for any disappointment and inconvenience this might cause you and would be happy to talk more if you would like.
Why is preference given to North Cambridge residents?
We who sponsor Soccer Nights love summer and soccer and kids. And much as we love all kids, we especially love our neighborhood of North Cambridge. Since the lead sponsor of North Cambridge Soccer Nights - the Greater Boston Vineyard - is in North Cambridge, we feel especially excited to connect residents of this diverse neighborhood around a week of exercise, learning, and fun. We open up spots for other people, but we're making sure we keep many spots open for residents of our neighborhood, North Cambridge. Thanks for understanding.
Sponsoring Organizations
Soccer Nights is spearheaded by Vineyard Community Offerings at Vineyard Christian Fellowship of Greater Boston, and is run in collaboration with the following Lead Partners and Sponsoring Organizations:
Vineyard Christian Fellowship--Greater Boston

Pentecostal Tabernacle

Cambridge Community Fellowship Church

Cambridge Police Department

Schochet Comanies (Fresh Pond Apartments)

Seven Mile Road Church

Redemption Hill Church
Learn More
Visit the official Soccer Nights webpage for the latest program updates.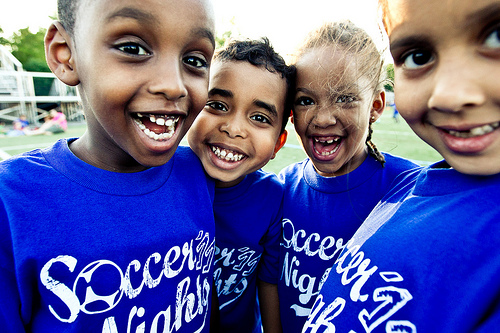 Organizer of Soccer Nights 2014- Participant Registration