Soccer Mommy at Variety Playhouse
About this Event
For Sophie Allison, aka Soccer Mommy, color theory is a distillation of hard-won catharsis. The album confronts the ongoing mental health and familial trials that have plagued the 22-year-old artist since pre-pubescence, presenting listeners with an uncompromisingly honest self-portrait, and reminding us exactly why her critically-acclaimed debut, 2018's Clean, made her a hero to many. Wise beyond her years, Allison is a songwriter capable of capturing the fleeting moments of bliss that make an embattled existence temporarily beautiful. With color theory, Allison's fraught past becomes a lens through which we might begin to understand what it means to be resilient.
Clean demonstrated Allison's nuanced approach to lyricism and her disinterest in reducing complex emotional worlds into easily-digestible sound bites. On it, she projected the image of a confused but exceedingly mature teenager -- the type to offer up life-saving advice while cutting class under the bleachers. Clean led Soccer Mommy to sell out tour dates and play major music festivals around the world on top of opening for the likes of Kacey Musgraves, Vampire Weekend, and Paramore. A grueling touring schedule made it so that Allison had to get used to writing on the road, a challenge that exhilarated her. She wrote dozens of songs in hotels, green rooms, and in the backseat of the van. The ones that make up color theory were recorded in her hometown of Nashville at Alex The Great, a modest studio where the likes of Yo La Tengo have recorded, just two miles from her childhood home. Produced by Gabe Wax and engineered by Lars Stalfors (Mars Volta, HEALTH, St. Vincent), color theory's sonic landscape is vast and dextrous, illustrating how much Allison has evolved as a musician and matured as a person over the past year. The melodies on color theory shimmer on the surface, but they reveal an unsettling darkness with each progressive listen.
"I wanted the experience of listening to color theory to feel like finding a dusty old cassette tape that has become messed up over time, because that's what this album is: an expression of all the things that have slowly degraded me personally," Allison says. "The production warps, the guitar solos occasionally glitch, the melodies can be poppy and deceptively cheerful. To me, it sounds like the music of my childhood distressed and, in some instances, decaying." Allison used a sampling keyboard and string arrangements drawn from old floppy discs to lend color theory a timeworn aesthetic. She also opted to enlist her band in the recording process, which hadn't been the case on any of her earlier releases. "At the base of every song on color theory is a live take done to tape. This album reflects our live performance, which I've grown really happy with," she says.
color theory is thematically subdivided into three sections, each of which is named for a color that distills the mood Allison wanted to freeze in time. We begin with blue, a color that evokes a certain melancholy, and for Allison, illuminates depressive episodes and memories of inflicting self-harm. On "circle the drain," she admits that "the days thin me out or just burn me straight through" over a swirling, guitar-driven arrangement that inspires a sense of ease in spite of the distressing lyrical content. The next section is represented by yellow, a color that points to illness, both mental and physical. "My mom has been terminally ill since I was a pre-teen, and I never really found a way to deal with it," Allison says. "On 'yellow is the color of her eyes,' I sing about a period when I was on an international tour and kept feeling like my time with her was ticking away." Lackadaisical from the outset, the song marries its relaxed arrangement with gutting lyrics that will ring true to anyone who has ever witnessed a loved one's health decline.
The final section, represented by grey, addresses that fear of loss directly. "Watching my parents age and witnessing sickness take its toll made me think a lot about the cycle of life, and forced me to confront the paranoid sense that death is coming for me," Allison says. On the color theory's closer, "grey light," she doesn't shrink from the terrifying promise of death's inevitability and instead gives herself over to it completely. Atop a faded, oceanic bed of instrumentation, she unflinchingly admits, "I see the noose/ It follows me closely whatever I do." But it's not all tragic, and moments of lightness appear on this album, too. Take lead single "lucy," which navigates an all-consuming dread with cunning wit and showcases Allison's deft songwriting prowess. Here, she pleads with a devilish character and succumbs to his cruelty just as easily as she delights in his attention. "That irks me -- that I'm falling down/ From heaven through the Earth/ To hellfire to wear his crown," she sings, the twinkling instrumentation taking on an eerie, unsettling bent as the song progresses.
color theory investigates a traumatic past in exacting detail; in doing so, Allison finds inroads for healing through self-acceptance, and occasionally, humor. ("I'm the princess of screwing up!" she declares at one point.) This isn't a quest to uncover some long-since forgotten happiness so much as it is an effort to stare-down the turmoil of adolescence that can haunt a person well into adulthood. Allison is a gifted storyteller, one who is able to take personal experience and project it to universal scale. On color theory, she beckons in outsiders, rejects, and anyone who has ever felt desperately alone in this world, lending them a place to unburden themselves and be momentarily free.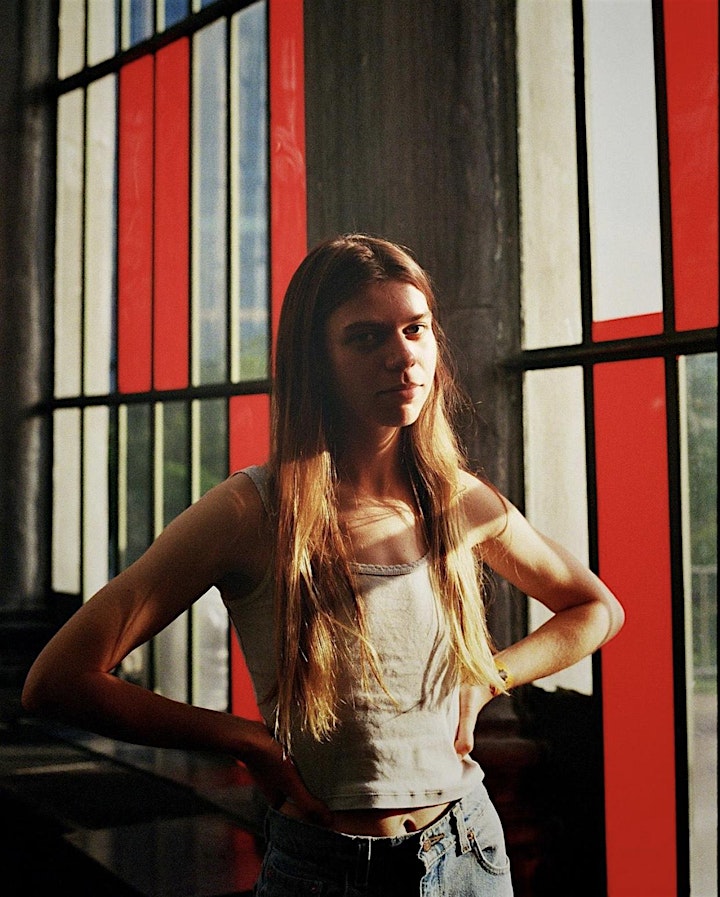 On her deeply moving debut album At Weddings, Sarah Beth Tomberlin writes with the clarity and wisdom of an artist well beyond her years. Immeasurable space circulates within the album's ten songs, which set Tomberlin's searching voice against lush backdrops of piano and guitar. Like Julien Baker and Sufjan Stevens, she has a knack for transforming the personal into parable. Like Grouper, she has a feel for the transcendent within the ordinary.
Born in Jacksonville, Florida, and now based in Louisville, Kentucky, Tomberlin wrote most of At Weddings while living with her family in southern Illinois during her late teens and early twenties. At 16, she finished her homeschooling curriculum and went to college at a private Christian school she describes, only half-jokingly, as a "cult." By 17, she had dropped out of school, returned home, and begun to face a period of difficult transition in her life. The daughter of a Baptist pastor, Tomberlin found herself questioning not only her faith, but her identity, her purpose, and her place in the world.
"I was working, going to school, and experiencing heavy isolation," Tomberlin says of the time when she first began writing the songs on At Weddings. "It felt monotonous, like endless nothingness. It was a means to get through to the next step of life." In songwriting, Tomberlin found relief and lucidity she had trouble articulating otherwise. When she was 19, she wrote "Tornado" on her parents' piano, and began to develop confidence in her music. A year later, she had written enough songs to fill an album.
Throughout At Weddings, Tomberlin's lyrics yearn for stability and belonging, a near-universal desire among young people learning to define themselves on their own terms for the first time. "I am a tornado with big green eyes and a heartbeat," she sings on "Tornado," her voice stretching to the top of her range. Rich, idiosyncratic imagery -- a fly killed with a self-help book, brown paper bags slashed violently open, clouds that weep over a lost love -- sidle up to profound realizations about learning to be alive in this world. "To be a woman is to be in pain," Tomberlin notes on "I'm Not Scared." On "A Video Game," she muses, "I wish I was a hero with something beautiful to say."
Tomberlin cites the hymns she grew up singing in church as her greatest musical influence, and while At Weddings in many ways documents the unlearning of her childhood faith, it's easy to hear the reverential quality of sacred music in her songs. "A lot of hymns talk about really crazy stuff -- being saved from the depths and the mire, judgment. When you actually realize what you're singing, it becomes really overwhelming," Tomberlin says. "I grew up singing in church. I was still helping to lead worship when I started coming to terms with the realization that I didn't know if I believed. I felt nauseous and shaky reading these words I was singing and feeling their intensity. If I did believe this, how could I sing these words without being scared out of my mind? That's what's influenced how I write."
At Weddings is laden with reverence for music itself, for the power it has to heal others and help people navigate their lives. It is a record about learning to love oneself and others without reservation, from a place of deep sincerity -- a lifelong challenge whose tribulations Tomberlin articulates beautifully. "My number one goal with my music is for honesty and transparency that helps other people find ways to exist," she says. With At Weddings, this remarkable young songwriter offers up comfort and wonder in equal measure.
Performers
Location
Refund Policy