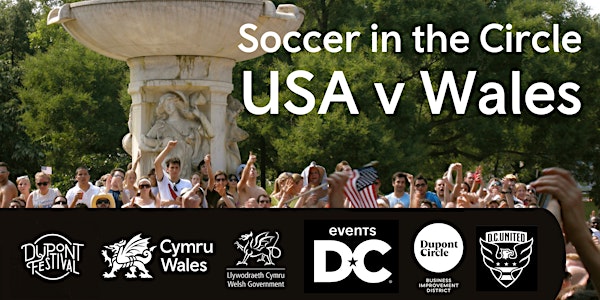 Soccer in the Circle - USA v Wales
Screening of USA v Wales World Cup soccer match
When and where
Location
Dupont Circle Dupont Circle Washington, DC 20036
About this event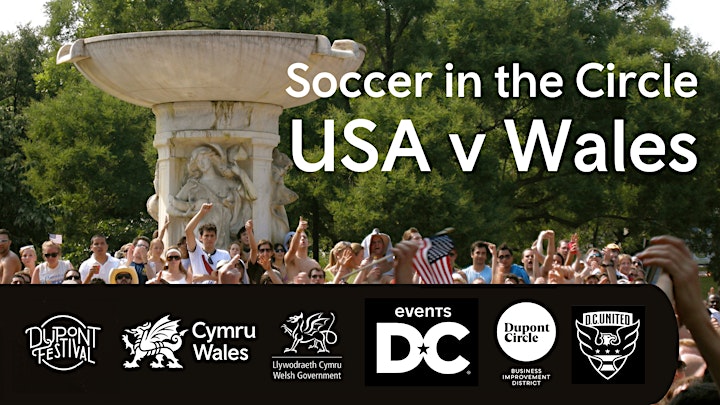 The Welsh Government and Dupont Festival are proud to present "Soccer in the Circle"
This is a 1-day event hosted in Dupont Circle National Park featuring the live broadcast of USA vs Wales in their first game of the FIFA World Cup at 2PM ET!
Event Schedule
9AM - 11AM: DJ Mix of American and Welsh soccer tunes; pre-match broadcast on the big screen
11AM – 1PM: Netherlands v Netherlands v Senegal FIFA World Cup match
1PM – 1.30PM: Welsh soccer tunes
1.30PM – 1.35PM: Official welcome to "Soccer in the Circle" by the President of Dupont Festival and the Welsh Government Minister for Economy
1.35PM – 2.00PM: USA v Wales pre-match broadcast
2.00PM – 4.00PM: USA v Wales FIFA World Cup match
Activities & Activations
9AM – 4.30PM: American and Welsh artists create an artistic piece of work to mark the occasion (supported by Welsh Youth Organisation - the Urdd)
1PM – 3PM: Welsh culinary favourites
1PM – 3PM: Welsh giveaways
9AM – 4.30PM: Check out the DC United tent
9AM – 4.30PM: Check out Events DC and the Farewell RFK Stadium tent for a chance to win a pair of authentic seats from RFK plus other prizes.
Please note that the event is being captured by broadcast media.
FAQs
Are there toilets available?
Please use toilets kindly being provided at The Dupont Circle Hotel.
Can I buy or bring alcohol to the festival?
No alcohol is permitted on site. Alcohol available for purchase at The Dupont Circle Hotel Doyle Bar and other Dupont-area bars.
Can I reserve seats in advance?
All seating areas are available on a first-come-first served basis, and the saving of seats/areas is not permitted.
Special thanks to the Welsh Government, Dupont Festival, Events D.C., the Dupont Circle Business Improvement District, DC United and the Dupont Circle Hotel.