Soccer For Charities - Back for 2021 - A Celebration For Education
Delighted to Present Soccer For Charities 2021 - Back At It: Celebrating to Provide the Life Changing Gift of Education to All!
About this event
Ladies & gentlemen, dear friends:
We are delighted to announce that this year's edition of Soccer for Charities will be IN PERSON, and we are honored to invite you to take part in this unique opportunity for great fun for greater good!
This year's event will be held on Saturday October 9, 2021 (Columbus Day Weekend), starting at 9:30am, at Riverside Park. Following the excitement on the field, please join us for food and drinks at a nearby outdoor sponsoring bar. Remember, this is a fundraising event and we would LOVE to have you... No age or skills required!!! Please help us reach our $15,000 goal, even if you are not able to join in person!
Soccer for Charities is on and we look forward to seeing you in person this year, whether for the first time, or again! Spread the word; invite others; the more, the merrier. We plan to strictly follow any NY Covid restrictions in place at the time of the game.
Thank you again for your continued support of this mission, and we wish you continued safety!
You may also donate to our website directly HERE, to support our mission and learn more!
Sincerely,
Zach&Katie Pouga,
On behalf of Soccer for Charities 2021 Organizing committee
FAQ
Where can I contact the organizers with any questions?
Soccerforcharities@gmail.com / 248/672/9290 – 717/215/5633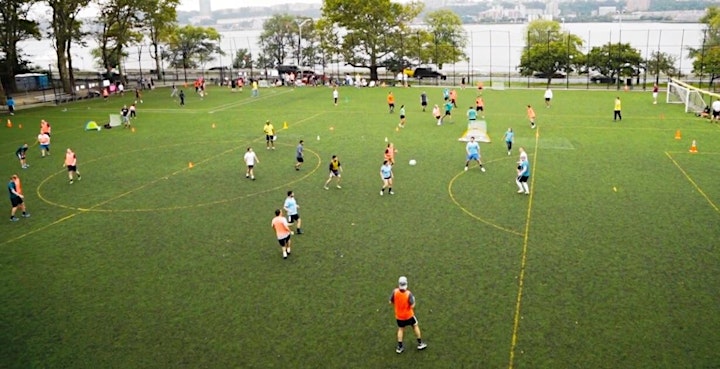 Organizer of Soccer For Charities - Back for 2021 - A Celebration For Education
The 2019 Soccer for Charities Organizing Committee, chaired by Zach&Katie Pouga is composed of: Karl&Kristin Haviland; Tom&Janneke Visee; Javier Tascon; Luiza Romero; Andrew Walker; Alan Decerf; Dov Katz; Ha Tran; John Hill; Byron Brannon; Carole Celona; Megan Frenkel; Robert Dewitt; Trish Ogen; Alex Sauveplane; Chloe; Mark Shur; and Thais.