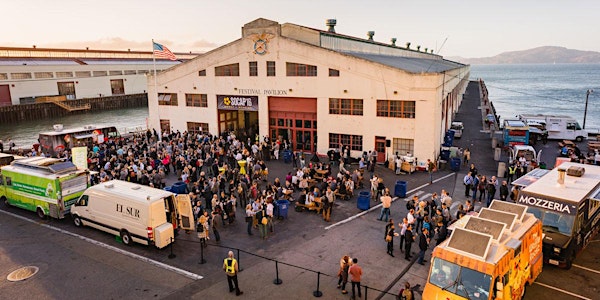 SOCAP17
When and where
Location
Fort Mason Center 2 Marina Boulevard San Francisco, CA 94123
Description
SOCAP17 is the world's leading conference on impact investing and social enterprise. Held in San Francisco, SOCAP17 will unite innovators in business, tech, the sharing economy, health, philanthropy, and more to advance environmental and social causes.
Stay Up-To-Date
If you aren't already, we encourage you to subscribe to our newsletter. Stay up-to-date on SOCAP17 developments and other global industry news. >Subscribe Here
FAQs
The registration desk will open at 2:00 p.m. on Tuesday 10/10 -- The first plenary starts at 4:30 p.m.
The closing plenary ends at 2:00 p.m. on Friday 10/13.
Cancellation and Refund Policy (PLEASE READ AS IT IS DIFFERENT FROM PRIOR YEARS)

SOCAP incurs significant expenses prior to the event. Therefore it is necessary that we maintain the following refund and cancellation policy:
- Tickets are 100% refundable for 30 days after purchase
- 50% refundable for the next 30 days
- Zero after 60 days from purchase

Cancellations requested within 30 days of the event will not be refunded for any reason, even if bought less than 30 days prior. For tickets bought after July 11, the last day to request a full refund is August 10, 2017. The last day to request a 50% refund is September 9, 2017. The only exceptions are for volunteers with prior approval of the volunteer coordinator or entrepreneurs who are awarded a scholarship.

No-shows will not be refunded for any reason. No exceptions.

We do not give credit toward the following year's conference.

Most tickets are fully transferable. Exception: volunteers and complimentary tickets which are given to a specific person. Speakers need to contact us before transferring their ticket to someone else. The original buyer of the ticket needs to email registration@socialcapitalmarkets.net with the following information about the new attendee: name, email address, cell phone number, job title, company, city & state of residence. You can

learn how to do it yourself here.

Note that the self-edit option will be disabled about 2 weeks before the event.
Discount Codes:
Discount codes cannot be combined. We will not refund the difference if you get a better discount code in the future. The only exception is for those who are asked to sit on a panel.
Can I change my registration information?

Yes. Please email us or learn how to do it yourself here. Note that the self-edit option will be disabled about 2 weeks before the event.

Do I have to bring my ticket to the event?

Yes. In order to conserve our natural resources, we do not require that you print your ticket to pick-up your badge. Having the electronic version on your favorite electronic device is sufficient. Note that this is a change from previous years. We will check-in every ticket and hand you the badge once you are checked in. If you are picking up a badge for a friend, make sure to have a copy of his/her ticket with you.

The name on the registration/ticket doesn't match the attendee. Is that okay?

No. We do print and give individual badges for each attendee. The name on the registration MUST match the name of the person attending, with a unique email address for each attendee. Learn how to make the changes yourself here. Note that the Edit option will be disabled about 2 weeks before the start of the conference. You can always email us to make the name and email changes. Note that if you use the same email address for several attendees, only one of them will have access to the online community.
SOCAP Hotel site link http://www.tripzero.info/socap.html is live!