SoCalBio Networking Forum: COVID-19; Accelerator/Disrupter/Game-Changer?
COVID - 19: Accelerator / Disrupter / GameChanger ? Impact on Care Delivery, Value Based Care & the Health Sector
About this event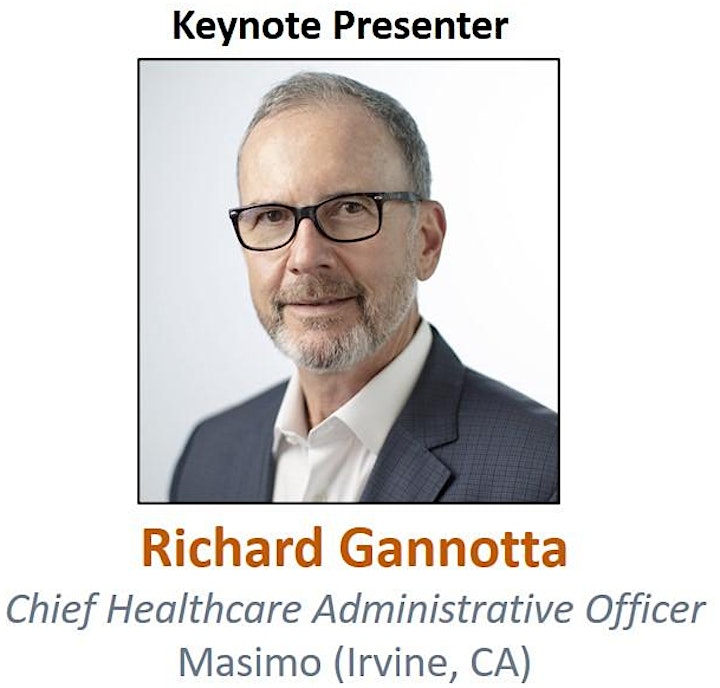 When COVID-19 hit last year, it unveiled many of the vulnerabilities of the US healthcare system and its supply chain. In the process, it also gave a second life to the search for pathways to institutionalize a value-based healthcare regime to improve patient outcomes and reduce the cost of care.
Join us for an inspiring keynote presentation to be followed by a lively discussion of the long-term impact of COVID, and how innovators in the Medtech, biotech, and digital health industries can play a role in driving the transformation to a value-based healthcare system.
About Richard Gannotta:
Richard Gannotta, NP, DHA, FACHE is a recognized leader in the health sector. He is the Chief Healthcare Administrative Officer at Masimo, a global technology company that develops and manufactures a variety of innovative noninvasive patient monitoring technology and clinical solution sets designed to improve patient outcomes and reduce the cost of care.
Gannotta also serves as Senior Lecturer of Health Administration at NYU's Robert F. Wagner Graduate School of Public Service. His areas of research interest include the economic impact of alternative models of care, patient safety, high-reliability systems and healthcare disrupters. His academic affiliations include teaching at the undergraduate and graduate levels.
Prior to joining Masimo, Gannotta served as the chief executive officer of the UCI Health System, and senior vice president of hospitals at New York's NYC Health + Hospitals. He also held leadership roles at Chicago's Northwestern Memorial Hospital, Northwestern University's Feinberg School of Medicine, Duke Raleigh Hospital, and North Carolina-based WakeMed Health & Hospitals.
Gannotta received his bachelor of nursing science and nurse practitioner degrees from Florida International University. He earned a master of business administration from Campbell University in North Carolina, a doctorate in healthcare administration from the Medical University of South Carolina and was a Johnson & Johnson Fellow for Nurse Executives at the Wharton School of the University of Pennsylvania.

Date and time
Location
Refund policy
Organizer of SoCalBio Networking Forum: COVID-19; Accelerator/Disrupter/Game-Changer?
The Southern California Biomedical Council is a nonprofit, member-supported trade association that supports and promotes biotech, Medtech, and digital health industries in the six counties that comprise the Greater Los Angeles region (Los Angeles, Orange, Ventura, Santa Barbara, Riverside, and San Bernardino).