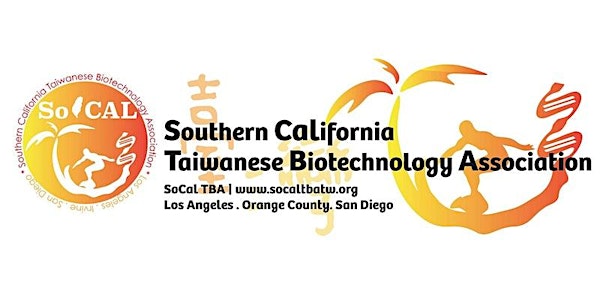 SoCal TBA May Coffee Chat: Flying to Academia in the US
南加生技協會五月份實體活動 SoCal TBA May In-Person Coffee Chat - Women in Academia and Neurosciences
When and where
Location
Bella Vista Social Club & Caffe 2880 Torrey Pines Scenic Drive San Diego, CA 92037
About this event
南加州台灣生技協會五月份 Coffee Chat
*本活動將以中文舉行,歡迎各領域的朋友、計畫申請教職的博士班學生和博士後參加。
如何在美國競爭激烈的學術圈中脫穎而出,成為研究型大學的終生職教授?研究之路踽踽獨行,如何調整心態,做好時間管理?非英語母語者又該如何加強口頭報告及寫作論文的技巧,將研究成果傳達給他人?
SoCal TBA 本次榮幸邀請到美國加州大學聖地牙哥分校生命科學院的蘇稚盈副教授(Dr. Chih-Ying Su)來與我們喝咖啡。蘇教授著重神經科學基礎研究,專精於嗅覺受體神經元如何接受不同氣味的訊息,研究成果發表在《Nature》、《Science》、《PNAS》等著名期刊。本次活動她將分享:
從國際學生成為 UCSD 教授的學思歷程。
如何申請教職、目前美國大學招聘助理教授的準則及流程。
博士班學生、博士後可能面對的挑戰與應對之道。
論文該怎麼寫、非英語母語者如何加強英文口說與寫作技巧。
對在美國申請教職、從事研究工作有興趣的朋友千萬不要錯過本次活動!
Do you know how to land a job in academia in the US? Are you currently a Ph.D. student feeling a bit stressed out? Or are you a postdoc planning to apply for academic jobs?
Come join us for our Coffee Chat on May 21. Dr. Su will share her life story from an international graduate student to a UCSD professor. Let's learn from her experience and tips for you to succeed in your pursuit of Ph.D. and academic positions. In this event, she will discuss:
Her journey to become a UCSD professor
How to apply for a tenure-track faculty job
PhD student and postdoc challenges (how to choose research topics, time management, mental health, etc)
How to write a paper, and improve English speaking and writing skills.
Speaker: Dr. Chih-Ying Su (蘇稚盈)(https://sites.google.com/view/su-lab-ucsd/people)
Agenda:
10:00 am -10:40 am : Introduction and Speaker talk
10:40 am -12:00pm:Chat/Q&A session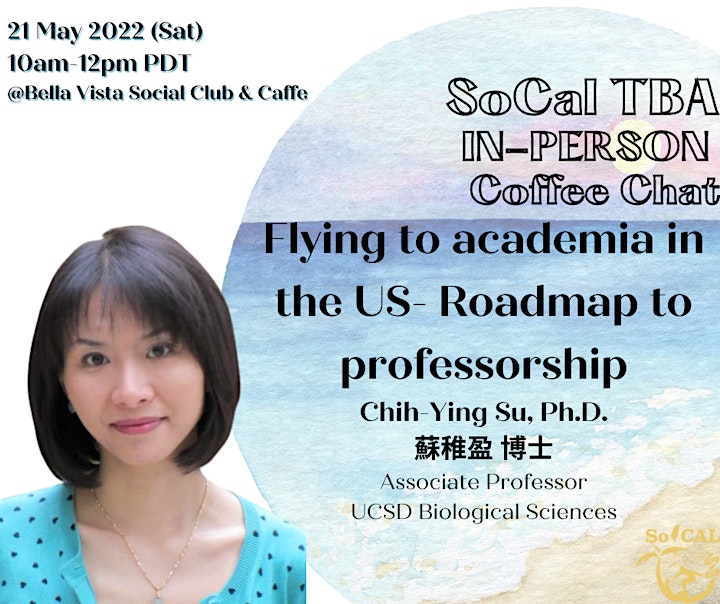 Speaker Bio:
Dr. Chih-Ying Su is an Associate Professor in the Section of Neurobiology, Division of Biological Sciences at UC San Diego. She received her B.A. in Zoology from National Taiwan University and Ph.D in Neuroscience from Johns Hopkins University School of Medicine. She conducted her postdoctoral research with Dr. John Carlson at Yale University.
Dr. Su's laboratory focuses on addressing how olfactory receptor neurons (ORNs) process odor information since these neurons are the primary source of sensory input. Their current research topics include: (1) how compartmentalization allows insect ORNs to process information through ephaptic interaction, and (2) how neuromodulation can act on ORNs to regulate responses and influence odor-guided behaviors in Drosophila.
Dr. Su has been the recipient of a Mette Strand Young Investigator Award. She and her colleagues have published research articles in prestigious journals including Science, Nature, PNAS, Nature Communications, Current Biology, eLife and Neuron.
Parking Instruction 停車資訊:
可停 Sanford Consortium 外的停車場。前一小時免費,之後可下載 ParkMobile 付費。(下圖1)
可停 Torrey Pines Gliderport 旁的停車場(免費),步行到咖啡店約11分鐘。(下圖 2)