SoCal Stem Cell Seminar Series' September Speaker: Marius Wernig, MD

Thursday, September 12, 2019 from 9:30 AM to 10:30 AM (PDT)
Event Details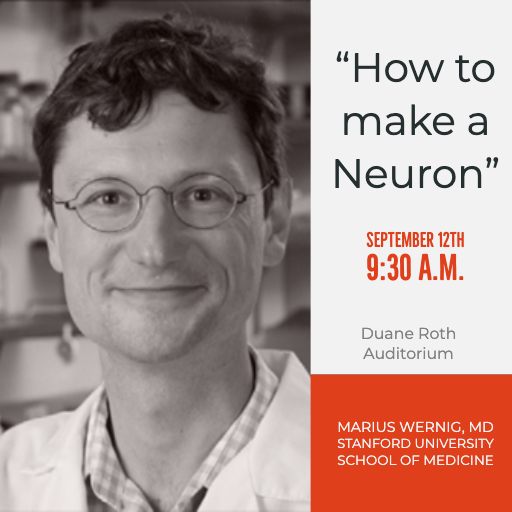 "How to Make a Neuron"
Seminar Speaker:
Professor of Pathology
Pathology Stem Cell Institute
Associate Professor Institute for Stem Cell Biology and Regenerative Medicine
Stanford University
Hosted By:
Associate Physician, Pediatrics
UC San Diego Health Sciences
Professor of Human Genetics Program
Director, Center for Stem Cells & Regenerative Medicine
Sanford Children's Health Research Center
Sign up to receive notifications regarding events for Stem Cell and Regenerative Medicine Inter-institutional community Ucsdscpevents-L  
Brief Biography
Dr. Wernig is a Professor of Pathology and Co-Director of the Institute for Stem Cell Biology and Regenerative Medicine at Stanford University. Originally from Austria, he graduated with an M.D. Ph.D. from the Technical University of Munich where he trained in developmental genetics in the lab of Rudi Balling. After completing his residency in Neuropathology and General Pathology at the University of Bonn, he became a postdoctoral fellow in the lab of Dr. Rudolf Jaenisch at the Whitehead Institute for Biomedical Research at MIT. In 2008, Dr. Wernig joined the faculty of the Institute for Stem Cell Biology and Regenerative Medicine and the Department of Pathology at Stanford University where he has been ever since. He received an NIH Pathway to Independence Award and has since received many other awards, including the Cozzarelli Prize for outstanding scientific excellence from the National Academy of Sciences U.S.A. the Outstanding Investigator Award from the International Society for Stem Cell Research, the New York Stem Cell Foundation Robertson Stem Cell Prize, a HHMI Faculty Scholar Award, and more recently the Ogawa-Yamanaka Stem Cell Prize.
Dr. Wernig's lab is interested in pluripotent stem cell biology and the molecular determinants of neural cell fate decisions. His laboratory was the first to generate functional neuronal cells reprogrammed directly from skin fibroblasts, which he termed induced neuronal (iN) cells. The lab is now working on identifying the molecular mechanisms underlying induced lineage fate changes, the phenotypic consequences of disease-causing mutations in human neurons and other neural lineages as well as the development of novel therapeutic gene targeting and cell transplantation-based strategies for a variety of monogenetic diseases.
Seminar Objective
The Stem Cell Program was founded on the unique strengths of the UC San Diego research community, with its unparalleled cross-disciplinary collaborations and strong basic and comparative biomedical science programs.
The University of California, San Diego Stem Cell Seminar Series is intended to stimulate the exchange of experience with researchers outside of UC San Diego, enhance interactions with sister institutions and biomedical campuses, and promote education in stem cell research.
The monthly Stem Cell Seminar Series brings scientists from all over the world to the forefront of regenerative medicine and emphasizes the basic research and translational themes of stem cell research. These seminars provide an opportunity for the "Mesa" community to learn about the work being done by prestigious researchers from other institutions, preview unpublished scientific results, initiate collaborations and build networks. The speakers invited provide novel insights into stem cell functions, tissue development, and cell-based approaches for the treatment of diseases.
 Goals
We strive to promote unparalleled cross-disciplinary collaborations and strong basic and comparative biomedical science programs and support development of essential core facilities and facilitate training and educational activities.
Solution
These goals are accomplished through presentations by distinguished invited speakers from various avenues of stem cell research and by poster presentations by graduate students and post-docs.
When & Where

Sanford Consortium for Regenerative Medicine
2880 Torrey Pines Scenic Drive
Duane Roth Auditorium
La Jolla, CA 92037


Thursday, September 12, 2019 from 9:30 AM to 10:30 AM (PDT)
Add to my calendar
Organizer
About the Stem Cell Program
The University of California, San Diego, with nearly $985 million in annual research funding, plays a leading role in stem cell research to help develop cures and therapies for a wide range of diseases and disorders utilizing pluripotent stem cell research.
Basic research is needed to use these cells to develop new therapies, and clinical translational research may bring our discoveries to patients in the clinic. In the years to come many people will have increased hope for their loved ones affected by a wide range of disorders because of the work of basic and physician scientists at UC San Diego and its partner institutions of the Sanford Consortium for Regenerative Medicine.
UC San Diego is committed to collaborating with other research institutions to maximize resources, facilitate research, and accelerate understanding of human health and disease.