Description
Join science writers from across the region to learn and network.
The day's activities will include (more details below):
Sessions on science video, fellowships, investigative reporting, climate change and data journalism
USC Lab Tours
Freelancer-Editor meet'n'greet
Happy hour afterwards sponsored by USC
In addition, USC is offering 40 spots for a field trip to the university's research center on Catalina Island, to be held on Sunday, May 19. Cost: $25
The 2nd annual SoCal Science Writing Symposium is organized by the SoCal Science Writing and SANDSWA groups, and hosted by USC. Members of those science-writing groups receive a $15 discount on admission.
* Join SoCal Science Writing here.
If you'd like to volunteer with the symposium in exchange for free registration, contact socalsciencewriting@gmail.com.
Current Schedule (check back for updates):
Saturday Symposium
9:00-9:50 Breakfast/Coffee
9:50-10:00 Welcome: Kate Gammon, SoCal Science Writing, USC Dornsife Dean Amber Miller, Mahta Moghaddam, USC Viterbi Director of Research Initiatives
10:00-11:15 Plenary Session: Science Video
Make science informative, educational, and even profitable with audiovisual storytelling.
* Derek Mueller, creator of the 5-million-plus subscriber YouTube channel Veritasium.
* Jess Phoenix, Volcanologist and Science Communicator, Founder of Blueprint Earth. www.volcanojess.com
* Megan Chao, USC Annenberg School for Communication and Journalism Adjunct Faculty, Documentary and Longform Production, Faculty Adviser, Impact.
* Kyle McClary, President and Co-Founder of the Bridge Art + Science Alliance (BASA), PhD candidate USC Department of Chemistry.
11:15-11:45 Coffee break
11:45-1:00 Option 1: Science Reporting Fellowships
How to earn and make the most of journalism fellowships.
* Kate Gammon, freelance science writer and recipient of more than half a dozen fellowships.
Option 2: Investigative Science Journalism
Dig deep and find the stories that need to be told.
* Linda Marsa, freelance science writer and author of Fevered: Why a Hotter Planet Will Hurt Our Health—And How We Can Save Ourselves
* Ann Owens of USC Dornsife uses data to reveal racial disparaties in communities.
1:00-1:45 Lunch
1:45-3:00 Option 1: Climate Change
Climate change is the most urgent issue facing humanity and will result in the extinction of vast numbers of species, and have catastrophic consequences for most of the world, sparking civil wars, famines and mass migrations. This panel will illuminate some of the scientific issues and tools we can use to report on climate change.
Moderator: Ramin Skibba, Ph.D., an astrophysicist turned science writer and president of the San Diego Science Writers Association (SANDSWA)
* Sarah Feakins, a paleoclimatologist and AAAS communications fellow, who will discuss the challenges of communicating science in a world clouded by climate denial campaigns.
* Robert Hernandez of the Annenberg School for Communication and Journalism uses virtual reality modeling to tell the story of larger issues, such as storm surges after hurricanes, and the drying aquifers in the Central Valley.
* Jeffrey Severinghaus, a geoscientist at the Scripps Institute of Oceanography who studies glacial ice core records for information on climate changes.
* Essam Heggy, of the USC Viterbi School, who does radar studies of planetary surfaces and will discuss the political and economic impact of water shortages globally and here in California.
Option 2: Lab Tour: Assistive Robots
USC Viterbi's Maja Mataric develops social assistive robots to help people with special needs and the elderly.
Option 3: Lab Tour: CSI-Cancer
USC Dornsife's Peter Kuhn runs the Convergent Science Institute in Cancer, which aims to improve personalized treatment for cancer patients through diagnostics, monitoring, and even metal-tagging of cancer cells to map cancer throughout the body.
3:00-3:30 Coffee break
3:30-4:45 Option 1: Data Journalism
Learn the basics of spreadsheets and data visualization, and see examples of how data can be turned into a story.
With enterprise journalist and data whiz Ingrid Lobet.
Option 2: Freelancer-Editor Meet'n'Greet
Bring your pitches, or just say hi, in one-on-one chats with some of Southern California's top editors.
Confirmed editors
David Olmos, UCLA Health
Carla Pineda, KCET
Option 3: Lab Tour: Devices to Fight Diseases
USC Viterbi's Andrea Armani develops advanced materials and integrated optical devices that can be used in portable disease diagnostics and telecommunications.
An afterparty will be hosted by USC.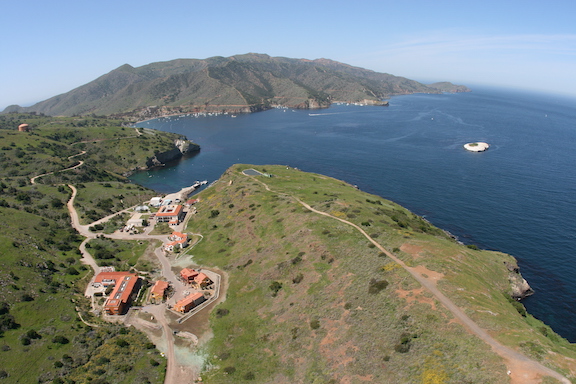 Sunday Field Trip
USC is inviting registrants to its Wrigley Institute for Environmental Studies.
Your $25 ticket gets you transport to and from the island and all activities.
Sessions and tours will depend on who's on the island at the time, and might include:
* USC Dornsife Professor of the Practice of Religion Lynn Dodd, who trains students in premodern skills
* Flying remote operated vehicles over the Wrigley Institute
* Scott Fraser's bioluminescent bobtail squid
* Oyster research
* Algae research
Only 40 spots available—sign up when you register for the symposium.
The 2019 SoCal Science Writing Symposium is organized by SoCal Science Writing and the San Diego Science Writers Association, and hosted by USC's Dornsife College of Letters, Arts and Sciences and Viterbi School of Engineering.