Description
REGISTRATION IS NOW CLOSED.
The day's activities will include (more details below):
Sessions on science video, fellowships, investigative reporting, climate change and data journalism
USC Lab Tours
Freelancer-Editor meet'n'greet
Happy hour afterwards sponsored by USC
In addition, USC is offering 40 spots for a field trip to the university's research center on Catalina Island, to be held on Sunday, May 19. Cost: $25
The 2nd annual SoCal Science Writing Symposium is organized by the SoCal Science Writing and SANDSWA groups, and hosted by USC. Members of those science-writing groups receive a $15 discount on admission.
* Join SoCal Science Writing here.
If you'd like to volunteer with the symposium in exchange for free registration, contact socalsciencewriting@gmail.com.
Current Schedule (check back for updates):
Saturday Symposium
9:00-9:45 Breakfast/Coffee
9:45-10:00 Welcome: Kate Gammon, SoCal Science Writing, USC Dornsife Dean Amber Miller, Mahta Moghaddam, USC Viterbi Director of Research Initiatives
10:00-11:15 Plenary Session: Science Video
Make science informative, educational, and even profitable with audiovisual storytelling.
* Derek Mueller, creator of the 5-million-plus subscriber YouTube channel Veritasium.
* Jess Phoenix, Volcanologist and Science Communicator, Founder of Blueprint Earth. www.volcanojess.com
* Megan Chao, USC Annenberg School for Communication and Journalism Adjunct Faculty, Documentary and Longform Production, Faculty Adviser, Impact.
* Kyle McClary, President and Co-Founder of the Bridge Art + Science Alliance (BASA), PhD candidate USC Department of Chemistry.
11:15-11:45 Coffee break
11:45-1:00 Option 1: Science Reporting Fellowships
How to earn and make the most of journalism fellowships.
* Kate Gammon, freelance science writer and recipient of more than half a dozen fellowships.
Option 2: Investigative Journalism for Freelance and Staff Reporters
Deep dive investigations are more important than ever. But it's difficult to do these stories without the security of a steady paycheck, or the resources of a news organization. This panel will talk about grants that are available, how freelance investigative reporters handled these issues, how to use data to uncover trends and patterns, and how local news sites, like Alhambra Source, are doing in-depth coverage of their communities.
Moderated by Linda Marsa, co-founder of SoCal Science Writing, Discover contributing editor, and former Los Angeles Times health writer.
Speakers:
Chinyere Amobi, community editor, Center for Health Journalism and digital editor, Radiant Health Magazine
Jon Thurber, former Los Angeles Times editor and publisher, Alhambra Source
Ann Owens, USC Dornsife sociologist uses data to reveal racial disparities and trends in communities.
Susan Abram, freelance journalist, former Los Angeles Daily News reporter, Center for Health Journalism fellow
1:00-1:45 Lunch
1:45-3:00 Option 1: Climate Change
Climate change is the most urgent issue facing humanity and will result in the extinction of vast numbers of species, and have catastrophic consequences for most of the world, sparking civil wars, famines and mass migrations. This panel will illuminate some of the scientific issues and tools we can use to report on climate change.
Moderator: Ramin Skibba, Ph.D., an astrophysicist turned science writer and president of the San Diego Science Writers Association (SANDSWA)
* Sarah Feakins, a paleoclimatologist and AAAS Leshner public engagement fellow who studies ocean and lake sediment cores for information about past climate and ecosystem change.
* Robert Hernandez of the Annenberg School for Communication and Journalism uses virtual reality modeling to tell the story of larger issues, such as storm surges after hurricanes, and the drying aquifers in the Central Valley.
* Jeffrey Severinghaus, a geoscientist at the Scripps Institute of Oceanography who studies glacial ice core records for information on climate changes.
* Essam Heggy, of the USC Viterbi School, who does radar studies of planetary surfaces and will discuss the political and economic impact of water shortages globally and here in California.
Option 2: Lab Tour: Assistive Robots
USC Viterbi's Maja Mataric develops social assistive robots to help people with special needs and the elderly.
Option 3: Lab Tour: CSI-Cancer
USC Dornsife's Peter Kuhn runs the Convergent Science Institute in Cancer, which aims to improve personalized treatment for cancer patients through diagnostics, monitoring, and even metal-tagging of cancer cells to map cancer throughout the body.
3:00-3:30 Coffee break
3:30-4:45 Option 1: Data Journalism
Learn the basics of spreadsheets and data visualization, and see examples of how data can be turned into a story.
Would you like to bring more data and better visualizations into your work? This panel is an intro to the subject beginning with spreadsheets. Then we'll look at some great, free apps you can use to visualize data if you don't have access to your own team of data superheroes. And we'll get inspired as Susan Kamei, Managing Director of the USC Spatial Sciences Institute in the Dornsife School shows us research that the local air authorities might not want you to know. Kamei will give examples out Spatial Sciences including the best and worst neighborhoods in Los Angeles for air pollution, how they crunched the data and how they presented it.

Moderator: Ingrid (Yeye) Lobet is an investigative reporter on the environment who uses data in her work and is completing an M.S. in climate science and energy policy.
Option 2: Freelancer-Editor Meet'n'Greet
Bring your pitches, or just say hi, in one-on-one chats with some of Southern California's top editors.
Confirmed editors
David Olmos, UCLA Health. David is Director for News Strategy & Editing. He is looking for freelance science and medical writers with experience writing about academic research, research scientists, clinical care and related topics.
Carla Pineda, KCET. Carla is a digital editor and producer for Link TV and KCET. She is a Central American born and raised in Los Angeles.
Chinyere Amobi, Radiant Health. Chinyere is the community editor for the Center for Health Journalism Digital, which is always looking for writers, and the digital editor of Radiant Health Magazine, a print and online publication focusing on the health of black women.
Alicia Di Rado, USC News, Trojan Family Magazine. Alicia is editorial director for USC University Communications and editor-in-chief of USC Trojan Family Magazine. She assigns feature stories for the print magazine and its website, as well as USC's news site, about topics related to health, medicine, engineering and technology, as well as the physical, biological and social sciences. She is open to story pitches, but they must relate to USC faculty, staff or students.
James Rickman, Playboy. James is Executive Editor at Playboy. He's looking for stories that bring news from the intersection of science and culture. Climate change and the Texas oil industry, Hyperloop and the young immigrants fueling American innovation, artificial intelligence and pop music…Playboy likes to educate its readers on complex scientific subjects via relatable human narratives.
Ian O'Neill, Mercury Magazine. Ian has worked as senior producer, science writer and editor for Discovery News and Seeker.com, and as a space blogger for Universe Today. He has also collaborated with many online and TV channels including Discovery Channel, Al Jazeera and Science Channel and is now editor for Mercury Magazine, the flagship publication of the Astronomical Society of the Pacific.

Option 3: Lab Tour: Devices to Fight Diseases
USC Viterbi's Andrea Armani develops advanced materials and integrated optical devices that can be used in portable disease diagnostics and telecommunications.
An afterparty will be hosted by USC.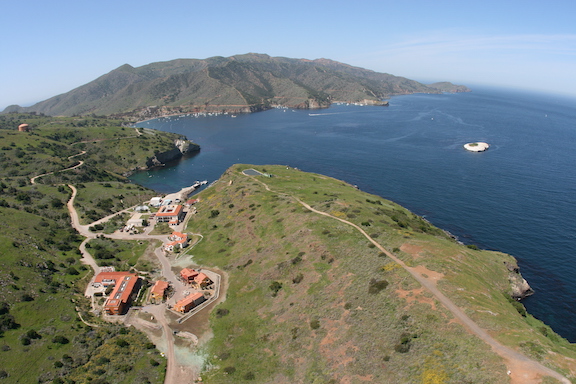 Sunday Field Trip
USC is inviting registrants to its Wrigley Institute for Environmental Studies.
Your $25 ticket gets you transport to and from the island and all activities.
Sessions and tours will depend on who's on the island at the time, and might include:
* USC Dornsife Professor of the Practice of Religion Lynn Dodd, who trains students in premodern skills
* Flying remote operated vehicles over the Wrigley Institute
* Scott Fraser's bioluminescent bobtail squid
* Oyster research
* Algae research
Only 40 spots available—sign up when you register for the symposium.
***
Lodging for the weekend:
USC has a room block for symposium registrants who wish to stay on May 17 or May 18 at the USC Hotel at the University Park Campus.
3540 S Figueroa St
Los Angeles CA 90007
United States
Rooms will be available for a discounted rate of $149++ (either single or doubles). When you call to reserve, provide the following group block name: Southern California Regional Science Writers Association.
More information about USC Hotel is at: https://uschotel.usc.edu/our-hotel
***
The 2019 SoCal Science Writing Symposium is organized by SoCal Science Writing and the San Diego Science Writers Association, and hosted by USC's Dornsife College of Letters, Arts and Sciences and Viterbi School of Engineering.
Organizer of SoCal Science Writing Symposium 2019