SOBRO THROWDOWN VI

Friday, September 26, 2014 from 7:00 PM to 10:00 PM (EDT)
Event Details
SOBRO THROWDOWN VI
"DEADPOOL'S GAUNTLET"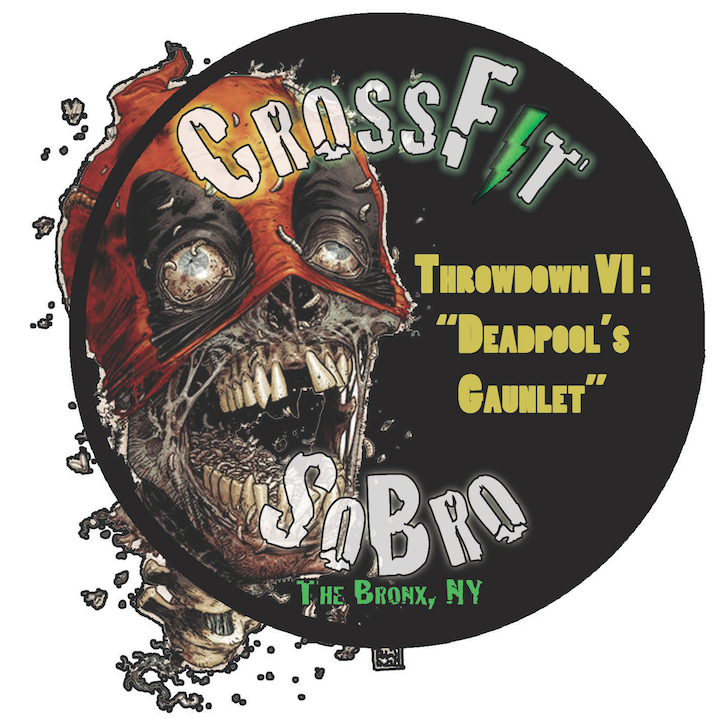 Friday September 26th!
Only those interested in competing must add their name and box name to this invite!
All CFSB Members, guests and spectators are FREE of Charge
 Visiting Athletes - $20 to Compete
Athletes and Judges Registration: 6:30 PM - 7 PM
First WOD Begins at 7PM SHARP!!
Event Time: 7 PM - 10 PM
WOD 1
Heats of 6
5:00 AMRAP of:
10 Push-ups
10 Wall Balls 20/14
20 Sit-up (standard)s
Score: Total Reps Completed
WOD 2
Heats of 5
For Time (4:00 CAP)
800M Row
Score: Best Time
--- Top WOD 1 + 2 Scores to advance to WOD 3 ---
WOD 3
Top 10
Heats of 5
For Time (10:00 CAP)
30 Hang Cleans 135/95
30 Front Squat 115/85
30 Shoulder 2 OH 95/65
Score: Best Time
Contact us at 917-287-8740 or jgo@crossfitsobro.com for more info!
When & Where

CrossFit SoBro
322 Jackson Ave
at E.141st Street
Bronx, NY 10454


Friday, September 26, 2014 from 7:00 PM to 10:00 PM (EDT)
Add to my calendar
Organizer
CrossFit SoBro - The Bronx Box
CrossFit SOBRO (South Bronx) is The Original Bronx Box – the first to bring CrossFit to The Bronx community. We were established in 2013 on the 4th floor of an old loft space in the Crotona Park section of The Bronx. We quickly flourished and, with our current Jackson Avenue location, are proud to be making our own contribution to the revitalization of the South Bronx.
Our members are rich in their diversity, hailing from all parts of the Boogie Down as well as the outer boroughs, and bringing with them a unique swagger and a wide range of fitness goals. It is because of them that we are so passionate about improving health and fitness in this community, where it's still more common to see a fried chicken joint than a vegetable stand.
At CFSBx, we cheer. We support each other's fitness goals and always root for the last person standing – no matter what. This camaraderie that develops when people face challenges together is a key component of what makes our program truly effective and special. We are a community; we are #SOBROSTRONG; and we are proud of it.