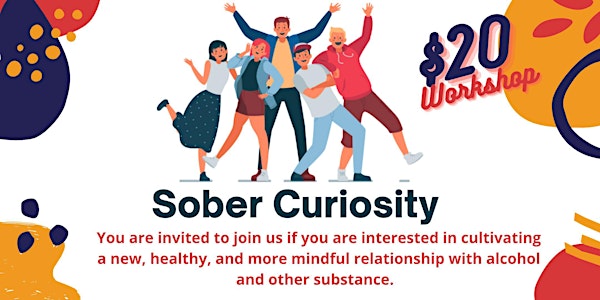 Sober Curiosity Workshop
You are invited to join us if you are interested in cultivating a new, healthy, and more mindful relationship with any substances.
Refund Policy
Contact the organizer to request a refund.
Eventbrite's fee is nonrefundable.
About this event
This group is for you if you:
Have been questioning your relationship with alcohol or other drugs;
Having been trying to set limits with alcohol or other drugs but keep breaking them;
Are curious about changing your relationship with alcohol or other drugs
In this workshop, you will:
Learn what "Ambivalence" is, understand your experience in a new way so that you can stop beating yourself up;
Take an honest look at both how alcohol/substances harm and serve you so that you can have more clarity in moving forward;
Get practical tips on how to start your sober curious journey.
Facilitator: Jeanette Hu, AMFT
Supervisor: Jamie Lavender, LMFT
Important Disclaimer:
Although the information in this workshop is facilitated by a Registered Associate Marriage and Family Therapist, it is NOT therapy. The information in this workshop is for education and is not meant to replace actual therapy or instructions given by a personal therapist.
This workshop is intended to provide mental health education and to help users learn essential mental health skills and improve their lives. This workshop is best when it is used as a supplement to therapy.
It's an additional tool to use for those supporting others with mental illness and a supplement to those supporting friends and loved ones currently under the care of a local professional therapist.
This workshop is not medical advice. Please consult your primary care physician, therapist, or other mental health professional for individualized medical advice. Enrolling in this workshop does not constitute a therapeutic relationship.
I am not your therapist unless we have engaged in a formal therapeutic relationship (for that to happen you would have had to sign about 4 forms). Any answers to questions, whether through email, questions to comments, or otherwise should not be considered therapeutic advice but rather an educational guide as to where you can access other resources to help you on your journey.
Always consult your doctor or mental health professional before trying any exercises from this website. While they are generally safe and helpful, all change comes with some risk. These exercises are intended to improve your emotional skill set, but they may cause discomfort or, for some people, emotional distress, dissociation, or triggers for painful memories. This is more likely if you have a history of trauma. Work with your personal providers to learn what is best for you.
These conversations are intended for adults 18 years and up. If you do not understand or agree with these terms, please ask for a full refund 7 days before the workshop date by emailing me at youcanheal@yahoo.com
If you decide to continue with the registration, you demonstrate that you accept these terms and agree that you will consult your individual health providers for individualized advice.